Linz, the third largest city in Austria has always been overshadowed by the more illustrious Salzburg and Vienna.
Although more known as a steel and chemical industrial centre, Linz also has a strong cultural scene. The city lies along the Danube River, surrounded by the woods and rolling hills.
My wife and I had been to Linz before, but they were merely short shopping trips; we did not do any sightseeing back then. We went back to the city again recently, and stayed for a month during autumn.
Our Airbnb apartment was nestled on a hill and had sweeping views of the city, including the Danube.
Outside the apartment, popular hiking and biking trails meandered through farms and hilly forests, where the trees were draped in multi autumn hues. Autumn is misty and cloudy in Linz but when the sun does peek through, the light beams through the mist and shines onto the trees. It's a gorgeous, romantic scene.
Snow fell one Saturday morning, blanketing the city, hills and forests. It was the best time to go for long walks in the forest and hike, as well as to build a snowman.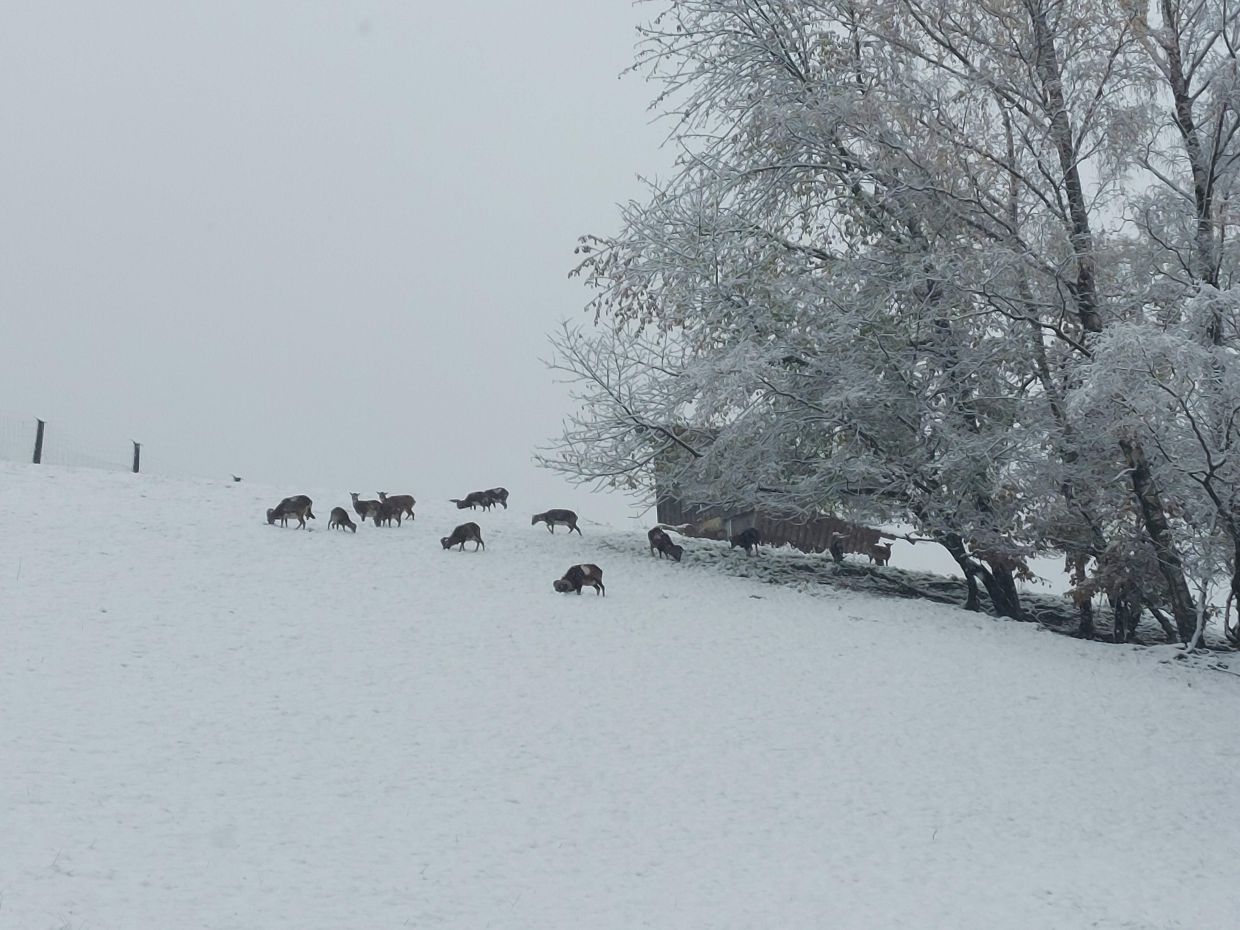 Mountain goats grazing in the snow-covered hills.
For visitors, it is easy to get around Linz as there is an extensive and efficient public transport system (buses and trams), but it is actually better to walk to the many places of attractions located within the city centre.
Along the Danube you will find the Ars Electronica Centre which offers a glimpse into a digital future filled with electronics and artificial intelligence. Opposite that is the Lentos Kunstmuseum, a museum of modern art. Both are glass buildings spectacularly lit up at night.
Cruises from Passau, Germany stop in Linz before making their way to Budapest, Hungary.
Further down the Danube is Brucknerhaus, one of Europe's leading concert halls where hundreds of shows are held each year. It is named after the famous Austrian composer Anton Bruckner, who was born, and spent part of his earlier life, near Linz.
Next to Brucknerhause is Donaupark, a popular recreational park with modern sculptures and the Walk Of Fem, a walkway stamped with names of well-known feminists.
The writer's wife foraging for edible plants to make soups and salads.
The Main Square is where one goes to shop, enjoy a cup of coffee or a meal, and just hang out with friends. Within the square is a 20m-high St Martin's Column, as well as the musical bells which ring three times every day.
On Saturdays, you can find a farmers market there, which was where we usually bought fresh vegetables and artisan cheeses. Just before leaving Linz, the Christmas Market opened up so we were happy to be able to check it out. The smell of sausages, sauerkraut, mulled wine and other local delicacies wafted through the square and was irresistible.
From the square, you can take a tram to Postlingberg, a pilgrimage church atop a hill, which has panoramic views of Linz. The tram passes through leafy suburbs, meadows and woods, but if you are able to, I recommend making your way down to the city centre on foot as it is a delightful walk.
The Linz Castle overlooks the Danube and has thick and high walls. I suppose back in the day, it would have been an imposing sight to see for ships sailing through the river. Nearby is St Martin's Church, one the oldest churches in Austria.
The main commercial centre is the Landstrasse, a pedestrian mall lined with endless shops, restaurants and cafes. We visited some wonderful churches along the way, as well as a few charming courtyards, old-world shops and the Mariendom, the largest church in Austria.
Many locals get married in Postlingberg Church.
But as beautiful as Linz is, it does have a dark past, just like many other cities in Europe. Adolf Hitler, having spent some time here in his youth, once declared Linz a "Fuhrer City", and had envisioned it to be a place for him to retire later in his life. He had grand plans for the place, and had wanted to expand it.
For this, the Mauthausen concentration camp was set up to provide granite for all the planned construction and development work. The camp still exists today, but as a memorial for the public to visit and to learn more about the history of Linz.
I have to say that it was a very sombre and distressing visit to the Mauthausen Memorial, which still had the granite quarry intact.
Mauthausen Memorial was a concentration camp during World War II.
Back to the pleasant present, we tried many local culinary delights, with the best dishes being the meatloaf and the famous Linzer Torte. This is said to be the oldest cake in the world that's named after a city.
We also visited the Botanical Gardens which had a wide variety of temperate, tropical, and desert plants. One fine sunny day, we cycled part of the well-known Danube Cycle Path, arguably the world's most scenic cycling route. From Linz, one can even cycle all the way to Passau, or to Budapest, via Vienna.
Linz has so much to offer visitors so try to put in on your itinerary when visiting Austria.
The views expressed are entirely the reader's own.
Everyone loves a ride along the Danube Cycle Path, including this dog.
---
Write to us
We can finally travel again! We would love to hear about your travels and adventures. If you don't feel like travelling yet, that's OK, as you can always tell us about your past holidays instead. Your story – experiences, tips, advice – should be 700 to 800 words long in Word or Text format. Please attach some photos (1MB, captioned) in a separate email. There is no payment for submissions, and we reserve the right to edit all submissions. Email star2travel@thestar.com.my with the subject "Readers Share".
Subscribe now to our Premium Plan for an ad-free and unlimited reading experience!