Aviary Bar
Lobby, 3 Jalan Stesen Sentral,
Kuala Lumpur Sentral, KL
Business hours: 5pm to 12am daily
Tel: 03-22642264
Decorated with elegant curved walls that arch out from the softly lit bar area, Aviary Bar's cosy atmosphere is perfect for after-work drinks or a gathering with friends.
Positioning itself as the home of the internationally renowned Tiki cocktail – the Jungle Bird – the bar's Jungle Bird series has five cocktail variants.
Jungle Bird was concocted by Jeffrey Ong Swee Teik of Penang on July 6, 1973, as a Tiki welcome drink for hotel guests.
It was made from pineapple juice, rum, Campari, lime and syrup and gained international acclaim when it was first listed on John J. Poistner's 1989 The New America Bartender's Guide.
One of Aviary Bar's signatures is the Original Jungle Bird that was made with pineapple-infused Jamaican dark rum, Campari, a squeeze of lime and pineapple juice for a fruity yet balanced thirst-quencher for the tropics.
Others in the series such as Morning Bird blends coffee-infused Campari and dark rum that's unexpectedly mixed with curry leaf while American Jungle Bird uses Makers Mark Whiskey as its base and Aperol instead of Campari, with the added twist of a topping of frothed egg white.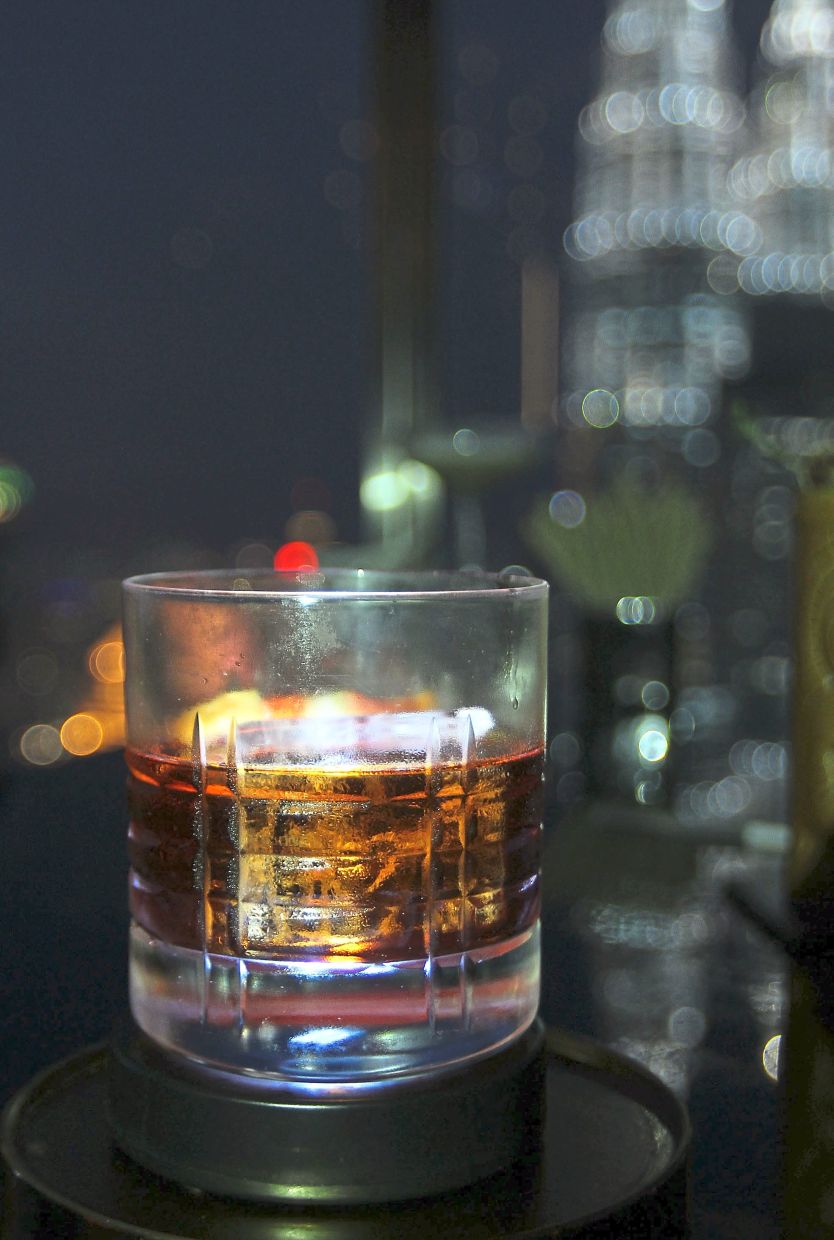 Blue's Smoked Negroni comes with Tanqueray Gin, Campari, Cinzano 1757 Rosso vermouth and local spices, smoked with hickory wood.
Blue
Level 51, EQ, Equatorial Plaza
Jalan Sultan Ismail, KL
Business Hours: 5pm to 1am daily
Tel: 03-2789 7777This bar offers one of the most dazzling panoramic views of the city skyline.
Visitors can watch the sunset as well as admire the beauty of buildings such as the KL Tower as well as the illuminated Twin Towers.
Selected bands perform indoors on Fridays, Saturdays and public holidays but VIP members can party on the upper deck.
An all-time favourite cocktail here is Smoked Negroni, consisting of Tanqueray gin, Campari, Cinzano 1757 Rosso vermouth, local spices and hickory wood smoke.
Other signature cocktails include Little Piece of Heaven, made of light rum, melon liqueur, lime, rosemary, kiwi and aquafaba, as well as The Borneo Head-Hunter, a concoction of tequila, Strega, lime, kaffir lime, aquafaba and Sabah chilli tincture.
Bar Trigona
Level 6B, Four Seasons Hotel Kuala Lumpur, Jalan Ampang, KL
Business hours: 5pm to 12am daily except Mondays
Tel: 03-2382 8888
Bar Trigona's Rum Ki Tiki is a concoction of aged rum, whisky, lime, Trigona honey and milk.
Positioning itself as a sustainable bar, Bar Trigona at Four Seasons Hotel Kuala Lumpur makes the best possible use of each ingredient.
From house-made coconut wine to oolong wine, the bar team takes great pride in crafting house-made rum, wine, tequila and juices.
Its name is inspired by the stingless trigona bee, whose honey is used in a majority of signature cocktails such as Oolong Fizz and Honey Cocktail Flights.
For the fourth year in a row, Bar Trigona has been awarded a coveted spot among Asia's 50 Best Bars.
Its newly launched menu features signatures such as Red Bird – butter fat-washed dark rum, overproof rum, pineapple and kedondong rum, home-made oolong wine and trigona honey, while Terroir brings a concoction of assam boi-infused tequila, mezcal, Cointreau, Tio Pepe, kedondong juice, cacao honey and lime juice.
Other cocktails include Rum Ki Tiki, a mix of aged rum, whisky, lime, trigona honey and milk as well as its all-time classic Trigona Old Fashioned, which contains rye whisky, cynar, trigona honey and cedarwood bitters.
Apart from local cocktails, the bar has local bites with an innovative touch such as Malaysian Deluxe Caviar, Native Prawn Umami and Canele Apam Balik.
Slippers, sports attire and singlets are not allowed.
Woobar has an electrifying urban and chic atmosphere.
Woobar
W Hotel Kuala Lumpur
121 Jalan Ampang, KL
Business hours: 10am to 10pm
Tel: 012-3479088
Urban, chic and vibrant, Woobar is where cocktails lovers can discover new concoctions.
During the day, guests are able to share afternoon tea or snacks between 3pm and 5pm while enjoying the views of the city as baristas prepare coffee, traditional teas, fresh juice and ice-cream cocktails.
At night, the place transforms into a vibrant bar. Recently, the cocktail menu was revamped.
Some of its signature cocktails include Cosmopolitan, Crystal Skull, Maple Smoked Old Fashion and Most Expensive.
The dress code is smart casual.
Visitors can also expect a specially curated snack menu that pairs well with the handcrafted cocktails.
Among them are the Foie Gras Pate that comes with raspberry jam and sourdough toast, Spanish Cecina – air-dried beef served with cantaloupe melon, rucola and Parmigiano-Reggiano, as well as Tuna Tataki – seared yellowfin tuna with ponzu and wasabi aioli.
Vertigo's Negroni combines gin, aperitif andvermouth.
Vertigo
Level 59, Banyan Tree Kuala Lumpur, Jalan Conlay, KL
Business Hours: 6pm to 12pm daily
Tel: 03-2113 1888
One of the highest rooftop bars with a 180° view of the city, Vertigo has the Petronas Twin Towers, KL Tower, Tun Razak Exchange and Merdeka PNB 118 in its line of sight.
Visitors are treated to a range of international and signature cocktails by mixologists at the modern, stylish bar.
Savour South-East Asian-inspired bar snacks as you listen to beats from the DJ's turntable.
Signature cocktails include Fruity, a mix of vodka, grenadine syrup, orange-flavoured liqueur, lime juice, egg white and mixed berry syrup, as well as Mount Genting, a blend of gin, dry vermouth, lime juice, lychee and raspberry syrup and egg white.
Vertigo also offers a selection of bottle packages for liquor and wines.
The Cove's White Russian combines coffee liqueur, vodka and fresh milk.
The Cove
Level 7M, Pavilion Hotel Kuala Lumpur, Jalan Bukit Bintang, KL
Business Hours: 6pm to 12am daily
Tel: 03-2117 2888
High above the city streets, The Cove offers guests the perfect place to unwind in a bustling cosmopolitan setting.
Designed with three large private rooms that seat up to 10 people, the bar gives guests a sense of privacy while enjoying a night out.
Guests can immerse themselves in its classic rustic decor and indulge in a selection of international cocktails, beer packages and delectable bar snacks after a long day.
Its signature cocktails include White Russian, a mix of coffee liqueur, vodka and fresh milk, as well as Gimlet, which has gin, fresh lime juice and syrup.
The bar also offers a selection of bottle packages for liquor and wine as well as beer bottle packages daily.
OneSixFive Lounge
Lounge, InterContinental Hotel 165 Jalan Ampang, KL
Business hours: 11am to 12am daily
Tel: 016-202 4623
OneSixFive's Unpolished Gem (Bali) blends rum, cognac, dry and sweet vermouth and rose-calamansi cordial.
The latest tie-up between InterContinental Kuala Lumpur and Mizukami Collective caters to a more international clientele.
Inspired by InterContinental USA's own Worldly Classics Cocktail Programme developed by master mixologist and mentor Angus Winchester, the bar headed by Shawn Chong features 10 drinks (seven cocktails and three mocktails).
The foundation of the menu is based on the various InterContinental properties in Asia with a touch of Chong's own recipes, bringing out each city's highlights.
For example, the Sensual Retreat (Phuket) – a mix of vodka, Bianco vermouth, soft peach, cranberry, orange and lemon – has a zesty island-like vibe, while Plush Tart (Macau) – a blend of bourbon, Grand Marnier, port, pineapple and lemon – is reminiscent of a sangria.
Mocktails such as the Gimless Earl (Singapore) made of Earl Grey tea, honey, lime and grenadine, are like a sophisticated version of iced lemon tea.
The bar is located at the lounge where after-dinner treats and afternoon tea are also available.
Subscribe now to our Premium Plan for an ad-free and unlimited reading experience!