New 800m route will benefit school students and Taman Kaya folk
STUDENTS and staff of Chong Hwa Independent High School in Kuala Lumpur can breathe a sigh of relief now that a road extension to ease traffic jams in the area has been built.
A slip road along Jalan St Thomas was extended, connecting Persiaran Parkview with the school.
Now road users coming from Jalan Ipoh and Maple Drive can use the new road to head to Chong Hwa Independent High School.
With the alternative route, traffic congestion is expected to ease in nearby Taman Kaya, where another school, SJK(C) Lai Chee, is also located.
The new 800m road extension provides a third route to Chong Hwa Independent High School.
At the same time, it reduces congestion along two other routes: Jalan Duke-Jalan 4/58a and Jalan St Thomas.
The two-lane single carriageway also features solar lighting and a pedestrian walkway.
Lim speaking at the opening of the new road extension.
Chong Hwa Independent High School chairman Tan Sri Lim Keng Cheng said that prior to the road's construction, students had to negotiate uneven and muddy pathways when coming to school.
"I deeply sympathise with their difficulties.
"With the RM3.2mil route open for public use, such difficulties should now be alleviated.
"Parents can now use the new road to drop off their children and students who disembark at Jalan Ipoh MRT station can also come to school via this new road," he said.
Lim was speaking during the recent opening ceremony of the road which the school has dubbed "Jalan Chong Hwa".
Also at the launch of the road were the school's deputy chairman Tan Sri Gan Yu Chai and vice-chairman Tan Sri Leow Chong Howa.
Meanwhile, the school's media department assistant Ng Meng Tuck said residents around Jalan Ipoh had complained about the traffic congestion during rush hour.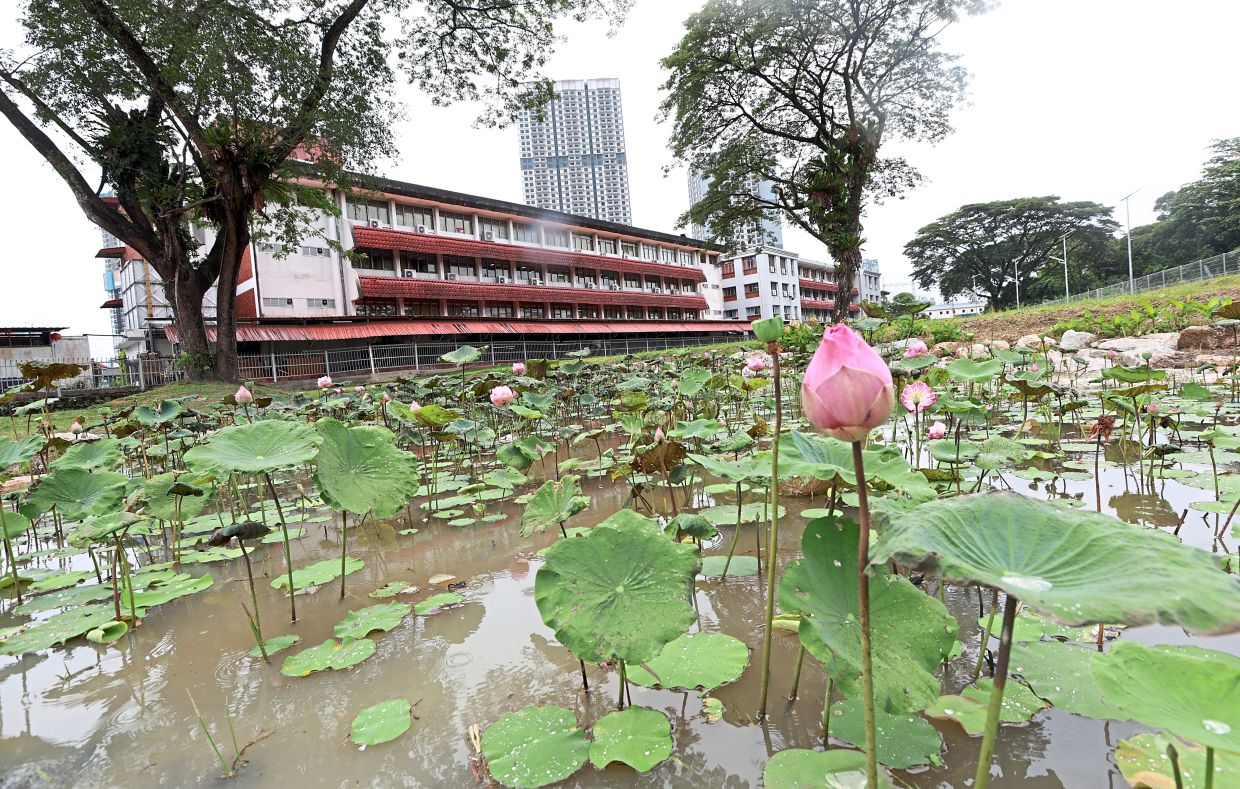 The lotus pond built as a recreational area for students and residents.
"The traffic jam goes from the school gate all the way to Jalan Ipoh, especially when the school session ends.
"The situation became worse when it rained.
"With the new road, residents can save 20 to 30 minutes getting from the school gate to Jalan Ipoh," he said.
However, Ng said the new road might not be suitable for heavy vehicles like school buses as it was quite narrow.
Nevertheless, the road is designed to allow for future expansion to a four-lane dual carriageway.
Along with the road extension, the school also beautified part of the road reserve with a lotus pond.
The pond will serve as a recreational spot for students who wish to sketch and also for residents to hold community activities.
The extended road is also expected to provide access to a multipurpose hall in the future.
Subscribe now to our Premium Plan for an ad-free and unlimited reading experience!