STAR Media Group (SMG) Bhd's evolution over the past five decades has given it the experience to embrace future changes in the industry, says its chairman Tan Sri Chor Chee Heung.
"I have witnessed many changes in the past 52 years, both in the country and the media industry.
"I believe The Star will continue to produce accurate, trustworthy and reliable news for all Malaysian citizens," said Chor during the group's 52nd anniversary celebration.
"Over the years, The Star has touched the lives of Malaysians not just locally but also those living abroad.
Carvalho singing and playing his guitar.
"All of our past achievements stemmed from the hard work of every employee," he said in his speech during the anniversary celebration in Menara Star, Petaling Jaya.
His speech was followed by a ceremony to recognise the company's long-serving employees.
Long-service awards were given to employees who had served the company for 15 and 25 years, respectively.
In a video, recipients shared their memories, including some light-hearted moments throughout their career in SMG.
"In 2013, I asked Datuk Seri Anwar Ibrahim whether he would offer an 'olive oil' to then prime minister Datuk Seri Najib Razak, instead of an 'olive branch," said chief reporter Erle Martin Carvalho, one of the 15-year long-service award recipients, to laughter from the floor.
Despite being pressed as he was due in Parliament to report on Dewan Rakyat proceedings, Carvalho performed the song When You Wish Upon a Star to express his gratitude towards SMG.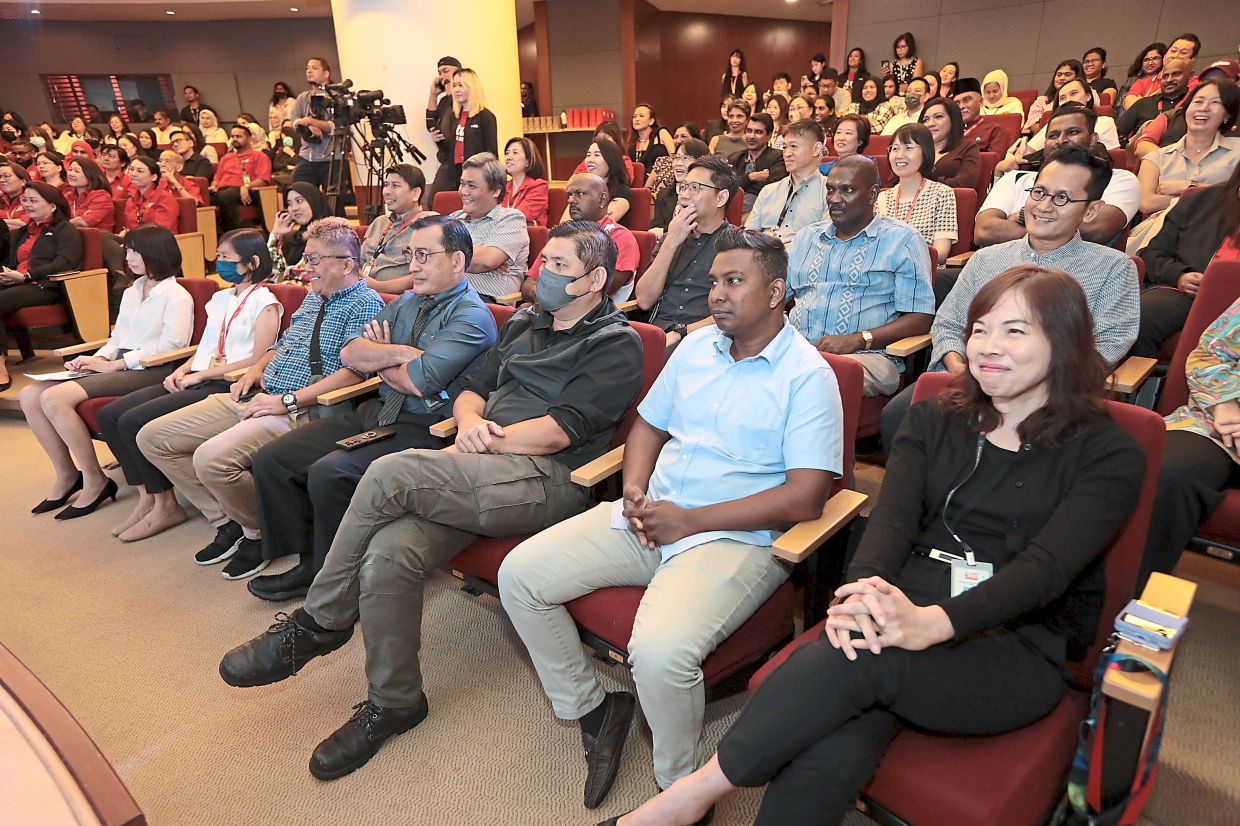 The auditorium of Menara Star was packed for the anniversary celebration.
"Time flies when you are having fun. News never stops and we need to always keep working hard," he said before rushing off.
StarMetro news editor Bavani M, one of the recipients of the 25-year long-service award, said she had always been inspired to see her byline.
"I am as excited to see my name now as I was as a cub reporter," she said.
Bavani encouraged newcomers in journalism to work diligently.
"Go to the ground. That is where I get most of my big stories. Don't just sit in the office waiting for someone to call."
(Left) A wide variety of dishes was served during the buffet lunch.
Content administration manager Jowyn Kwan, recipient of the 15-year long-service award, thanked her colleagues for their support.
"I have dealt with different kinds of people and have accumulated many great experiences.
"To freshies, don't mind the hard work and be open to anything," she said.
Another 25-year long-service award recipient, senior security guard Mohamad Asri Mohd Mokhtar, emphasised that having a sense of belonging was critical.
"We have seen the best of times during The Star's 'glory days', and I hope people from all departments will continue strengthening the family spirit and camaraderie to maintain the great working environment," he said.
The awards were presented by Chor, chief executive officer Alex Yeow and SMG director Datuk Dr Mohd Aminuddin Mohd Rouse.
The celebration concluded with a cake-cutting ceremony followed by lunch.
Subscribe now to our Premium Plan for an ad-free and unlimited reading experience!