People with big sensitive hearts are often told they're "too much". And it can sometimes feel like you carry enough love and emotion for the whole world. So it must be nice when the world loves you back.
Meeting photographer-artist Nadirah Zakariya, it all clicks and one understands the appreciation and support she's received for her first major exhibition Feeling Feelings Makes Me, Me, which is showing at Temu House in Petaling Jaya.
Of course, there's a certain "world-class" pedigree expected from someone whose background includes a show in New York, photos in a slew of international publications including The New York Times, VICE, and Vogue Italia, and an inclusion in a Thames and Hudson art book Flora Photographica, featuring "120 of the world's leading practitioners" in photography.
One might even be a little intimidated in preparing to meet this talented individual, who trained in New York as a photographer, and has been back living in Kuala Lumpur for nearly 10 years now.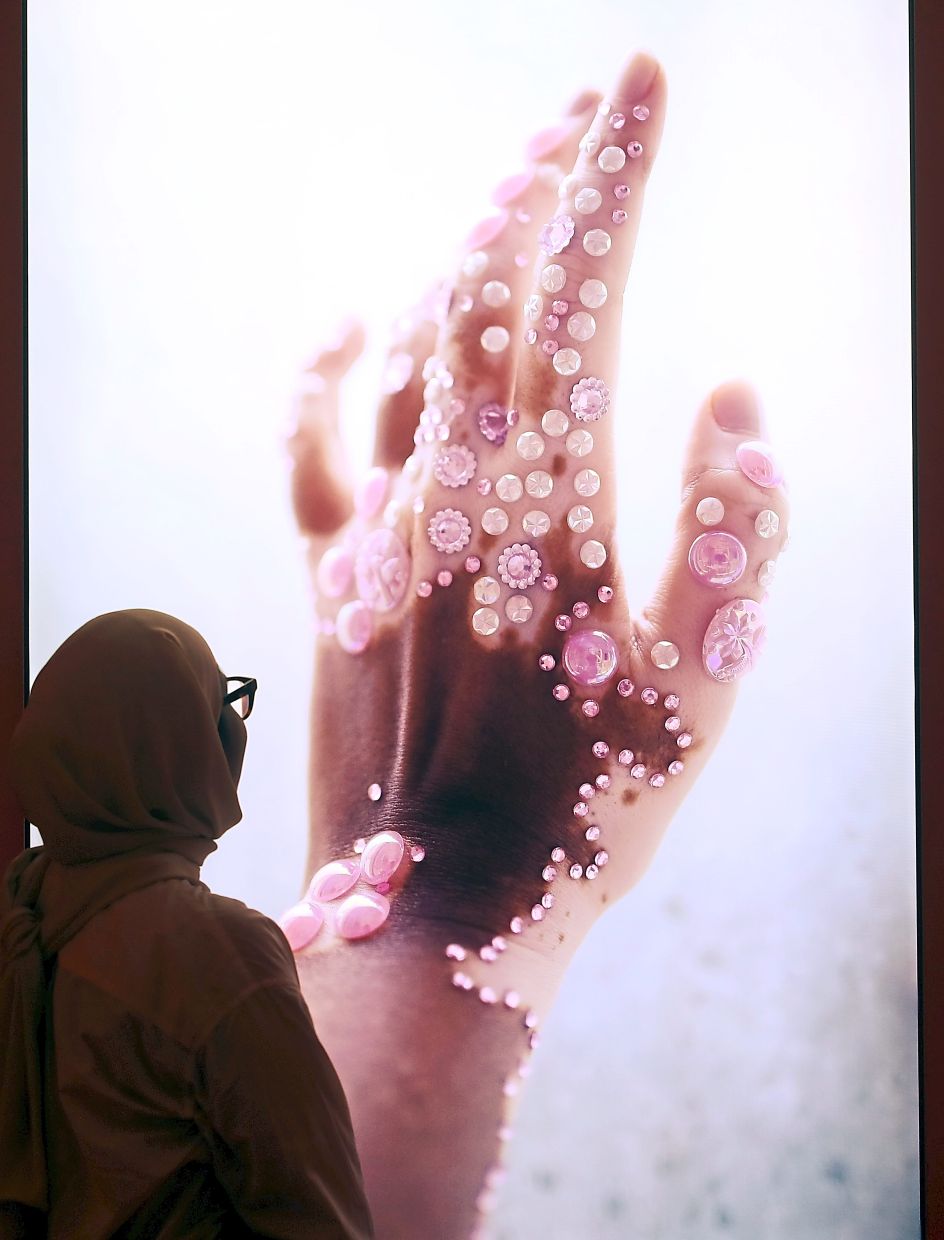 Nadirah created a 'pink room' space for her Like Blooms Dotting Trees series at her photography exhibition 'Feeling Feelings Makes Me, Me' at Temu House in Petaling Jaya. Photo: The Star/Azlina Abdullah
"Kuala Lumpur is where home is now, and I love it. But being in this creative world, you have to anticipate the challenges and find ways to get your art seen ... I didn't want to wait around for a gallery to pick up my art, so I found a bunch of collaborators and a great venue to help me realise my dream of an exhibition," says Nadirah.
The host and her party
Fortunately, Nadirah, 39, is warm, somehow both earthy and effervescent. More to the point, she's a consummate artist who bares her passionate, gutsy, tender soul in the 40 or so works on show (framed photography prints, lightboxes, and a video piece).
And the venue Temu House, that airy 1960s bungalow in a quiet Petaling Jaya cul-de-sac, is transformed into nooks and grottos of unique and poignant beauty, at times delicate and at others exuberant, from all manner of baubles and blooms (in various stages of life).
The exhibition contains three main themes: flowers and food (her response to the 2020 movement control order), Nadirah's vitiligo, and andartu ("anak dara tua"), her response to the social pressures surrounding "pushing 40" and being unmarried. There is also a fourth sub-theme, of solitude and feeling less "acceptable" emotions, which seems appropriately located away in the attic.
Nadirah's artwork titled 'All Purpose Flower, MCO Day 59' (2020), which was featured in the Thames and Hudson photo art book 'Flora Photographica' last year. Photo: Nadirah Zakariya
Despite the weight of the themes, the exhibition experience has been an enjoyable one for Nadirah, who worked with curator Sharmin Parameswaran, and also had the venue space mapped out by R+ for exhibition design.
A recent – and very busy – three-day opening weekend showed that an independent showcase can gather art lovers, collectors, the curious public and not to forget, friends in the creative scene.
"For the first time, there were people all over Temu House. But they kept disappearing and I had to keep going into the kitchen to pull them out," says Sharmin with a laugh.
Temu House's art gallery assistant Zana was sent to retrieve the guests at one point, but ended up joining them. (Of course, if film director Bernard Chauly was making blue cheese toasties at your do, you'd hang around in the kitchen too.)
The bustling soiree may be over, but the convivial atmosphere remains.
As a photographer-artist, Nadirah has set up a hands-on exhibition that engages the viewers while also showing them what her art process is all about. Photo: The Star/Azlina Abdullah
"I try to be here at almost every hour that it's open, so that I can interact with the people that come," says Nadirah, who works on most of her photography in her home studio in Ampang, KL.
Sharmin, who realised Nadirah wanted a "special" kind of exhibition vibe after two previous shows with camera brands, discussed ways with the artist to give the Feeling Feelings Makes Me, Me show an intimate feel.
"Nadirah as an artist, had a vision for the exhibition she wanted to have, not just from a visual aspect but also an experiential outcome, which as a collaborator-curator challenged me to think and act differently. From the art works, to exhibition design, further expanded through food and other programmes all aligned to push 'feeling, feelings'.
" It was a learning and fulfilling challenge, which I would hope more artists will come forward with, so the Malaysian visual art scene is able to realise more of these artistic visions," says Sharmin.
Strength in our own stories
What comes across during our tour and chat, though, is that it's Nadirah who seems to be doing the listening, holding space for visitors who are struck by the vulnerability in her works and who then open up about their lives.
These include women who lived with vitiligo during more judgmental times, visitors from other traditional cultures who resonated with the pressure on unmarried women, and those who found hope in the food tins and fragile flowers she used to post on social media as the days and weeks of the MCO went by during the pandemic.
Nadirah has also created a 'blue room' space with lightboxes at her photography exhibition. Photo: The Star/Azlina Abdullah
From sharing details of sardine cans and penyapu lidi to vintage kimonos and agar- agar in the bright open hall with its gorgeously bloom-bedecked long dining table (regularly redecorated for this show and "not for sale!"), to the "Pink Room" and quiet deep blue attic, it was a magical and delightful tour.
Not hard to imagine long-kept stories coming to mind and out of our lips – it's a safe and beautiful space that lifts the spirit.
"This one guy saw these three pictures as the process of the MCO. Like in the beginning, you felt you were alone and then as we moved forward, we were starting to embrace together," recalls Nadirah, marvelling for the umpteenth time at the power of sharing art to see other people's perspective.
Not too much at all
The show is replete with symbolic self-portraits (whether named as such or not), and has been received with warmth that must be gratifying to an artist whose identity is being "the sensitive one", and as the fourth out of five siblings.
"I'm the one that always cries ... I would be told to either stop crying or toughen up. And so I would still be crying, but there would be guilt – like, ugh, why am I still crying? Or ugh, why am I feeling too much?"
A piece from Nadirah's 'andartu' ('anak dara tua) series, which is her response to the social pressures surrounding "pushing 40" and being unmarried. Photo: The Star/Azlina Abdullah
It was only as Nadirah matured and began creating work (she currently runs production house Layar Lucida), that she realised it was a strength she needed to embrace and own.
"So I decided to name my whole show that. Because I wanted to show people that being vulnerable is okay."
And judging by the loving reception from her community of supporters and visitors, being sensitive and vulnerable is not too much at all.
Due to popular demand, Feeling Feelings Makes Me, Me has extended its hours and is now open on Thursday and Friday from 12pm to 5pm, and Saturday and Sunday from 10am to 5pm. The exhibition runs till May 28.
More info here.
'Feeling Feelings Makes Me, Me'
---
Subscribe now to our Premium Plan for an ad-free and unlimited reading experience!