Get ready to be transported to a world of superheroes, villains, quirky characters and epic adventures in PLAY@Ledge, a comic art exhibition held at The Ledge art gallery at 1Utama Shopping Centre in Petaling Jaya, Selangor from May 12 to 28.
The PLAY series - which stands for "Pop Culture, Lifestyle, Art and You" - is a celebration of comic art creativity and aims to promote comics and pop culture as a lifestyle. It also sets out to foster a sense of community among comic book enthusiasts, and provides a platform for artists to showcase and sell comic art and merchandise.
Since its debut in 2017, it has held two physical exhibitions in Kuala Lumpur, and three online events. PLAY@Ledge is its third physical exhibition, the first to welcome fans back into an art gallery space.
This (free admission) showcase is all about art, storytelling and training the spotlight on Malaysian comic book artists and their work - something that independent curator Lee Heng Kok thinks is often overlooked.
An artwork titled 'Suvarnabhumi' by David Sundra, who is known for his highly-detailed fantasy world with indigenous elements. Photo: David Sundra
Participating artists at this year's PLAY@Ledge are Adrian Tan, Cross, David Sundra, Faezal Tan, Farah Lina, Jon Tham, Julius Lee, Lipwei, Marzuki, Nasrul Azli, Niezam, Pok Nik, Qistina Khalidah, Rani Wukong, Redcode, Shi Min and Uzair Rashid.
"We are truly honoured to showcase these remarkable talents. Their works are a testament of the rich culture and diversity in our artistic community. There are two things I would like the visitors to take away from the event: That comics are cool and that it will encourage them to read more comic books, and that they discover artists at the event that they might not have known about. It is a bonus if the event inspires new comic book artists or attracts new enthusiasts to this art form!" says Lee.
"At PLAY, we are doing our small part to highlight worthy artists as we encounter them. Our focus has always been comics and storytelling, and I have always been mindful of not drawing boundaries and limiting the imagination of the participating artists. We are just a tiny platform that hopefully one day will be able to get recognised not just regionally but internationally," he adds.
Faezal Tan's 'The Hunt For Blood Tiger' comic book series. Photo: Faezal Tan
Besides the comic art exhibition, PLAY@Ledge will have meet and greet sessions with comic book artists, and the official release of a limited edition 44-page artbook comprising a selection of artwork from the exhibiting artists. Only 100 copies are up for sale, retailing at RM65 at the event.
Another programme held in conjunction with this year's PLAY is an art contest with prizes to be won. There are different categories: children aged six to 12, youths aged 13 to 18, and members of MY Comics Community (19 to 99 years old).
PLAY is a tribute to the enduring art forms of comics and illustration, something that Lee has a soft spot for, having grown up with comics since his childhood.
"In my opinion, comic book artists (in Malaysia) are often under-celebrated. A good comic comprises interesting characters, engaging stories and stylised presentation. I have read comics presented in black and white line art, ink wash, oil painting, watercolour or a mix of mediums. Comics are essentially movies with unlimited budgets and anyone that can draw complete, coherent comic pages are worthy of celebration," says Lee.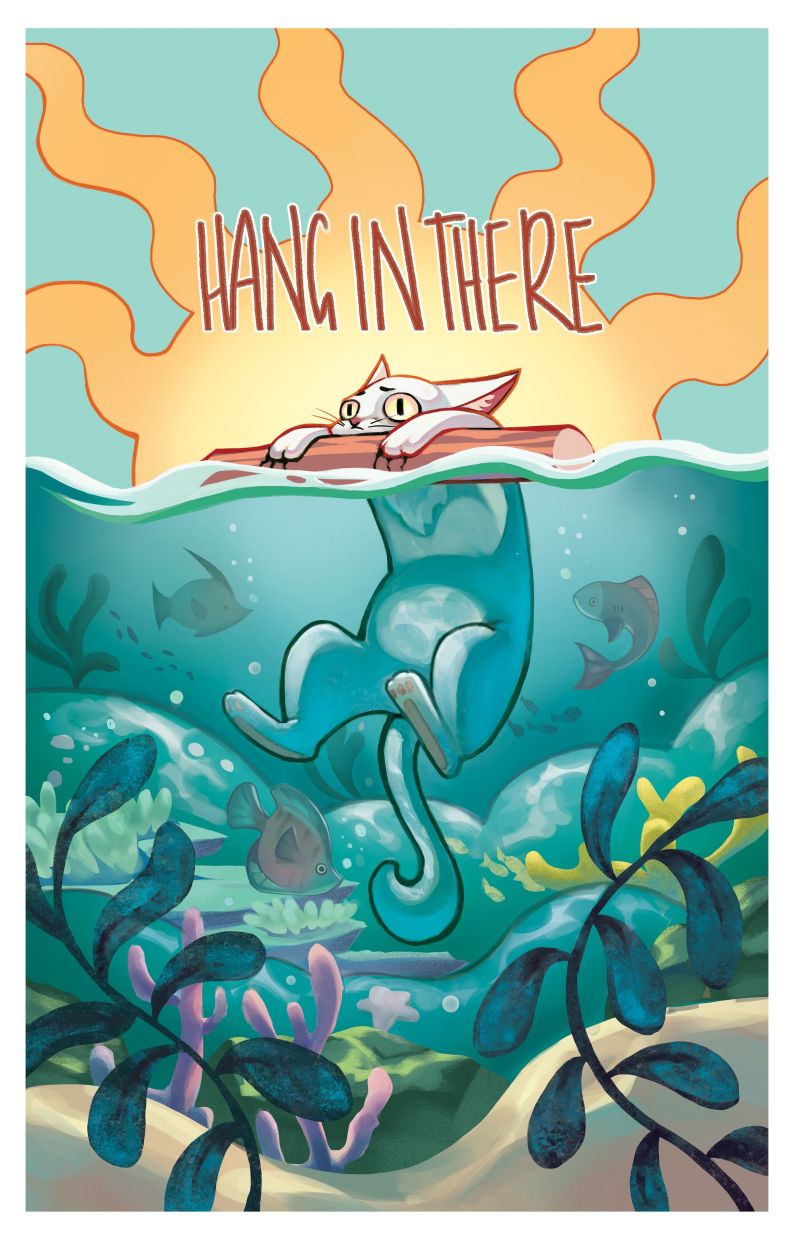 An artwork titled 'Hang In There' by Qistina Khalidah. Photo: Qistina Khalidah
"Growing up in the pre-Internet age, comics were my entertainment. Through comics, I have visited countless worlds, lived thousands of lives through the characters and learned new words and experience. These mediums have long been cherished for their ability to build new worlds, convey complex ideas and connect with audiences on an emotional level.
"The various styles that the artists brought to the stories also allowed me to appreciate art styles that are suitable to convey the story. I also believe that comics are also a perfect entry point for children to promote reading habits," says Lee.
PLAY - a community event banner for Facebook group MY Comic Community, which partners with Pekomik for content and activities - will be attending Singapore Comic Con in December.
More info here.
Subscribe now to our Premium Plan for an ad-free and unlimited reading experience!