After spending many years abroad, teenage siblings Maz and Edi return to rural north Malaysia in the late 1990s.
As if navigating high school isn't a big enough challenge, the brother and sister also have to deal with the clash between their Western upbringing (influenced by early Internet culture, 1990s music, and video games) and the conservative society around them. Faced with pressure to conform, will they be able to reconcile their fragmented selves, or will redefining their identities change everything they stand for?
Their story is told in Mixtape For Maz, a memory play written by Adiwijaya Iskandar and directed by Tung Jit Yang (better known as Jit). Presented by Perempuan Productions and KongsiKL, it stars Faiq Syazwan Kuhiri as Edi; Farah Rani as Maz; Mia Sabrina Mahadir as Maz's classmate Rokiah; and Nabil Zakaria as Hisham, president of the Science Club at school and a big influence on Edi.
This youthful theatre show is set to play at the arts warehouse space KongsiKL in Jalan Klang Lama in Kuala Lumpur from May 27 to June 4.
Adiwijaya has woven together personal experiences and creative license, resulting in a compelling story – seen through the eyes of Maz and Edi – that will resonate with audiences. It is rooted in the experiences of many different people – for instance, the bullying and oppression that some inspiring women close to Adiwijaya endured while growing up in Penang.
Mosaic of lived experiences
"The story is a mosaic of the lived experiences of several women whom I interviewed during the inception of the play. These were individuals who had more progressive and liberal upbringings but underwent primary and secondary education in the more rural areas of North Malaysia. By compiling bits and pieces of memories and recollections, interwoven with my own creative license, the final work has hints of the lives that informed it," says Adiwijaya, who is also known as Skin in the theatre scene.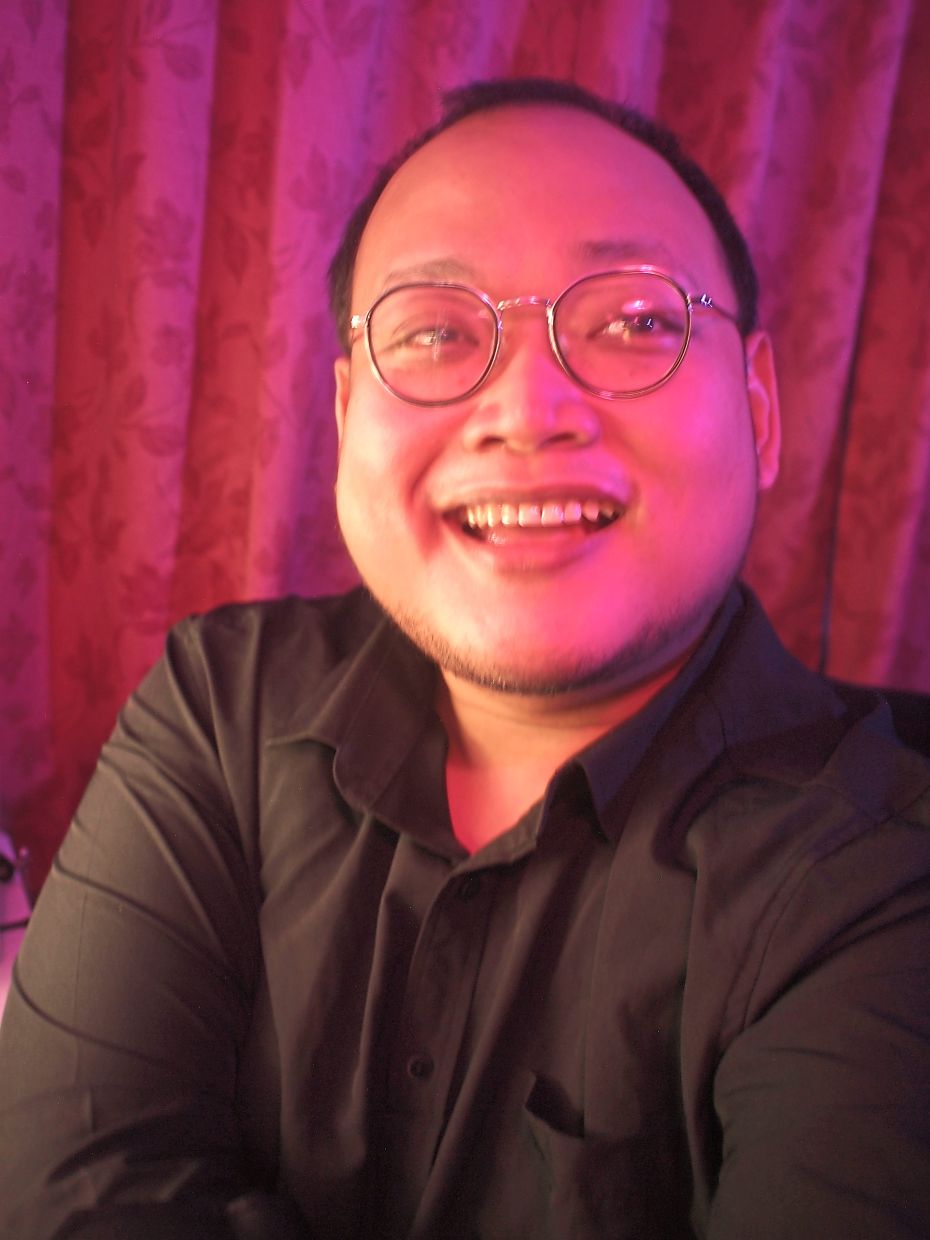 Adiwijaya says that the most challenging aspect of the playwriting process was trying to retain the unique combination of northern Malay dialect (Bahasa Utara) mixed with English. Photo: Adiwijaya Iskandar
He notes that the most challenging aspect of the playwriting process was trying to retain the unique combination of northern Malay dialect ("Bahasa Utara") mixed with English – a different take on Manglish that we rarely hear onstage.
Mixtape For Maz is presented as a work of fiction. It started off as one of the staged reading works picked for The New Play Project, initiated by The Actors Studio Seni Teater Rakyat, at KLPac in 2018.
The main idea of the play is that as you explore and develop your own beliefs and values, you become less tolerant of external pressures to conform to the beliefs of others. It is a universal experience to grapple with our identity and the values that shape us, especially when we are still figuring out who we are and who we want to be. The clash between individuality and conformity is a timeless theme that continues to resonate with audiences today.
"For the misfits out there, it is not worth conforming if it destroys the most important relationship you have, which is with your true self," he adds.
Adiwijaya describes the play as mostly a dramatic one with some comedy, a dose of melancholy and 1990s nostalgia (the nod to Oasis' debut album Definitely Maybe in the play's promo poster is already a hint). He hopes that this will encourage a more nuanced conversation about how we assert our identity and individualism within Malaysia's more collectivist society.
Faiq (Edi, left) and Farah (Maz) in a gripping scene from 'Mixtape For Maz' during a rehearsal session. Photo: The Star/Art Chen
"The two sides of this extreme are seen in the two main characters, who begin as almost opposing forces. Maz is more self-aware and certain in herself than Edi, who tries really hard to integrate with the bullies at school. Edi hopes that by blending in, he is choosing the path of least resistance. That is the crux of the conflict that emerges between the two," he says.
Mixtape For Maz is supported by the Hai-O Arts And Culture Grant, the Boh Cameronian Grant For New Productions and Kakiseni. Sound and lighting design is by Bryan Chang, with scenography and costume design by Yusman Mokhtar.
Adiwijaya's play is a moving work that delves deep into sibling love and rivalry, a comedic and realistic look into high school life, that sweaty, intense growing up time of Malaysian life.
The themes he sheds light on in this play often stay as whispers among classmates and fuzzy, forgotten memories in the back of our minds.
Journey to the stage
"Mixtape For Maz underwent a long process of writing, editing and rewriting. It comes from and is a synthesis of the mind and heart of an individual artist. Providing what the audience and the theatre needs – not necessarily wants – is always in the foreground of our working through the play. Each rehearsal is filled with ideas, passion, and striving together to bring the play to life. It is fun and fulfilling," says Jit, a New York-trained actor-director whose last directing stint was The Emperor's New Clothes Or How The Procession Has Got to Go On at KLPac in 2022.
'Providing what the audience and the theatre needs – not necessarily wants – is always in the foreground of our working through the play. Each rehearsal is filled with ideas, passion, and striving together to bring the play to life,' says Jit. Photo: The Star/Art Chen
Farah, who plays Maz, describes her character's journey as one that is resonant to anyone who goes against the grain and challenges the status quo.
"Adiwijaya says Maz is a 'rebel without a cause'. I believe however that she does have a cause and her cause is simply wanting to be herself. Just this idea of being herself challenges societal norms and this challenge affects her social and schooling life," says Farah.
"But she pushes it even further, trying to inspire others the only way she knows how, but she is laughed at, and seen as a liar and an outcast. Even facing the consequences of being herself, she tells her brother 'don't join the herd'. At her core, Maz is a person who values her individuality, wants to live life on her own terms and wants others to do the same, regardless of the adversity she goes through. I admire that greatly," she adds.
Adiwijaya masterfully portrays complex relationships between the characters, resulting in unique and memorable scenes. For Farah, the scenes between Edi and Maz are particularly poignant as the brother and sister delve into their deep bond, which is challenged by the events of the play.
"My personal favourite is a scene between Maz and Rokiah, where they share their aspirations of moving away. This scene perfectly captures the youthful hope and boundless potential of teenagers. It is a beautiful moment that highlights the dreams and possibilities of the two young women," she shares.
Farah (left) and Mia take on the roles of Maz and Rokiah in 'Mixtape For Maz', two teenagers who meet in class and become good friends. Photo: The Star/Art Chen
When it comes to Edi – who is shy, socially awkward and a bit of a nerd – Faiq says that the inner conflict that his character goes through is something he can understand and empathise with.
"The similarities that we do share are that both of us grew up on the north of the peninsula in our formative years, both parents were lecturers, both of us had sisters who were rebellious, and both of us grew up with the pressures of being Malay, Muslim and conservative. And I think one of the main things that plagues Edi is loneliness, so a lot of the choices that he makes are ways for him to cope with this," says Faiq.
Adiwijaya hopes that play will spark more dialogue about the recognition and affirmation of diversity and plurality within our society, in all its different forms.
"When you are different – and all of us are in so many ways – it is important to know that this difference is not wrong but it is an indication of diversity, and that it is this diversity that makes us a stronger and richer society as a whole," he says.
Mixtape For Maz serves as a poignant reminder of the importance of staying true to oneself, and the power of individuality to create a stronger and more inclusive society.
Mixtape For Maz runs from May 27 to June 4 at KongsiKL, Jalan Klang Lama in Kuala Lumpur. More info here.
Subscribe now to our Premium Plan for an ad-free and unlimited reading experience!