We had a chance to check out the newest video games at the Tokyo Game Show, and our reaction can be summarised as thus: Sugoi desu!
The Tokyo Game Show of 2013 kicked off last Friday at Chiba's Makuhari Messe convention centre, and given the upcoming release of 8th gen consoles — the PlayStation 4 and Xbox One — the expo promised to be a very memorable affair.
Thanks to the folks at Sony Computer Entertainment Hong Kong, we had the opportunity to attend the event and find out first hand what gamers can look forward to in the next few months. Here are some of the highlights.

The PlayStation plans
Unsurprisingly, Sony had one of the largest and most attended sections at TGS, which is fitting given their big game plan for the PlayStation systems over the next few months.
In November, the newer, upgraded PS Vita will be available in Asian regions. The PCH-2000 series is a strict hardware upgrade over the current PCH-1000 PS Vitas as it features a slimmer/lighter body, a sharper screen, and an internal 1GB of memory card.
In December, it's the big one — the PlayStation 4 will be coming to Malaysian shores, so if you're a PS fan, start writing to Santa. If you're wondering what to play, we listed some of the PS4's more interesting titles in our Game Highlights and Games Worth Mentioning section.
In January, the Asian regions will get the chance to see the PlayStation Vita TV. "What's a PS Vita TV," you ask? Well, it's essentially the features of the PS Vita packaged into a miniature home entertainment system.
You'll need to hook the device up to a TV and a wireless DualShock 3 controller, after which you'll be able to play most Vita games, PSP titles, and PSOne classics (with two players even, if you have a second controller) on a TV screen. Plus, you'll be able to stream TV shows, read manga and access web content through it. It's very nifty for something that's about the size of an iPhone 5.

Game highlights
Now let's get to the juicy bit: The best games we played at TGS 2013.
Rain
• Puzzle-solving adventure for the PS3, coming October 2013
An invisible boy searches for an invisible girl while invisible monsters stalk them through the city streets. Only the rain reveals their unseen forms to one another. Extremely atmospheric and posessing a simple yet ingenious game mechanic, this was easily our favourite of TGS — we think it might be the next
Ico
.
Deep Down
• Dungeon crawler for the PS4
Visually reminiscent of
Dark Souls
with a combat style to match,
Deep Down
puts you in the armoured shoes of an adventure exploring a crumbling labyrinth filled with monsters. Online play lets players team up to take down grotesque bosses, but this isn't a hack-and-slash affair — you'll need to calculate your moves and manage your limited spells and skills.
Dark Souls 2
• Action RPG for PS3 and Xbox 360, coming March 2014 (PC version will be available too)
The original
Dark Souls
was excellent and seeing the sequel coming soon is exciting. We didn't actually try the demo ourselves, as it would have been too embarassing to die multiple times in front of public.
Knack
• Action/adventure for the PS4, launch title
Imagine playing a creature made up of floating bits of junk, that can smash objects to absorb their bits into its body. The titular character can absorb ice particles to gain elemental abilities or absorb the urban debris to grow into a giant that stomps through soldiers and tanks. The colourful, cartoony aesthetics makes
Knack
a good choice if you're planning to enjoy the PS4 with your kids.
Gran Turismo 6
• Racing game for the PS3, coming December 2013
The
Gran Turismo
series is one of the best and most recognised realistic driving simulators, so there's nothing we can say to convince you to take it for a spin if you aren't already a fan. We can, however, let you know when it'll be out: Dec 5, 2013. Keep an eye out for the Collector's Edition which comes with a collectible car figure.
Titanfall
• FPS for the Xbox 360, Xbox One and PC, coming 2014
Military first-person shooters with team deathmatches are a dime a dozen nowadays, but
Titanfall
's hook is that it lets you summon and pilot 2 storey tall mechs called titans. Get into your titan to start stomping all over your opponents, or, if you're looking at the other end of a mech-sized rifle barrel, jump onto your enemy's titans and sabotage them.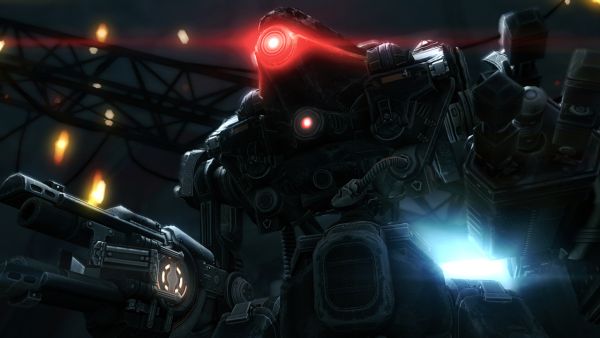 Wolfenstein: New World Order
• FPS for PS3, PS4, Xbox 360, Xbox One and PC, coming 2014
Alternate realities where the Nazis won seems like a trite premise, and military shooters are far too common, but the
Wolfenstein
demo was really enjoyable on the PS4. It felt like a throwback to the days of old school shooters where running and gunning was a more visceral experience, instead of a "let's wait behind cover for our health to regenerate" matter.
Games worth mentioning
We didn't get to play everything at TGS, but there were a few games that deserve special mention.
If you like the
Yakuza
games from Sega but wished your manly men were manlier, then you're in luck. The next installment —
Yakuza Ishin
— will take the series back to old time Japan, so everyone now has a legitimate reason to run around wielding katanas.

World of Tanks
, the online MMO about, well, military tanks shooting each other, turned out to have quite a surprising presence at TGS, with a significant section of the floor dedicated to that one game. We probably shouldn't have been surprised at this turn of popularity, though, given that Japan has an anime/manga series about high school girls riding tanks. (
Girls und Panzer
, if you have to know.)

Lightning Returns: Final Fantasy XIII
had a playable demo at TGS, but we couldn't get too invested in such a long-term JRPG in the short time we got to play it. Instead, we were happier to hear that
Final Fantasy X
and X-2 will be re-released as a HD Remaster for the PS3 and PS Vita.
Unfortunately, there wasn't any news about
Final Fantasy XV
(formerly
FF Versus XIII
) so don't get your hopes up yet.
Also, before anybody asks, we have nothing to share about Nintendo as they usually don't have a presence at TGS. This year was no different. We're as disappointed as you are, but on the plus side (for us), do you know how many Street Passes a 3DS user can get in an expo like this? Approximately a bajillion.
The TGS Experience
We've just shared our best game stories with you, but we can't wrap up this article without sharing a bit of our experience at the Tokyo Game Show itself. Attending TGS was an educational experience, and the first lesson we learnt was that Japan keeps some of its best toys for itself.
There were a large number of exciting mobile games that are unlikely to be localised for our market, from popular puzzle-RPGs (GungHo's
Puzzle & Dragon
and EA's
Tetris Monsters
), to bizarre dating sims, to enjoyable oddballs hidden in the new Indie section of TGS. (Alright, let's give the indies some love. Check out the puzzle-RPG
Hero Emblems
at
heatpotgames.com
and the build-your-own-spaceschip shooter
Space Qube
at
spacequbegame.com
.)
Our second lesson was that you cannot escape from Hatsune Miku. Not only does she have at least four games on show (a quirky AR table hockey game on the PS Vita; an arcade game; plus rhythm games
Project Diva F 2nd
on the Vita/PS3 and
Project Mirai 2
on the 3DS) a large number of the cosplaying promotional models were dressed as her too. As far as we can tell, she's the green-haired virtual overlord of Japan who subtly hypnotises humans into worshipping her.
And finally, the most important lesson is to stay the hell away from the Tokyo Game Show's merchandise booths. The collection of video game-related figurines, plushes, phone accessories and posters there will create a vertiable black hole for your yen.
Somebody please tell our editor we're stuck in Japan right now — we may have accidentally sold our ticket home to purchase that last Miku figurine. (Ed: Flight tickets are non-transferable. Nice try, Shaun.)
If you're interested in reading more about this year's Tokyo Game Show, be sure to check our first TGS report.

Related story:
Tokyo Game Show 2013: Let the adventure begin
What do you think of this article?