Every December, shelters, rescuers and pet lovers everywhere band together to raise funds to help out our furry friends. We've asked local communities to share their offers, so you can make Christmas count twice.
Today at Straits Quay Bazaar, Penang
Founded in 1948 and registered in 1950, SPCA Penang is one of Malaysia's iconic animal NGOs.
"We've evolved over the decades," Lily Leng, administrator of SPCA Penang, muses. "Thankfully, there are now several NGOs helping animals, so we all do different parts of the job.
"SPCA Penang focuses on taking in diseased, injured and distressed animals. We help them heal, and then we look for adopters. We have about 60 dogs and cats in our shelter, all looking for homes."
SPCA Penang assists around 1,000 animals a year. As it's expensive to house, feed, medicate, neuter and socialise animals, fundraising is a constant activity.
"On Nov 26 and 27, that's today, we will be at Straits Quay Christmas Bazaar," Leng points out. "We're selling fantastic Christmas presents including T-shirts, mugs, bags, notebooks and calendars. Also, if you love thrifting, we have as-good-as- new clothes."
And, because Leng is an old hand at fundraising, she adds, "You can also donate cash."
Aside from making money, SPCA Penang hopes to raise awareness by answering questions.
"We don't bring animals, it's too stressful for them, but we will help you talk through what pet you want to adopt," Leng offers.
"We also need dog walkers and people to cuddle the cats, so ask us about volunteering. If you're curious about issues or what services we provide, just ask."
Straits Quay Christmas Bazaar runs from 10am to 10pm at Straits Quay, Jalan Seri Tanjung Pinang, 10470 Tanjong Tokong, Penang.
Cater Gourmet Christmas a la Carte
Cheah Siew Yenn, who runs FurrenzPets – a cage-free boarding facility that also produces BARF Biologically Appropriate Dog Food and a wide range of pet treats – raises money for pet charities on popular public holidays, including Christmas.
Pure meat Wellingtons will delight pets. Photo: FurrenzPets/Siew Yenn Cheah
"This year we've created a Christmas dinner of lamb, pork or salmon wellington," Cheah explains.
"As so many pets have food intolerances and allergies, our meal is made from pure meat or fish."
The set comes with Dog Nogg, a goat milk and egg treat. We've added a dusting of carob powder, that's the dog-friendly version of chocolate powder. We're also including cheese cookies."
Each set is made fresh and then flash frozen. Easy shipping is available for Klang Valley and Penang. Other areas are by special request.
Profits go to KL Pooch Resort & Rescue, Kalumpang, Selangor. The centre aims to be a self-sustainable animal welfare organisation funded by running boarding, grooming and recreation services.
Founded in 2011, KL Pooch has since expanded their services and now houses some 300 dogs, having assisted over 1,000 animals.
To order, WhatsApp Cheah at 012-938 5968. Single sets cost RM28 while double sets cost RM45.
December Christmas Party in Penang
The IAPWA Penang specialises in the humane management of stray dog populations.
"We are the official partner of the local council," Choong Koon Yean, IAPWA Penang president, explains.
"Since 2018 we no longer kill strays. Instead, the council rounds them up, and holds them for 72 hours so owners can come and claim them. If nobody comes, we come in."
The charity runs a Trap-Neuter-Release system where animals are neutered and vaccinated. Those who come from an area with community feeders are released back to where they came from. In addition, some animals are found homes.
In the last four years, IAPWA Penang has helped 4,553 dogs, including 734 who were adopted by families.
"It's expensive," Choong admits. "We need RM45,000 a month, so we're always fundraising."
For Christmas this year, IAPWA Penang has teamed up with Alpha Furkids Academy training school and Chef Audee's Private Kitchen in George Town to run A Furry Christmas Under The Stars party.
Tickets will net you and your furry one access to the party which features Christmas games with prizes and a super special Christmas buffet created by furry favourite Chef Audee. There will be carollers, too.
The party kicks off at 6.30pm on Saturday, Dec 17. Tickets are limited to 60 humans and 40 dogs, priced at RM100 per dog parent (RM55 goes to IAPWA) and RM30 per doggy (RM10 goes to IAPWA). For more info, contact Janice Tan at 012-388 5646 and Maureen Khoo at 012-438 9450.
Festive month shopping online
PetFinder.my is one of Malaysia's leading pet rescue resources. Established in 2008, the website and app have helped 63,000 pets find homes.
They have 350,000 followers on social media – including 25,000 independent rescuers and shelter staff – 200,000 app downloads and reaches 500,000 animal lovers each month.
"We've got 23,000 pets waiting for adoption," Andy Koh, co-founder and CEO of PetFinder.my, says.
"As you can imagine, all those pets are jostling for attention. We want to use Artificial Intelligence (AI) to help maximise the attractiveness of their pet profiles." PetFinder.my has partnered with Google's Kaggle, an online community of data scientists and machine learners, to create new tech to make this happen. However, it's an expensive process.
"It's an international issue and we hope to be among the leaders in this but it's challenging," Koh points out. "But when we get the tech right, we can get animals adopted much faster and that will save lives."
As they have lots of eyeballs, PetFinder.my is using their online presence to leverage affiliate marketing.
"We're hooking up with pet food manufacturers and pet toy sellers. There's also Christmas gifts galore," Koh says. "All you have to do is visit our website (PetFinder.my/Shopping) or go to our app. Any time you click through to shop at Shopee or Lazada, we get a tiny donation from these shopping platforms."
Candles and calendars online
Independent Pet Adoption Network (IPAN) specialises in re-homing stray, lost and abandoned pets. To date, they have helped about 3,200 dogs and 2,020 cats.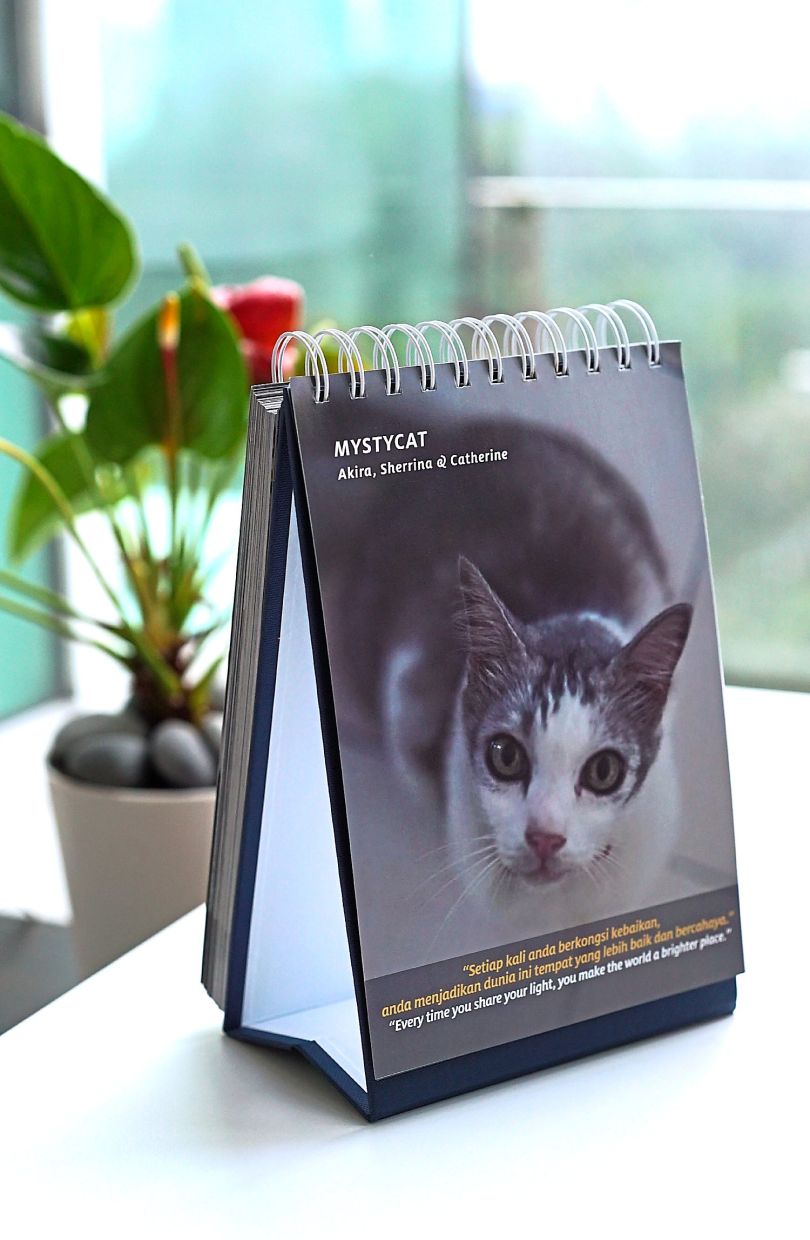 Mystycat On Desk: Inspirational pet calendars make lovely gifts. Photo: IPAN/Sherrina Krishnan-Leyow
"We're selling our 258-page inspirational desktop book featuring our rescued cats alongside inspirational quotes," Sherrina Krishnan-Leyow says. "It's priced so that one sale gets a pet vaccinated, and three sales fund a spay or neuter."
Last year's Christmas sale helped spay and neuter 60 cats.
"We're working directly with vets," Krishnan-Leyow points out. "One of our vet supporters in Shah Alam deducted directly from the sales of the books, nice and easy for everyone, and also very transparent."
In addition, IPAN is selling soy candles, handmade by Krishnan-Leyow's sister, Anita. Soy wax has a low melting point, meaning it throws out less heat and lasts longer.
Both 258 Inspirasi Kucing and the Pegasus Candles are sold online via Shopee at tinyurl.com/cat-inspirations.
Calendars, bags and tees online
Malaysian Dogs Deserve Better is a rescue organisation. "We rescue, send them to the vet, vaccinate, neuter and then adopt them out," volunteer Brenda Chia explains. "We're all volunteers, it's a labour of love."
MDDB started with a single rescue in 2008. Today, they house 300 dogs in their sanctuary in Rawang and they have a halfway home with 70 dogs who are disabled or with special needs. Overall, MDDB calculated they have assisted over 1,000 dogs.
MDDB sells calendars, T-shirts, bags and accepts donations through Shopee MDDB Merchandise at shopee.com.my/mddb_merchandise.
---
Adopt Me
Ginger is an eight-year-old Husky, who is spayed and vaccinated. Ginger is a lovely girl, very sweet-natured, and also very fond of her food! Ginger is partially blind, but it doesn't stop her from making friends. She gets along well with dogs and humans.
Photo: FurrenzPets/Siew Yenn Cheah
As the rescuer is private, an adoption fee of RM300 made towards her rescue costs applies. Interested parties, please WhatsApp Siew Yenn (012-938 5968) in Petaling Jaya, Selangor.
Subscribe now to our Premium Plan for an ad-free and unlimited reading experience!