As a freelance tourist guide for nearly 20 years, Liew Beng Won, 54, has travelled around the globe and visited countless historical sites and popular tourist destinations.
To unwind once he's back home in Langkawi, Liew would pick up his welding tools, smelt metal and create.
"Blacksmithing is cool and fun," he says. "I find it interesting, especially forging metal and shaping it into items like bottle openers, hooks and knives. There's joy in beating hot metal and shaping it into something unique. It's a good workout too," said Liew during an interview in Langkawi recently.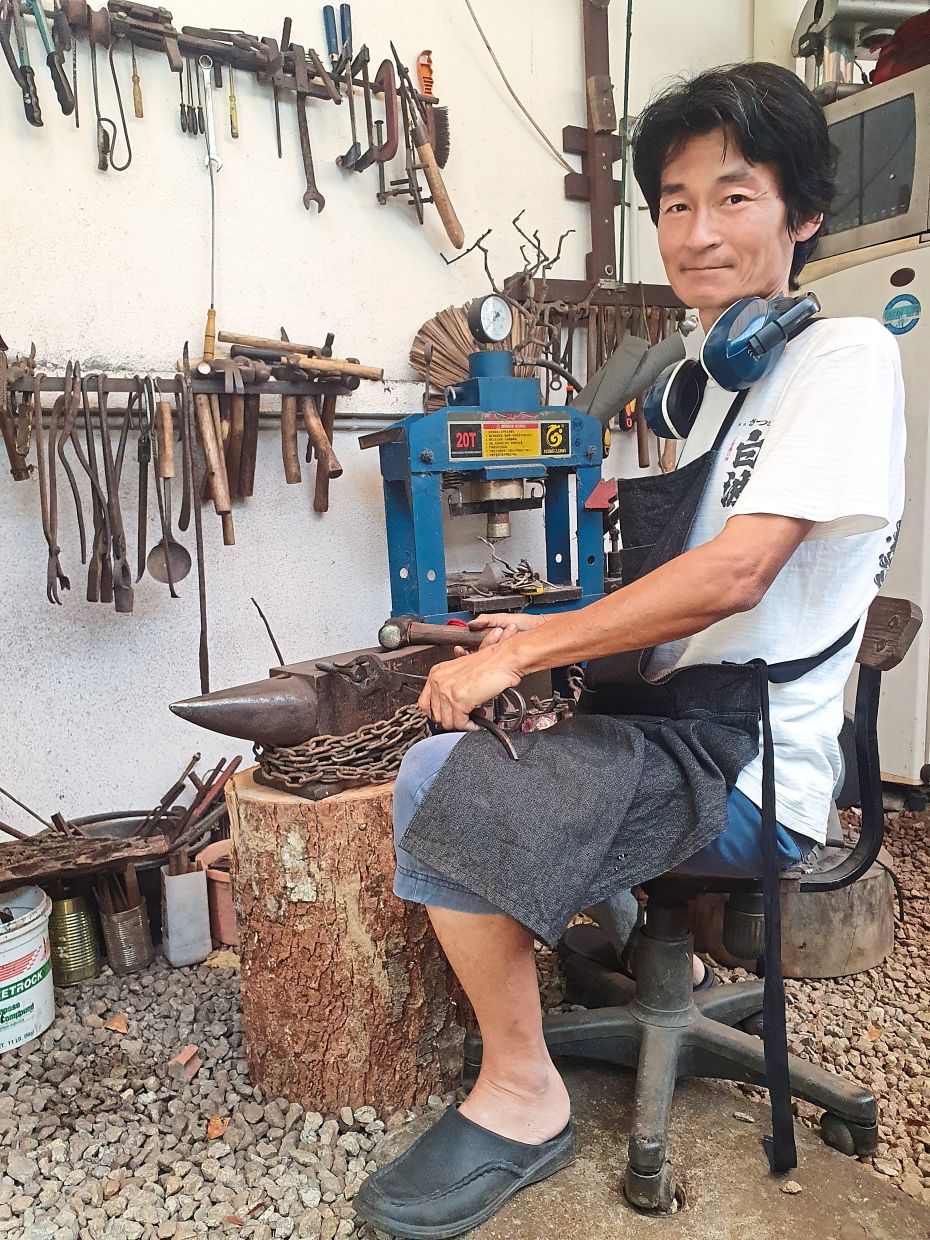 There's joy in beating hot metal and shaping it into something unique, says Liew.The backyard of his semi-detached home in Taman Bukit Indah in Kuah has been transformed into a smithy. Though the set-up is small and basic, it is a place where his creativity comes alive.
His tools are aplenty, all neatly hanging on his wall. There's also a faded poster above his tools that reads: "Drink Cold Beer With Warm Friends."
"It's true," the friendly man says. "It's always nice to have a few drinks with good friends. It's the same when it comes to my blacksmithing – there's nothing more satisfying than sharing my hand-forged creations with friends who appreciate them."
He developed a passion for blacksmithing over a decade ago, after coming across a Nepali short sword, or kukri.
"I was fascinated by the kukri, especially its curved shaped and how it is used in daily life and self defense. That led me to the world of blacksmithing."
And like many home-based crafters, Liew picked up his skills from video tutorials on YouTube. His blacksmithing projects have multiplied since the pandemic when travelling was impossible for months on end.
"My job was affected during the pandemic, so I spent most of my time creating handforged items. I usually browse social media platforms to learn different techniques like quenching, tapering and dishing."
As a blacksmith, wearing protective gear like safety goggles, ear muffs, apron and gloves are a must. Photo: Liew Beng Won
His Japanese wife, graphic designer Wakae Izumi, and him are animal lovers, and so, most of their designs are inspired by furry felines.
"So far, I've been creating many animal-inspired bottle openers made in the shape of cats and dogs as well as keychains, coat hooks, numbers and alphabets," explained Liew, who receives many commissioned orders for knives and animal-themed paperweights.
Forging metal
The Ipoh-born man relies mainly on his angle grinder, metal files, clamps, tongs, hammers and anvils to make his creations.
"Blacksmiths don't require many tools. The main component is a forge, which is a hearth to heat the metal."
Liew points at a two-metre high forge, which he made using an old drum. Liew has also created a narrow aluminum chimney attached to the forge to filter the smoke out.
Liew prefers to use the traditional forging technique for that rustic touch. Photo: Liew Beng Won
A large metal plate is placed inside the hollow forge. Here, Liew puts in his charcoal. There is also a stand fan beside the forge, delivering consistent air flow to the burning fire.
"These days, many blacksmiths prefer to use gas-powered forges because they are cleaner and leave no traces of soot behind. But I prefer charcoal because it burns more efficiently. Plus, it gives a traditional touch," the soft-spoken man said.
"I use different types of metal, including carbon steel, alloy steel and scrap steel. Langkawi is quite isolated and so it isn't always easy to find steel. So I usually buy it from hardware shops or scrap metal distributors."
He uses the traditional forging technique, which involves heating the metal to high temperatures to make it malleable. Then he hammers, beats and cuts it into shape.
Liew looks at blacksmithing as a part-time job that brings him joy. Photo: Liew Beng Won"I take my time with each project. On average it takes about two hours to make a bottle opener. I live in a semi-detached house so I have to pick a suitable time to work on my projects. I usually work in the afternoon, when my neighbours are at work."
His work can be found on his Instagram account.
The process is time-consuming, and along the way, Liew has many cuts and scrapes on his fist and palm from working with his tools.
"I have had many injuries from blacksmithing. One must be extra careful because the job deals with heated metal, sharp tools and fire. As a blacksmith, wearing protective like safety goggles, ear muffs, an apron, and gloves are a must.
He looks at blacksmithing as part-time hobby that brings him joy and from which he can supplement his income.
"I enjoy blacksmithing because I get to play with fire and create things with my hands. I like this hobby because I like the idea of crafting something from scratch. Through blacksmithing, I learned to practise 'wabi-sabi', the Japanese art of finding beauty in imperfections. Traditional blacksmithing can never yield results of factory made items yet my handmade items are unique, even with their imperfections," says Liew.
Liew's animal-inspired bottle openers are the most sought-after items among his growing fan base.
Creative works
---
Subscribe now to our Premium Plan for an ad-free and unlimited reading experience!