THEATRE: MALAM TAKDIR
Venue: Nero Event Space, PJPAC, 1 Utama, Petaling Jaya
Date: Aug 5 and 6
This weekend, the epic Malam Takdir comes to the Klang Valley for three performances at PJPAC. It made its debut in Penang last month, and now the adventurous opera show is ready to welcome a new audience in Petaling Jaya.
Inspired by the Indian classic Mahabharata, Malam Takdir is Johan Othman's new theatre piece in Bahasa Malaysia (with English surtitles). Directed by Chee Sek Thim, the show gives contemporary expression to a story inspired by a piece of classical text that is common to the South-East Asian region. By using a combination of music, movement and the national language, the opera refreshes tradition and carves out new relevance for our inherited cultural heritage.
The story of Malam Takdir, with a theate cast mostly from Penang, revolves around an imagined conversation between a king who was born blind, and his advisor, on the eve of a predestined war that would see all his 100 sons killed in battle. In this conversation, the advisor tries to convince the king to stop the war.
Fully aware of the tragic fate that awaits his sons, the blind king nonetheless allows the war to proceed, choosing instead to take a gamble with destiny, with the hope that his 100 sons will triumph and inherit the throne. What unfolds is an argument that brings to the fore a story of hope and betrayal, fate and human volition.
More info here.
An image from Indonesian artist Timoteus Anggawan Kusno's 'Terra Incognita' video series. Photo: Ilham Gallery
EXHIBITION: 'PHANTOMS'
Venue: Ilham Gallery, Kuala Lumpur
Date: Aug 5 to Nov 5
Tomorrow, Ilham Gallery is launching a new exhibition titled Phantoms, a series of video works, by Indonesian multimedia artist and filmmaker, Timoteus Anggawan Kusno.
These videos were produced as a result of Timoteus winning the Han Nefkens Foundation - Lop Barcelona Video Art Production Grant 2021, in collaboration with the Fundació Joan Miró, Inside-Out Art Museum, Beijing, MoCA Taipei, Ilham Gallery, Kuala Lumpur, Centre d'Art Contemporain, Genève, and Art Hub Copenhagen.
The Phantoms trilogy by Timoteus is a video series that comprises two complementary moving-image works, Reversal and Terra Incognita. Both of these works share the same Indonesian title, Luka Dan Bisa Kubawa Berlari. Additionally, the series features a third part After Colossus, which is scheduled to be completed in 2025.
If you're into multimedia art and filmmaking, this exhibition on Ilham Gallery's Level 3 art space is worth an investigation.
More info here.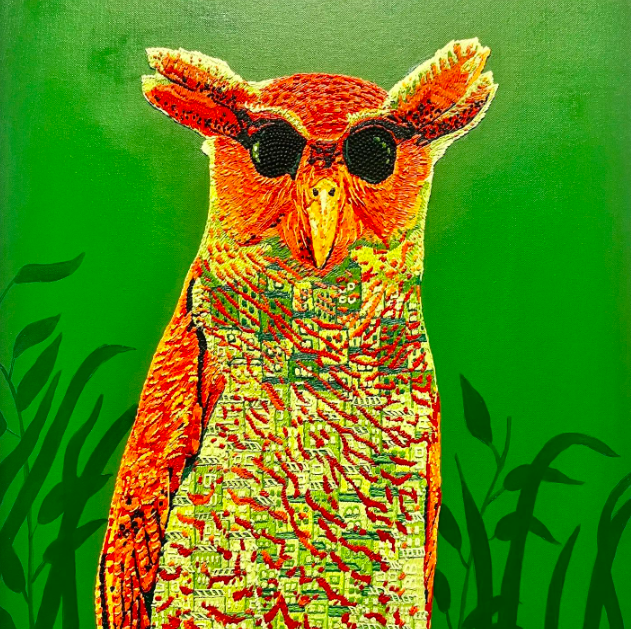 This artwork by Fitrah titled 'For One More Day' (oil on canvas, 2023) was created to honour the memory of the artist's late father who was a nature photographer. Photo: Zhan Art Space
EXHIBITION: FITRIAH ROSLAN'S 'ETHEREAL'
Venue: Zhan Art Space, Petaling Jaya
Date: ends Sept 3
Contemporary artist Fitriah Roslan's new oil on canvas series is stirring up interest among art lovers.
Her Ethereal exhibition at Zhan Art Space is a collection of artworks loosely inspired by the concept of RPG (role-playing games), which allows viewers to "pick" and explore different characters, realms and adventures.
At first glance, the 28 pieces of textured artworks resemble images of wild animals, but when viewed up close, the artworks depict an imaginative journey waiting to be discovered, an ethereal world to be embraced.
By adopting the role-playing game concept, Fitriah was able to process key issues and emotions in her life, which ultimately provided her the inspiration for her first solo exhibition. Each artwork was created to reflect a different realm and adventure, allowing visitors the opportunity to assume the role of fictional characters within the artwork to interact with the imaginary world.
"I have worked extremely hard to present an exhibition that not only reflects my inner feelings and emotions, but also, as a gateway for others to feel free and to escape, allowing themselves for explorations" shares Fitriah.
More info here.
Fadli Mokhtar's contribution to the exhibition 'Untitled' (wood box and monotype print on synthetic paper, 2023). Photo: Fadli Mokhtar
EXHIBITION: 'GOBLOCK: SENIBUKU'
Venue: Cult Gallery, Kuala Lumpur
Date: ends Aug 12
In collaboration with Cult Gallery in Kuala Lumpur, the Go Block printmaking collective's latest exhibition GoBlock: Senibuku is an adventurous group exhibition presenting the many possibilities of the "book art" medium.
The show, which has filled up the gallery space nicely, features contemporary artists such as Juhari Said, Samsudin Wahab, Faizal Suhif, Haslin Ismail, Rizo Leong, Bibi Chew, Agnes Lau, Fadli Mokhtar, Phuan Thai Meng and Haafiz Shahimi.
There is much to explore, with Sabah printmaker Leong delivering a 4.3m long book art piece celebrating the harvest festival in his home state, while Lau presents a set of tiny handmade books and Haslin's collage artwork brings new life to a vintage book.
Whether you are an art lover or printmaking enthusiast, there is enough art aesthetic and skillful technique to keep you occupied at this show. The wide range of printmaking styles at this exhibition include etchings, linocut, woodblock, frottage and cyanotype.
The exhibition is open by appointment only.
More info here.
The cast of the experimental theatre show 'Alu & Lesung', which is showing at KLPac. Photo: Theatresauce
THEATRE: ALU & LESUNG
Venue: Indicine, KLPac
Date: ends Aug 6
Alu & Lesung, an experimental theatre experience directed by Dexter Zhen, has been the buzz of the theatre scene this week, with two opening shows sold out. It's best to get your tickets sorted out fast to catch this production.
The show tracks the journey of an ensemble as they revisit the calmer moments in their lives, the events that happen after where they deal with the loss of security, followed by a newfound journey of healing.
This project zooms in on individuals who are private about their own challenges and struggles. Vulnerable moments are often kept to themselves and away from others, even from the people close to them.
In the theatre venue, audiences take on a voyeuristic lens by peeking into these private moments. This production utilizes movement, minimal text in various languages, scent, light, sound, and projections.
Alu & Lesung is presented by Theatresauce, in collaboration with KLPac.
More info here.
'Opium By Any Other Name' offers viewers a classic tale of betrayal, romance and tragedy set in colonial Malaya. Photo: Chan Kien Ming
THEATRE: 'OPIUM BY ANY OTHER NAME'
Venue: Black Box, Damansara Performing Arts Centre (DPAC)
Date: ends Aug 6
In the shadows of British Malaya, the secret societies of Ghee Hin and Hai San tussle over their decades-old grudge.
Two families embroiled in the feud face off in 1890s Taiping, a small boom town facing economic uncertainty and existential threats.
In this chaos, two young lovers find that their passions could make for the foundation of peace in Perak – but at what cost?
Opium By Any Other Name is the second entry in the 'Opium' series by director Tarrant Kwok. Thematically centred around the opium economy of colonial Malaya, the play draws inspiration from Shakepearean tragedy Romeo And Juliet, but with a gritty, local temperament.
With characters portrayed by Shi Hoong, Celeste Low, Veronica Boh, Adry Nasution, Charles Roberts and Dennis Lim, the production presents political drama, family honour and women's issues in a gripping storyline. Surtitles and music accompany this tale of forbidden love as looming danger threatens to destroy everything the lovers hold dear.
More info here.
EXHIBITION: WONG CHEE MENG'S 'RASA SAYANG'
Venue: Wei-Ling Gallery, Kuala Lumpur
Date: ends Aug 19
At Wei-Ling Gallery in KL, contemporary artist Wong Chee Meng's new solo exhibition Rasa Sayang delves into the very essence of what defines our country as "Malaysia" and why it is crucial to reflect upon these elements.
This transformative exhibition stands as a visual cornerstone, honouring the splendour of traditions and the connecting threads that bind us as a nation, with a special focus on the significance of cultural preservation and adaptation.
With a keen focus on innovation, this exhibition seamlessly incorporates augmented reality (AR) to elevate and enhance the viewing experience, embracing the dynamic realm of modernity. As a friendly reminder, bring your smartphones with you to fully interact in the AR aspects that accompany the artworks.
The exhibition is open by appointment only. Contact: 03-2260-1106 or email: siewboon@weiling-gallery.com.
More info here.
Subscribe now to our Premium Plan for an ad-free and unlimited reading experience!