What makes a book? Is it something that can only be seen or touched or heard?
Artist-printmaker Juhari Said sees them as something more conceptual.
"To me, books are a compilation of ideas," he says.
Juhari, 62, is a senior member of Go Block, a group of Malaysian printmakers with the collective vision to pique interest and share knowledge in the art of printmaking.
In collaboration with Cult Gallery in Kuala Lumpur, the collective's latest exhibition GoBlock: Senibuku is a group exhibition focusing on the book art medium.
The show's line-up features contemporary artists such as Juhari, Samsudin Wahab, Faizal Suhif, Haslin Ismail, Rizo Leong, Bibi Chew, Agnes Lau, Fadli Mokhtar, Phuan Thai Meng and Haafiz Shahimi.
Samsudin's book art 'Buku Belenggu' is also accompanied by a wallpaper installation at Cult Gallery in Kuala Lumpur. Photo: The Star/Azlina Abdullah
In recent years, exhibitions featuring book art have given galleries and arts spaces added diversity and also attracted a new audience. Such cross-medium showcases included the Buka Buku exhibition in KL in December 2021, a collaboration between The Godown and Open Books, which saw a line-up of international artists.
On a more grassroots level, the Artists' Books Exhibition in KL last May brought together independent arts spaces Lostgens' and Iron River Studio for a community show featuring DIY book art.
At the Cult Gallery, the GoBlock: Senibuku exhibition, which runs until Aug 12, aims to broaden the book art conversation further. From "flip books" to elaborate prints, the show offers new and interesting works from a cast of artists, academics and art activists in the Malaysian contemporary art scene.
"Books come in all shapes and forms, so we were intrigued by the idea of how a group of artists would each approach turning an idea into a book," says Juhari, who is one of Malaysia's leading printmaking artists, widely recognised for thought-provoking black-and-white prints and carved woodblocks that reflect his thoughts on society.
At the 'GoBlock: Senibuku' exhibition, Lau's 'Book Of Life' (2023) features 100 pieces of tiny, hand-sewn books made from handmade paper. Photo: Agnes Lau
In their usual tradition, Go Block members invited guest artists to work with them for this new exhibition, which comprises five Go Block members (Juhari Said, Faizal, Haafiz, Samsudin Wahab and Fadli), and the invited participants.
Up for the challenge
"Creating an art book is very demanding and technically challenging," says Juhari, who has over 40 years of art-making experience, including being trained in traditional Japanese printmaking early in his career.
Bibi Chew, 54, one of the artists in the exhibition, is inclined to agree.
The artist-academic typically does installation art, but when she was invited to be a part of the exhibition, she jumped at the opportunity to test herself.
"As a multidisciplinary artist, I wanted to see how I can adapt to the art form and take printmaking to another level," says Chew, who is also the Malaysian Institute of Art's dean of academic studies and head of illustration.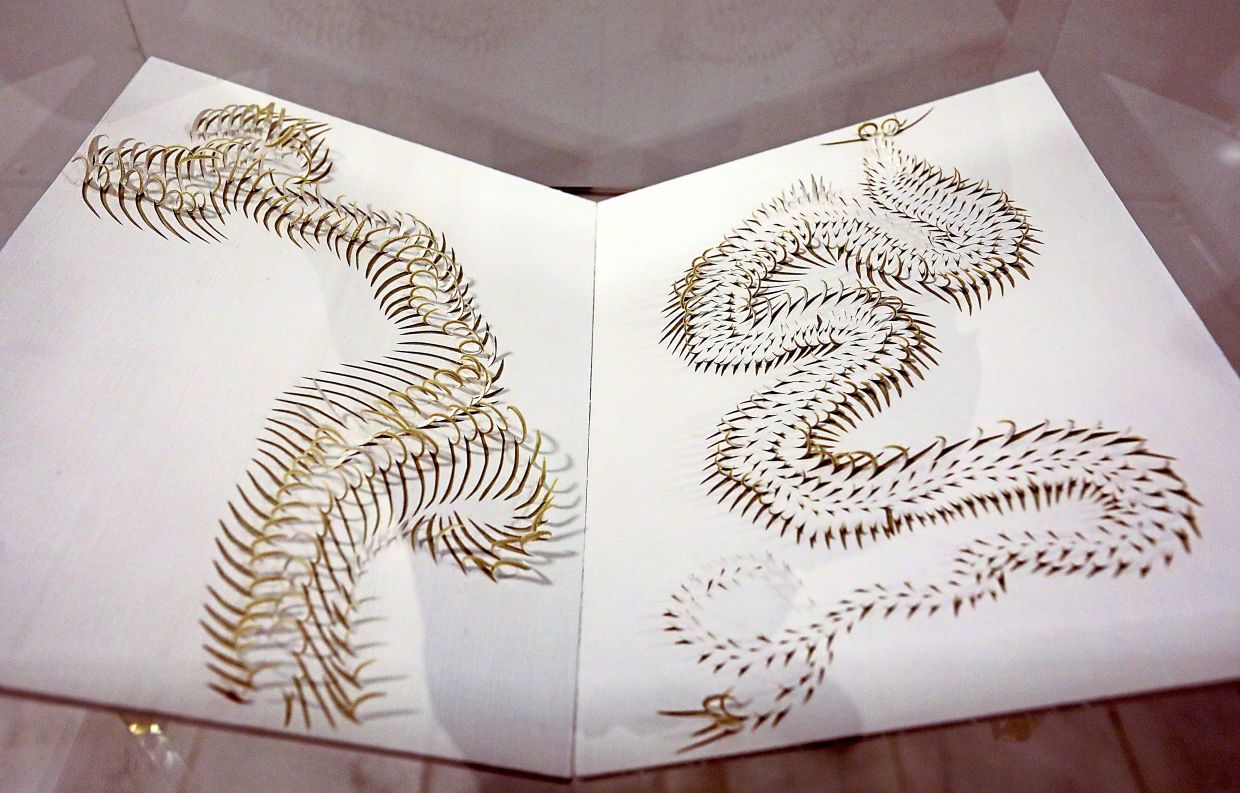 A close-up of Chew's 'A page can't be touched, A book can't be closed, An inner voice to be cared …' (carved woodblock panel, 2023). Photo: The Star/Azlina Abdullah
Her work for the exhibition, A page can't be touched, A book can't be closed, An inner voice to be cared ..., is eye-catching in its contrast – made of sharp points, yet fragile to the touch.
Inspired by the shapes of microorganisms and fossils, Chew implemented the tools and wood blocks used in printmaking to portray the fluidity and delicateness of the ever-evolving life cycle.
"My works explore issues of originality, identity and individuality, and this body of work is a continuation of that. Watching how the piece took shape as I carved into the wood block was something new for me – each carving into the wood was purely organic and spontaneous," says Chew.
Rizo Leong, 39, a Kota Kinabalu-based woodcut artist – and one of the founders of art collective Pangrok Sulap – says that creating his piece for the exhibition was quite an effort, as it needed very precise measurements, from the way the "art book" was printed to how the paper was folded.
His contribution, Tadau Kaamatan (Harvest Festival), tells of the process of planting rice, from ploughing the rice fields and planting the seeds until the harvest season, highlighting the spirit of cooperation and appreciation for the hard work of farmers.
A gallery visitor takes a closer look at Sabah-based printmaker Rizo Leong 'Tadau Kaamatan' art book, which measures 4.3m in length. Photo: The Star/Azlina Abdullah
The labourious process had Leong engraving the design on medium-density fibreboard and manually printing it on a long sheet of paper - measuring 4.3m - using offset ink and a spoon and baren, a printmaking tool.
"I chose this technique because the process is very interesting, but requires precision and uses a lot of energy. This work is the longest work I have ever made and the result is amazing," says Leong.
No stranger to art books
Among the artists taking part in the exhibition are those who are no strangers to art books.
Haslin Ismail, 39, has actively produced art books since 2006, such as an early piece titled Rubbish Book (2007).
The idea behind his new work for the exhibition, Sisipan Intipan (Sneak Peek), is "to alter a book to be part of the timeline of our historical nation".
A page from Haslin's art book 'Sisipan Intipan 1' (paper collage and graphite frottage on vintage book, 2023). Photo: Haslin Ismail
The book in question is a vintage post-World War II photobook he bought in Sapporo, Japan during an art residency in 2019.
"I saw that this photobook was similar to a local one also produced after World War II – two different moments in time. So I saw the opportunity to play around with it," says Haslin.
He cut pictures from the local book and collaged it into the Japanese book, then made frottage drawings using graphite. Frottage (from the French word "rubbing") is the technique of obtaining an impression of the shape and texture of an object by placing a piece of paper over it and rubbing it with graphite, chalk or crayon.
"The collage was my way to make a connection between these two moments in time, while the frottage drawing represents the subconscious mind," he explains.
Phuan's Module #2 – 'Place Making (P06-07)' (cyanotype on acid free watercolour papaer, 2023). Photo: Phuan Thai Meng
Phuan Thai Meng, 49, has also produced art books before, so the challenge for him in this exhibition was to create a piece using a technique he hadn't tried before: "cyanotype".
"Although I have knowledge of the technique, I had never attempted cyanotype prints by hand before. So, I needed to conduct all the necessary studies and experiments from the fundamental stage," he says.
This process included calculating the exposure time and test print with different types of paper, as each paper yielded different results with the same exposure duration.
"However, for me, the most challenging part was dealing with the weather and UV index. If it was a cloudy day or the UV index was too low, it could lead to the failure of the print or even prevent you from starting your work," says Phuan.
He chose to use natural sunlight rather than a UV lamp to expose the image onto paper because he felt that "embracing the uncertainty and unpredictability brought by various external factors better aligned with the overall concept of the artwork".
An artwork from veteran printmaker Juhari titled 'Unggas!!!' (etching and linocut, 2023). Photo: Juhari Said
His work, Mapping The Possibility Of Liquidification Boundaries, is like a book in that it takes a chapter-based approach – its narrative and discourse unfolds over seven chapters.
He juxtaposed seemingly related and unrelated images and texts, and arranged them in a specific reading order, curating the experience and transforming the book into an "exhibition site" to showcase the artwork.
"What I find particularly intriguing in utilising a traditional photographic development technique is how we can creatively reimagine a traditional craft or technology and infuse it with a sense of contemporaneity that resonates with the present. It allows us to reconsider the contemporaneity of tradition through a creative lens," says Phuan.
Adding new perspectives
Multidisciplinary artist Agnes Lau, 33, was excited by the concept of the exhibition, giving her the chance to play with a more experimental type of printmaking while still appreciating the conventional printmaking soul.
Her pieces are Oh Hello and Book Of Life – the former is an autobiographical record with fragments of her inner monologue, while the latter comprises 100 pieces of tiny, hand-sewn books made from handmade paper.
Visitors browse through Haafiz Shahimi's artwork titled 'Sekeping, Sekeping' (2023) at Cult Gallery in KL. Photo: The Star/Azlina Abdullah
One thing Lau was surprised to learn during the process of creating the works was that making handmade paper was akin to printmaking.
"All this while, I thought handmade paper is just handmade paper, I personally thought it's a form of craft. But as soon as I tried making one, I noticed the action is similar to printmaking – with a block and a printed effect."
At the show's opening last Saturday, Cult Gallery founder Suryani Senja Alias hopes to create a new experience for art and book lovers with the multidisciplinary creation of artists' books.
"We also want to challenge the visitors' perceptions of art by presenting an art exhibition in a different form of art – the form of books. It is something that will stimulate and challenge visually as well intellectually," she says.
GoBlock: Senibuku, which is supported by the Artist Development Fund (ADF), is also an exhibition using a wide range of printmaking techniques, including etchings, linocut, woodblock, frottage and cyanotype.
GoBlock: Senibuku is showing at Cult Gallery, 10 A Persiaran Bukit Tunku in Kuala Lumpur till Aug 12. Viewings are by appointment only. Email: cultgallerykl@gmail.com. More info here.
'GoBlock: Senibuku' exhibition
---
Subscribe now to our Premium Plan for an ad-free and unlimited reading experience!