Video is hardly cutting edge technology – not in this day and age – but for visual artist Gan Siong King, it has provided him with the ideal medium to "disrupt" art exhibitions as we know them.
Exhibitions have now become the main goal in art making for many artists, Gan says, so it got him thinking – what if the art exhibition is the art work itself, instead of its inevitable by-product or showcase event?
"Every medium of creative expression will have specific elements and for an exhibition, you have elements like the material, space and lighting – they all contribute to the experience of 'making' an exhibition, just like for making an art work, " he explains.
This is the idea he explored in his earlier solo projects Meeting People Is Easy (2017), a solo exhibition in the form of a month-long open studio and an online video exhibition @yarimoriya (2016), made as part of his residency at Arcus Project, Japan. And it was what he delved into in his video essay Kecek Amplifier bersama Nik Shazwan at the recent Biennale Jogja XV in Yogyakarta, Indonesia.
He will be showing Kecek Amplifier as part of a video exhibition entitled All Watched Over By Machines Of Loving Grace at A+ Works of Art, Jalan Sentul Kuala Lumpur on Dec 6 and 7.


Gan investigates the possibilities of 'exhibition' as a medium of creative expression in itself with his fifth solo show 'All Watched Over By Machines Of Loving Grace'.
The two-day video exhibition features a "trilogy" of video essays from Gan's ongoing 10-year project tentatively titled Malaysian Artist at Work (M.A.W.) featuring 10 Malaysian artists and their work.
The first video essay Chia Koon Talk #4 (2014) puts the spotlight on contemporary Malaysian Chinese calligrapher Ong Chia Koon. The second video, The Boy, His Bike & The Map (2015) follows graphic designer turned cycling activist Jeffrey Lim while the third Kecek Amplifier (2019), gives a meandering profile of electric guitar amplifier maker Nik Shazwan. All three are seamlessly linked into a single (48 minutes and 23 seconds) video presentation.
This desire to unpack orthodoxies in art structures comes from his love-hate relationship with painting, says the Malaysian Institute of Art graduate.
"Painting was not what I wanted to do when I first started; I wanted to do sculpture. But due to circumstances, I was forced to take up painting. It was like an arranged marriage, the feelings came later, " quips Gan.
"It was not enough but like a good Malaysian kid, I did what I was told – my early works were all heroic, abstract expressions.Painting only made sense to me after I rejected everything I have learnt."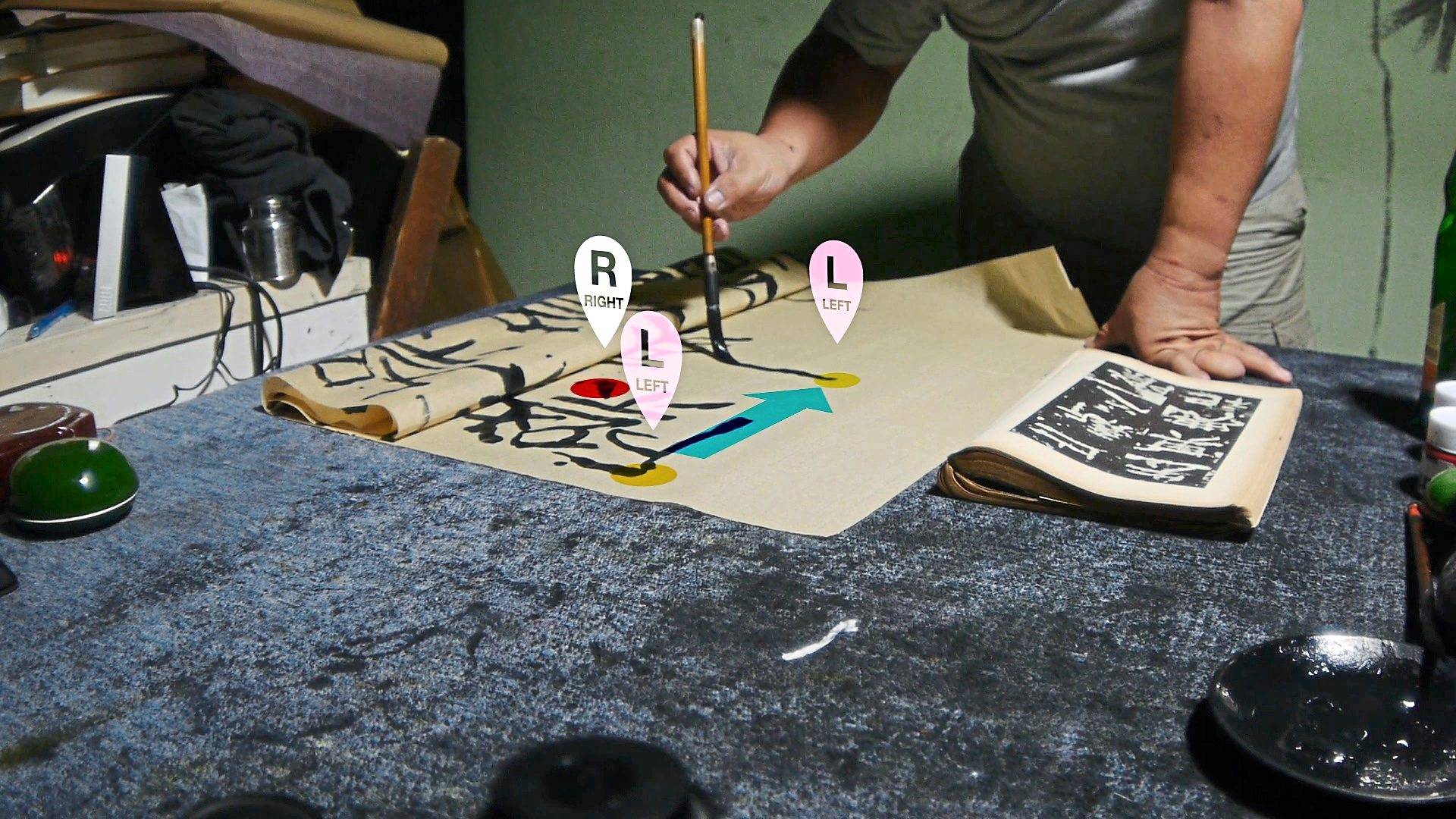 A work by contemporary Malaysian Chinese calligrapher Ong Chia Koon who stars in 'Chia Koon Talk #4', the first video essay from the Malaysian Artist at Work series.
He started playing around with the basic elements of painting and expectations in visual arts.
"I think, at heart, I'm a prankster, so I tried to remember what was fun and what I liked about art. I knew what I didn't like – I didn't like that painting is about image-making and it's become an object to be seen, a gesture."
This led him on the journey of subverting the idea of painting, which reunited him with his first love – film.
"I originally wanted to be a filmmaker, but there was no real film school here at that time, and my parents couldn't afford to send me overseas to study."
The democratisation of filmmaking with the advent of video technology gave Gan the excitement he craved.
He says M.A.W. not only serves as a platform for him to experiment with moving images and sound but also time, in capturing and manipulating a glimpse of Malaysian reality over an extended period.
"In the past decade, I felt Malaysia has been enveloped in so much socio-political anxiety and anger, but at the individual level, that is not really my reality as an artist. It made me wonder about other ordinary Malaysians who have been committed to their art and have been doing good work despite the malaise in the country."
The work is not a comment on the political scene though, Gan stresses, but more about the artists, their work and how it is influenced by time and environment. He is currently working on a video of Takahara Suiko, lead vocalist of local indie band The Venopian Solitude.

"I filmed her a few years ago, so it will be interesting to look at how time has changed her."
"But back to the first three videos, I did go back to my subjects after GE14, to see if their lives have changed, but the political shift in the country has not really touched their reality, " he notes.
This contrast is further evoked by American writer Richard Bratigan's poem All Watched Over By Machines Of Loving Grace, which is featured in Kecek Amplifier, and from which the exhibition's name is taken.
"The poem was written in the late 1960s when scientists and engineers were working on a computer network that later became the Internet. The vivid yet naive imagery of a hopeful future the poem conjured up then contrast starkly with our reality now, " shares Gan.
He might be interested to know that Bautigan also once wrote, "All of us have a place in history. Mine is clouds."
There are 12 scheduled screenings of All Watched Over By Machines Of Loving Grace at A+ Works Of Art gallery in KL on Dec 6 and 7. There will also be dialogue sessions with the artist on both days. Seats are limited, so please RSVP at http://machinesoflovinggrace.peatix.com For more info, call 019-9153399 or email joshua@aplusart.asia.
Subscribe now to our Premium Plan for an ad-free and unlimited reading experience!