Utility company's Projek Mesra Rakyat part of community-building for B40 folks
Mak Meng Fook (left) and his brother Meng Yoon, a retired construction worker, used to rent a room for RM200 a month before Meng Fook received aid from TNB.
PEOPLE have attributed the 'S' in environmental, social and governance (ESG) in many different ways – as social issues, labour standards and working conditions, human rights, equitable pay, workplace diversity, data security and privacy, and even as supply-chain issues.
While this aspect is still a new frontier, what's clear is that this aspect of ESG is what drives prosocial behaviour leading to social corporate impact.
To this end, Tenaga Nasional Berhad (TNB) has aligned their social pillar with prosocial initiatives.
For instance, besides rural development – like through its Rural Electrification Programme (BELB) and Bakul Prihatin Negara (National Food Basket Programme) – TNB also looks at contributing to community development through two concurrent projects, namely Program Baiti Jannati (PBJ) and Program Mesra Rakyat (PMR).
Suffice to say that everyone dreams of owning a house one can call home – a symbol of love and memories, a place to rest and recharge. Owning a house is a symbolic entry into adulthood too.
Although it's easy to see and agree that home ownership is a necessity, not everybody has the financial capacity to afford one. In reality, there are many factors that contribute to why Malaysians may not be able to afford homes, even if a select few were fortunate enough to inherit land.
Putting the 'S' in ESG
To put the social aspect of ESG values in context, a simple way to look at it is "doing the right thing". With that, it then reflects that good public relations begins with good behaviour.
Under their "Brighter Community" pillar, TNB conducts various community engagements that leave a lasting positive impact on our people and communities.
As the focus on the social (S) aspect grows, TNB's contributions to community development help enable access to electricity which is itself an enabler of development, social welfare, improved healthcare and socio-economic growth.
For TNB, these manifest as proactive initiatives in community-building when looking at the utility company's sustainability report FY2021.
While the wider sustainability agenda locally and internationally spurs more fundamental changes in markets, TNB still considers public policy to better serve the needs of their key stakeholders – the people.
Who stands to benefit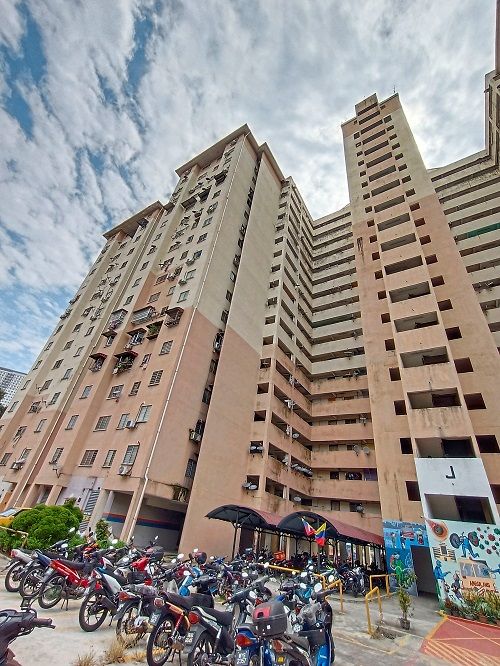 Rumah PPR (Program Perumahan Rakyat) like this one located in Kg Muhibbah in KL is an initiative by the government to provide income earners within and under the B40 category to find a home and eradicate squatter areas throughout the nation.
Projek Mesra Rakyat (PMR) is a part of TNB's corporate social responsibility (CSR) and ESG-driven initiative to help B40 folks fix, buy or renovate their own house with a contribution value of not more than RM50,000.
Since 2014, TNB has rebuilt 249 homes to deserving beneficiaries in Kuala Lumpur.
At the national level, 220 homes have benefited under the PMR programme with a total contribution value of RM7.46mil.
In 2020 alone, a dozen beneficiaries managed to put a roof over their heads with TNB's help.
"Considering that in Kuala Lumpur it is quite difficult to build a house due to land constraints, TNB works with DBKL to find the right group who needs assistance," said TNB chief global business solutions officer Ahmad Hushairi Ibrahim.
In continued partnership with Kuala Lumpur City Hall (DBKL), this year TNB continues to help lower income folks raise their quality of life.
The government has had a long-standing history in creating policies and initiatives to further aid those lower on the socioeconomic ladder to own homes.
To understand what B40 is, there are three different categories based on monthly income per household and beyond:
> T20 (Top 20%) – RM10,960 to RM15,040
> M40 (Middle 40%) – RM4,850 to RM10,959
> B40 (Bottom 40%) – anything less than RM2,500 to RM4,849.
As property prices continue on their premium trend, home ownership becomes a prospect limited to the M40 and T20 groups.
And with long-standing collaboration with the Malaysian government, PMR has helped the B40 group to be homeowners.
Roof over their head
'My husband has polio and I'm a stroke survivor so you can imagine that mobility is a major concern for us. Perhaps that's why DBKL selected us to be beneficiaries,' said Foo.
One beneficiary is Foo Huey Kuang. The 45-year-old newspaper seller along with her husband reside in Lembah Beringin PPR.
"Both of us are less-abled bodies. My husband has polio and I'm a stroke survivor so you can imagine that mobility is a major concern for us. Perhaps that's why DBKL selected us to be beneficiaries," Foo said.
"We didn't directly apply for TNB's programme. One day they called us saying that we had been selected as beneficiaries to receive a new house," she added.
In just two weeks from the moment Foo received the call, she was able to move into her new house with her husband.
"We used to rent a house but now that TNB has given us a place of our own, we can use the rent money to put to other use.
"I was very excited and happy when they called me because I truly never expected this sort of help to happen to me – especially when they revealed that we'd soon be homeowners," she said.
Another recent beneficiary is Mak Meng Fook, a retired electrician who hails from Seremban.
The 68-year-old used to install lights and fans for a living. But as he got older, he had to resort to collecting old newspapers, bottles and cans to make ends meet.
Mak suffered a stroke in December of 2019. He now has to walk slowly with a crutch and lives off the goodwill of churchgoers who give him food every day from Monday to Friday.
Previously, Mak had inherited an old wooden house from his grandfather before it was lost in a blaze that broke from a vacant house next door back in July 2020.
Following that, he ended up renting a room in a double-storey house together with nine other singles.
"When I lost my house, I thought I had lost everything and would never have a place to stay anymore. An ADUN helped me to apply for TNB's PMR house four or five months after I lost my house," said Mak.
"I never expected that it could be approved and never in my dreams would I expect to have such a nice house. I am greatly thankful to TNB. I'm incredibly moved to have a new house.
"I'm grateful to have my brother and sister-in-law to look after me and ensure that I have food at least. He is living with his own family.
"As I couldn't walk much, my brother helped me to follow up on progress during the construction. After all the preparation, construction of the house began in October or November last year (2021)."
On his plan after moving into his new house, he said his life could be better with the savings of the RM200 rent at his old place. He wants to continue collecting recyclables like newspapers, cans and bottles to make an honest living.
All beneficiaries of PMR are from non-Muslim communities and in Kuala Lumpur, and are involved in the DBKL People's Housing Project. TNB's other initiative called Projek Baiti Jannati focuses on Muslim communities.
Subscribe now to our Premium Plan for an ad-free and unlimited reading experience!