PETALING JAYA: The drums have already started beating, and although the politicians are being coy, one thing is clear – the assemblies of six states where elections are due will be dissolved before the end of this month.The state elections are expected to be held at the end of July or early August at the latest.
Although none of the six chief executives of the states – Selangor, Kelantan, Terengganu, Negri Sembilan, Kedah and Penang – were willing to reveal the exact date of dissolution, five have requested an audience with their respective heads of state.
One Mentri Besar said he had whispered to the Istana of his state to allow him an audience with the Sultan in the last week of June.
ALSO READ : A test of unity in unity government
Another said that he was preparing the papers with the proposed dissolution date to be presented to his Sultan.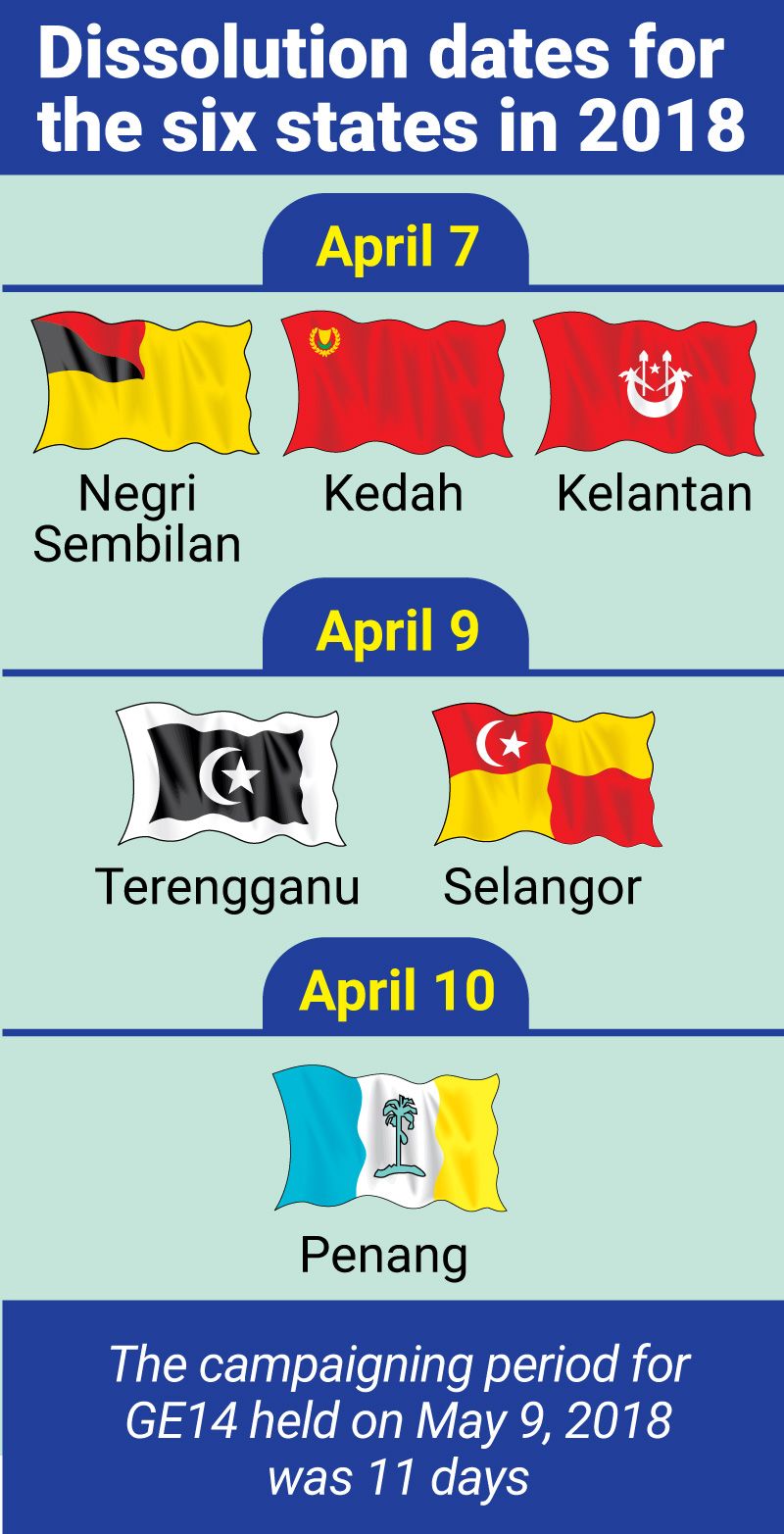 main_adn_0706_Dissolution-dates
The Selangor state assembly will, in fact, automatically dissolve on June 25, followed by Kelantan on June 28. The Terengganu assembly will automatically dissolve on July 1, Negri Sembilan on July 2, Kedah on July 4 and Penang on Aug 2.
When the state assembly is dissolved, polls must be held within 60 days. All six states are expected to dissolve their assemblies around the same time, so elections can be held simultaneously.
The decision to dissolve the assemblies by the end of June had been made in February at an informal meeting involving the five Mentris Besar – Datuk Seri Amirudin Shari (Selangor), Datuk Seri Muhammad Sanusi Md Nor (Kedah), Datuk Ahmad Yakob (Kelantan), Datuk Seri Aminuddin Harun (Negri Sembilan) and Datuk Seri Dr Ahmad Samsuri Mokhtar (Terengganu) – and Penang Chief Minister, Chow Kon Yeow.The state leaders, however, are not letting the cat out of the bag.
ALSO READ : 'Two seats still unresolved in Negri'
Amirudin has refuted an "announcement" by former mentri besar and Perikatan Nasional information chief, Datuk Seri Azmin Ali that Selangor will dissolve on June 19, but he has confirmed that his state exco members have started to pack up and vacate their offices.
On Tuesday, Amirudin said the proposed date of dissolution was a matter between him and the Sultan of Selangor Sultan Sharafuddin Idris Shah.
"So far, I have not proposed it to His Royal Highness, and no decision has been made by the Sultan," he said, when asked if it would be June 19.
In Kelantan, a Perikatan Nasional source said the assembly was likely to be dissolved on June 22 before Hari Raya Haji on June 28.
In Terengganu, Ahmad Samsuri, who is also the PAS vice-president, admitted that the date "was no big secret".
"It will be the end of June anyway," he said.
Muhammad Sanusi confirmed that the date he will propose to Kedah's Sultan Sallehuddin Ibni Almarhum Sultan Badlishah will be after June 19.
"This is because Tuanku's birthday is on June 18 and celebrations will continue on June 19.
"With respect to the Kedah Palace, we will propose a date in the last week of June. The dissolution date is the Sultan's prerogative. I can only propose a date," he said.
The PAS national election director said that of the three states helmed by PAS, Kelantan would be the earliest to dissolve.
"Kelantan's 'licence' expires first," said Muhammad Sanusi, hinting that it would probably be just before Hari Raya Haji.
In Negri Sembilan, Aminuddin Harun said he had discussed the dissolution with the Yang di-Pertuan Besar Tuanku Muhriz Tuanku Munawir.
"I will seek Tuanku's consent towards the end of this month and make the announcement on June 30.
"On July 1, there will no longer be a state government," he said yesterday. The state assembly will automatically dissolve on July 2.
In Penang, a source said Chow was likely to propose a date in early July.
"Although Penang will be the last of the six assemblies to be dissolved, it cannot be much later than the other states."
This was because they wanted the six state elections to be held at the same time to "save the taxpayers' money", he said.
Election Commission chairman Tan Sri Abdul Ghani Salleh has said the proposal to hold the six state elections simultaneously was a welcome one.
"It will make it easier for us to coordinate (the election process)," Abdul Ghani said last December.
The EC has said that simultaneous polls would cost RM450mil. Holding them separately would be more expensive.
Subscribe now to our Premium Plan for an ad-free and unlimited reading experience!