KLANG Valley residents and business owners have been plagued by repeated water cuts this year — four and counting — yet little is known about the culprits and what action has been taken against them.
After the initial furore, the issue dies down and the case goes cold, leaving the public clueless about what exactly is being done to prevent a recurrence.
The recent Selangor state assembly saw several assemblymen raise the issue of river pollution and the ensuing water cuts that disrupted the lives of millions.
They brought up four major unscheduled water cut incidents in the Klang Valley that affected millions of households.
(These are separate from the numerous other disruptions throughout the year caused by broken pipes and scheduled plant maintenance.)
The four major water cuts were the result of river pollution by unscrupulous parties.
Subang Jaya assemblyman Michelle Ng, one of whom raised the issue in the state assembly, urged the Selangor government to form a committee with all relevant bodies to ensure the culprits face the law.
"Maybe one unscheduled water cut in four years could be accepted, but not four times in a year. We have to do everything possible to make sure this does not recur.
"The culprits must be punished without fear or favour, " she said.


Ng wants the state government to form a committee to ensure river contamination culprits face the law.
The first major water cut took place on June 20 and lasted two days.
A total of 377,141 households were affected after odour pollution was detected, causing the shutdown of the Sungai Semenyih water treatment plant.
The second incident was on July 19. Similar to the first incident, this too was due to odour pollution, this time at Sungai Selangor.
Over 1.1 million households were affected.
The cause of the incident was believed to be spillage of black oil from motor vehicles into the Indah Water Konsortium (IWK) sewerage system.
The Selangor Water Management Body (Luas) suspected the oil to have originated from the industrial area in Batang Kali, Hulu Selangor.The third incident took place on July 21, just days after the second incident, affecting some 1.1 million people.
About 100 litres of diesel spilled into Sungai Selangor, resulting in the shutdown of Sungai Selangor Phases 1,2 and 3 and the Rantau Panjang water treatment plants.
Ng said the issue was first said to be an act of sabotage, but it was dismissed by the police.
"It was later said to be due to negligence.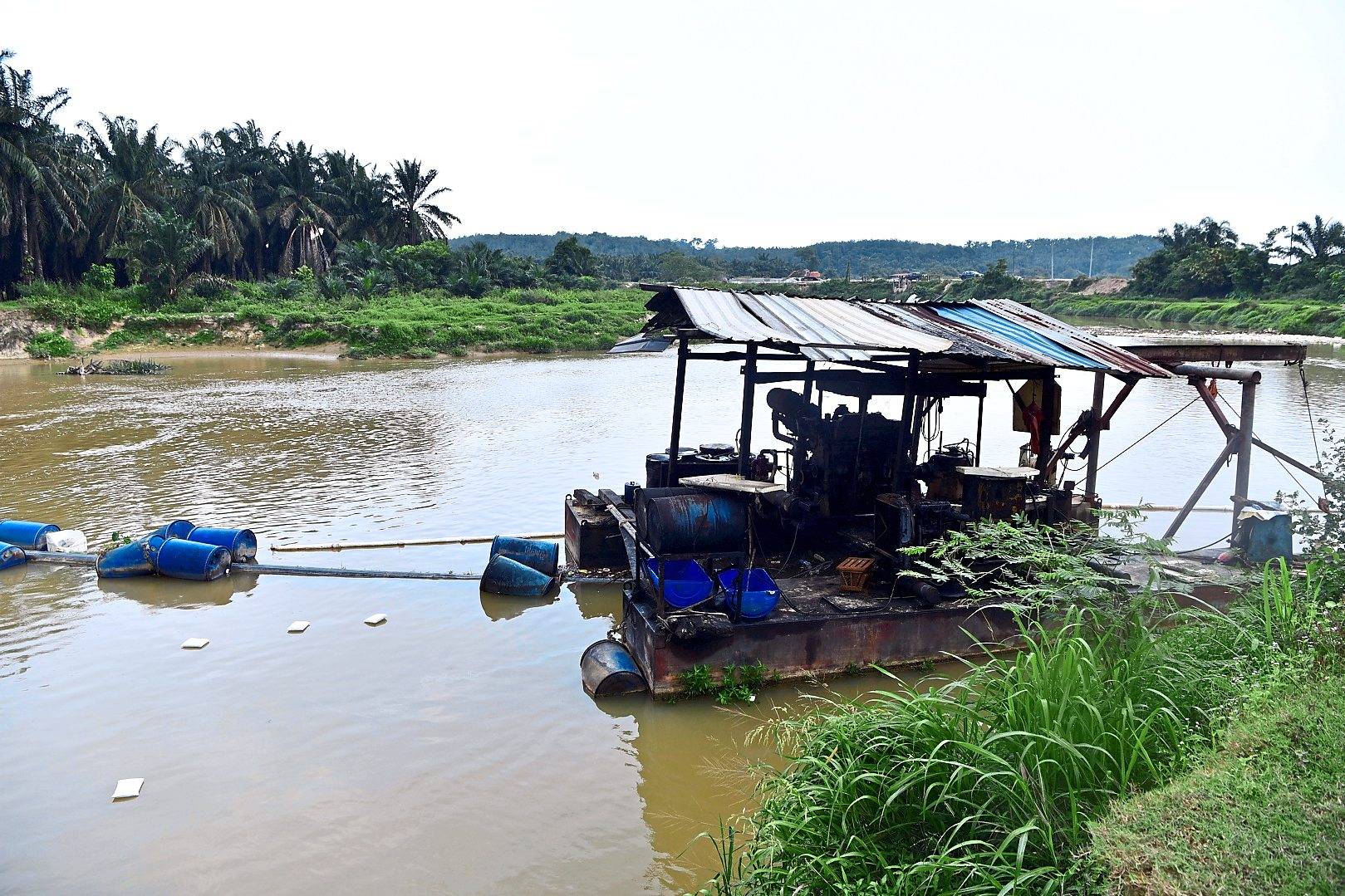 Diesel contamination of Sungai Selangor resulted in the shutdown of the water treatment plant catering to 1.1 million households in Klang Valley in July. — Filepic
"However, this case too turned silent. Who was negligent? That is still unknown, " said Ng.
The fourth incident on Sept 28 resulted in the closure of the Sungai Semenyih water treatment plant due to odour pollution of the raw water source.
It was initially blamed on illegal waste disposal near the Bandar Mahkota sewage treatment plant.
However, the National Water Services Commission (SPAN) in a statement said it was not true.
The culprit was never identified and the case also turned cold, added Ng.
Her concerns were echoed by Banting assemblyman Lau Weng San who called for an update on pollution cases, especially those affecting Sungai Semenyih.
Some suggestions
Ng made several suggestions to curb cases of river pollution.
Among them was to redesign the locking system for the IWK manholes to make them inaccessible to culprits trying to dump effluents.
She urged the authorities to evaluate if the IWK management had enough manpower and a proper Standard Operating Procedure (SOP) to carry out round-the-clock surveillance. Ng also encouraged the Selangor government to check on the effluent standards to ensure it is aligned with international ones.
"Besides making suggestions to the Energy, Science, Technology, Environment and Climate Change Ministry, I would like to encourage the state government to take proactive measures to follow up or set up a temporary committee that conducts regular meetings to realise these changes in the law, " she said.
Ng said the approval of licences for upstream activities near water treatment plants must include a mandatory requirement for a sufficient filtration and contamination detection system.
"I would like the authorities to look at strengthening the approval process, given that contamination has taken place multiple times, " she said.
Response from SPAN
SPAN chairman Charles Santiago said all the cases mentioned by Ng were under investigation.
"Two of the cases were concluded and sent to the DPP's office. The rest are still under investigation. You cannot rush these cases and there must be strong evidence, " Santiago told StarMetro.
He added that in some cases, the culprit refused to cooperate and this meant it would take a longer time to see justice done.
"We are also looking at old laws whereby the maximum fine could just be RM5,000 or RM25,000. This has to be updated and there are efforts under way to address this, " he said, adding that prosecution following investigations was a lengthy process.


Santiago says local councils must increase enforcement to curb river pollution.
He said local councils must play a greater role through active enforcement at premises licensed by them. Councils could prevent some of these pollution incidents by conducting frequent checks.
"For example, restaurants must have grease traps and local councils should check where they dispose of the trapped oil. We do not want this to also go into the drain or sewer and eventually into the river.
"Restaurants should have a bin to collect the grease. If they do not, then it is worrying, " said Santiago, urging the council to take a further step by asking how effluents are disposed of.
Most cases of pollution were caused by the discharge of effluent from industrial areas upstream of the river, said state executive councillor for environment, green technology and consumer affairs, science, technology and environment Hee Loy Sian during the state assembly.
He said there were also cases of irresponsible individuals who would dump prohibited items such as solvents into the river reserve or the river.
"When there is an increase in ammonia content, it is always from the release of effluent from untreated sewer, leachate from illegal waste dumping activity or untreated poultry farming waste, " he said.
Steps taken
Selangor has taken several actions to deal with pollution of Sungai Semenyih.
Among them is holding discussions and following up through two committees with the help of Luas.
Hee said the Sungai Klang, Sungai Selangor and Sungai Langat working committee was chaired by the Luas director.


Hee: 'More enforcement officers will be hired to enable better monitoring of rivers.'
The Lembangan Sungai and Pantai Negeri Selangor committee meeting, meanwhile, is chaired by the state infrastructure and public amenities, agriculture modernisation and agro-based industry committee chairman Izham Hashim.
Enforcement steps were also undertaken to implement and update the inventory of the source of the pollution at Sungai Semenyih, Sungai Beranang and Sungai Rinching.
"The inventory consists of the land use and all activities by the river reserve, " said Hee.
He added that there would be static observation for 24 hours at one main pollution location.
The state will also build water quality stations and add more sensors at the river basin to complement the existing monitoring system. The Sungai Selangor and Sungai Langat stations are completed and they will be used for telemetry readings.
Hee said more enforcement officers would be hired to enable better monitoring by Luas.
There would also be more collaborative enforcement efforts by the local government, land office and other agencies to ensure the water source from the river is preserved, he added.
Hopefully, all these efforts will bear fruit and Klang Valley residents will no longer have to suffer frequent water cuts caused by river pollution.
Subscribe now to our Premium Plan for an ad-free and unlimited reading experience!