Ipoh is certainly having its moment. The Perak capital – or at least where its tourism sector is concerned – ended 2022 on a positive note, having being mentioned in an online article titled "18 of Asia's most underrated places".
Published under CNN's travel portal, the article placed Ipoh first on its list, though there was no indication that this was actually a ranking. Still, being featured first helps to give the city some prominence ... which is not just great for the state but for Malaysia, too.
The piece on Ipoh, written by CNN's Asia correspondent Heather Chen, says that the city is notable for its "magnificent limestone hills and caves", temples and food, citing white coffee as an example.
Yes, Ipoh does have many attractions, and lots of good food. A city built by the tin industry, Ipoh certainly has a rich history, and it continues to prosper with each passing year.
The place also attracts folks from all corners of the world with its old-world charm.
To help you navigate through the many interesting gems here, we've come up with a simple guide that may also help enhance your travel experience in Ipoh, especially if you're only staying for one night.
Eat the local cuisine
Food choices in Ipoh are abundant, easily accessible and diverse, with many different cuisines to try. From rustic roadside stalls, to old-school kopitiams to fine dining establishments, you're spoilt for choice, really.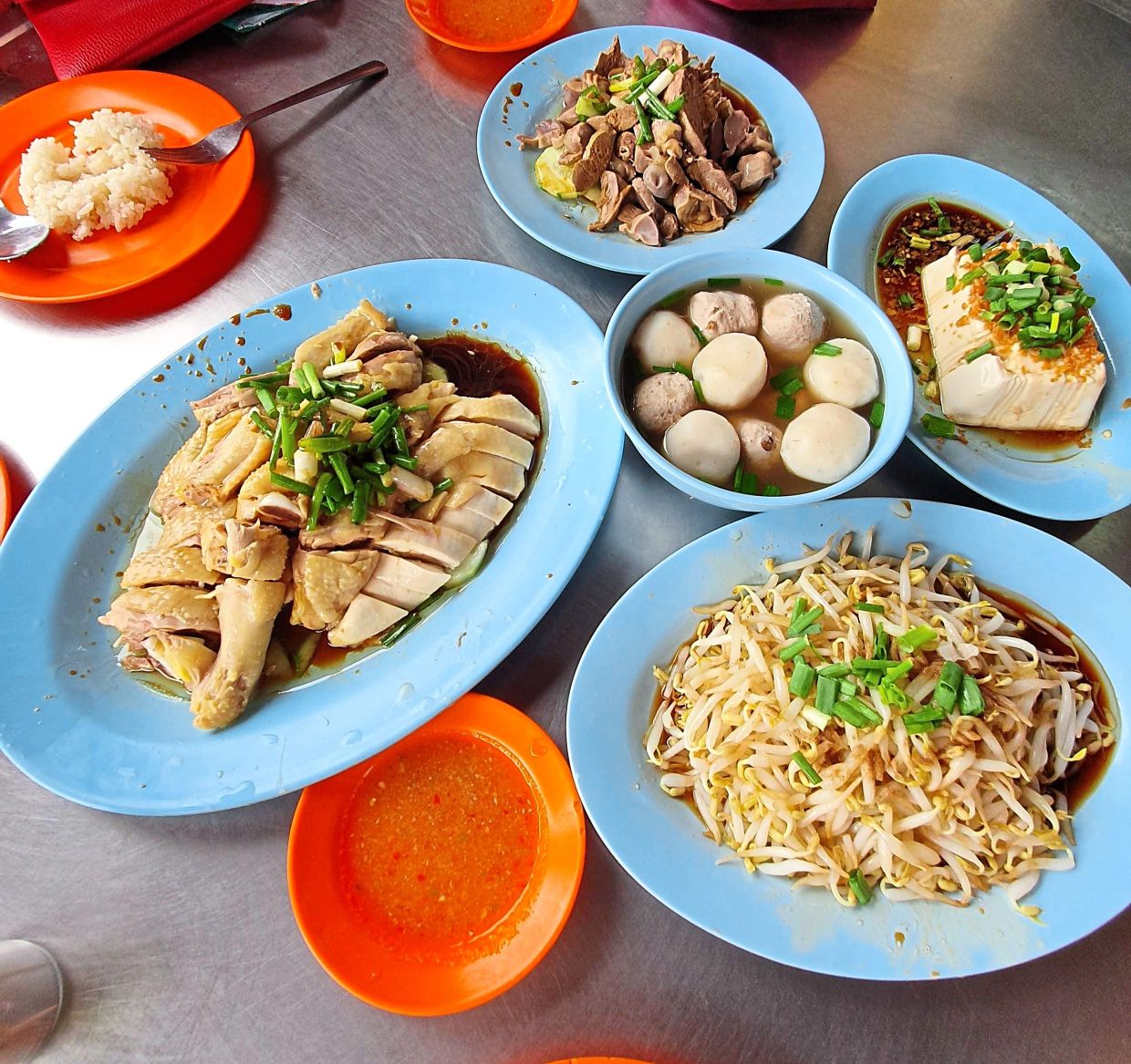 Bean sprouts chicken rice is one of the must-try dishes of Ipoh. — MELODY L. GOH/The Star
Head over to the more prominent areas like Taman Canning and, of course, Ipoh Old Town, for some grub. The "famous" dim sum restaurant at Taman Canning gets crowded fast with both locals and tourists in the mornings.
Meanwhile, the equally well-known pork-free dim sum place – Restoran New Hollywood – is nearby too. This eatery is also pretty crowded at breakfast and lunch, especially during the holidays. Sometimes, you can see hordes of hungry people queuing up from as early as 7am.
Parking can be a little challenging in the area as it is essentially a large residential neighbourhood.
As for the Old Town area, there are kopitiams and cafes at almost every corner. Some dishes to try include bean sprouts chicken, Hakka noodles, curry chee cheong fun, curry noodles, yong tau foo, "nasi ganja" (local name for nasi kandar), tau foo fah and curry chicken bun (a Kampar specialty but you can find it here, too).
Take a walk
The Ipoh Town Hall is a beautiful relic from the olden days.The Old Town is where you can find remnants of the British colonial era. If you walk leisurely through the place and other areas nearby, you would pass by architectural beauties like the Ipoh Railway Station, Majestic Station Hotel, Ipoh High Court, Ipoh Town Hall and Old Post Office, Birch Memorial Clock Tower and Ipoh State Mosque.
Ipoh really is a museum in itself and a treasure trove of history.
If you want to learn more about the city's past, as well as see more heritage sites and buildings, engage in the services of a local tour guide like Sundralingam Saminathan (Ipoh Heritage Walk Sundra), a retired teacher who is passionate about the history of Ipoh.
You can also check out the Ipoh Tourist Information Centre on Facebook, or walk in to the building located at Jalan Tun Sambanthan (near the Birch Memorial Clock Tower), for details on other available heritage trails.
Find the murals
It would be hard to go around Ipoh without seeing at least one of the famous murals there. Like Penang, Ipoh also has a fair share of street art painted by local artists. There are murals that cover the whole sides of buildings, as well as smaller ones that blend so well with the surroundings you won't realise it's a painting until you get closer.
Check out the Mural Art's Lane by Persatuan Pelukis Ipoh in the Old Town. This was the brainchild of a local art teacher named Eric Lai, who transformed the unassuming alley into a colourful, life-size work of art. This idea then turned the alley into a tourist attraction, breathing life into the area.
Visitors will be able to see many cool murals around Ipoh old town. — RONNIE CHIN/The Star
Look for the Ipoh Mural Art Trail map produced by the Ipoh Tourist Information Centre. This map shows the locations of some of the city's famous street art, which includes Paper Plane, Old Uncle Drinking Coffee and Yellow Hummingbird.
It is worth noting that some of these murals are the works of Lithuanian street artist Ernest Zacharevic, who also did the famous murals in George Town, Penang.
Go on a bike tour
To avoid getting stuck in traffic, you can always use a bicycle to get around Ipoh. (You can also walk, to a certain extent, especially around Old Town.)
In fact, cycling is fast becoming popular among locals in Ipoh. Actually, cycling was the preferred mode of transportation back in the day so you could say that this is a "resurgence" of sorts.
Besides that, tourists also seem to find cycling a refreshing way to discover the area.
You can easily rent a bike from the city or its surrounding neighbourhoods. Alternatively, you can look for one on CycleDios, a smart bicycle rental service, which also allows you to join its Ipoh Heritage Cycling Tour. Some of the places you can cycle to include the Kinta Riverwalk and Concubine Lane.
There are a few famous dim sum restaurants that you can check out in Ipoh. — Unsplash
Get some snacks
Head to the renowned kacang putih town in Buntong, to find out how this place captured the hearts and appetites of its customers.
For many Malaysians, kacang putih is a big part of our childhood. Some would even recall this delicious snack being sold in newspapers by roadside vendors.
Kampung Kacang Putih is about a 20-minute drive from the heart of Ipoh. Here, you can find plenty of shops and stalls selling several versions of the crunchy snack, as well as chips, murukku and other delicious tidbits. It's a nice place to check out, especially if you're looking for some goodies to buy as souvenirs.
Many vendors here suffered badly because of the pandemic, so they are hopeful that business will get better soon.
Have a cuppa
If you didn't start the day with a cup of frothy coffee, then you have to end it with one. That's how the locals do it in Ipoh.
At People's Park Chang Jiang White Coffee, visitors not only get to indulge in a traditional breakfast (or a simple, scrumptious dinner), but they can also get the experience of dining in a park.
The al-fresco concept is enjoyed by many locals as it gives off a sense of nostalgia.
For people who enjoy nature while still being in the city, this famous park is a nice place to just hang out with family and friends.
Subscribe now to our Premium Plan for an ad-free and unlimited reading experience!