Cartier has expanded its global travel retail footprint with a new boutique at the Sydney Kingsford Smith Airport, further strengthening the Maison's presence in Oceania.
Inspired by the city's architecture, culture and natural environment, the new boutique artfully blends local elements with the timeless design codes of the Maison.
Located within the new luxury precinct at Terminal 1 of Sydney International Airport, the boutique is an embodiment of Cartier's dedication to establishing an elevated retail journey in major travel hubs around the world.
The facade of Cartier's new boutique in Sydney Kingsford Smith Airport, Australia.
Celebrating the spirit of Sydney
Exuding a distinctively elegant presence, the boutique's grand façade is inspired by the majestic sails of boats in Sydney Harbour.
Adorned with four soaring sails standing at over seven metres tall against a backdrop of champagne mesh, the alluring entrance entices travellers inside to discover the Cartier universes.
Inside, the Sydney Harbour Bridge is ingeniously incorporated into the boutique's signature feature wall: a tactile custom creation designed in fabric and featuring complementary straw marquetry by British craftsman Alexander Lamont, which evokes the feeling of a panther roaming through the city.
Inspired by Australia's vibrant culture and nature, the boutique also features local design elements that create a calming ambiance.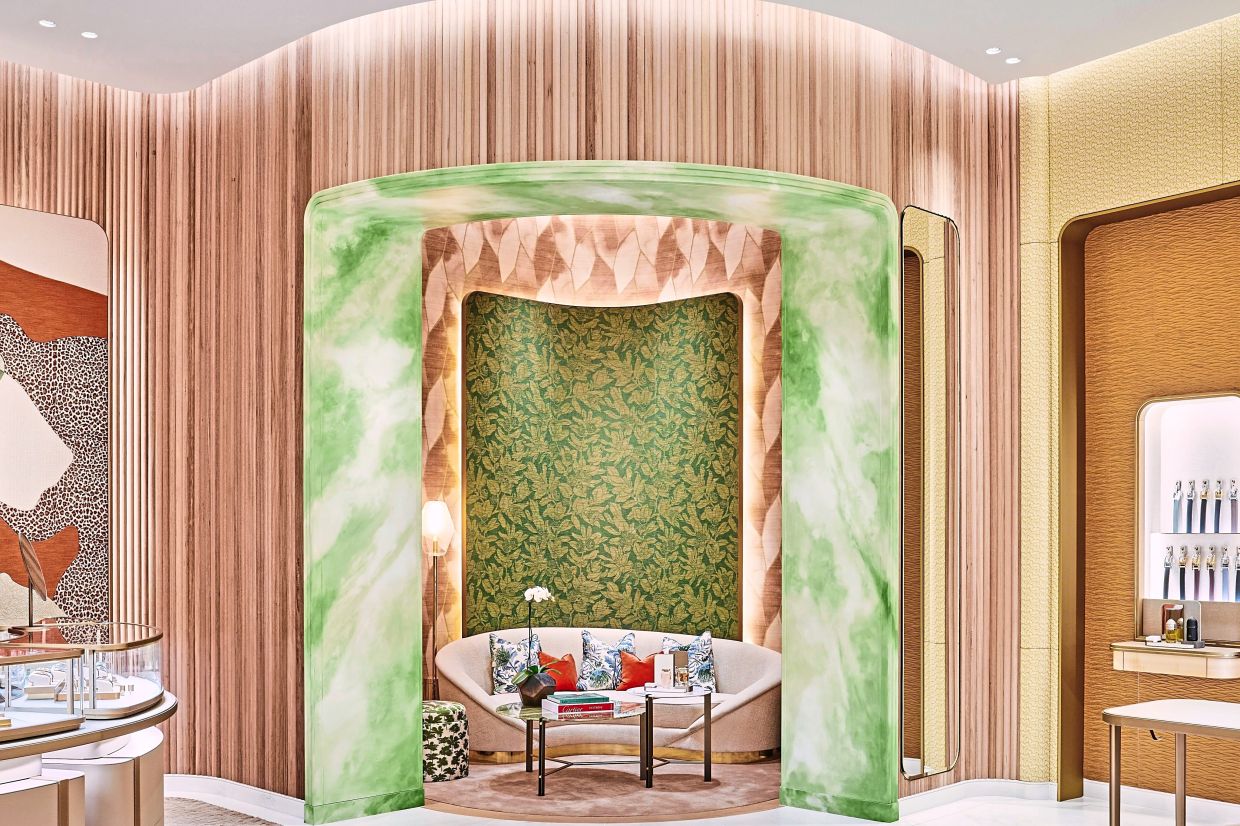 Cartier's 170sq m boutique in Sydney Kingsford Smith Airport (Sydney International Airport), Australia, includes a semi-open lounge that provides a private space for clients to view the brand's products at leisure.
Travellers will discover a decorative wall adorned with patterns that pay homage to the land's cultural heritage.
Fluted wood and coral motifs, along with the warm beige and gold floral motif in the Bridal Area further pay tribute to Australia's native flora.
Spanning a generous 170sq metres, the boutique presents a full offer of Cartier's iconic jewellery and watch collections.
An extensive breadth of accessories are also available for travellers, including leather goods, fragrances and gifts.
A semi-open lounge provides a private space for clients to relax while discovering the Maison's sophistication.
Cartier global travel retail director Virginie Martignac says: "It is a pleasure to unveil the new boutique at Sydney International Airport as we reinforce the Maison's commitment to engaging travellers in Oceania and the broader Asia-Pacific region.
"We are privileged to partner with Sydney Airport to curate the ultimate luxury retail experience, exemplifying Cartier's dedication to offering a comfortable and engaging experience for travellers. We believe the boutique's unique showcase of creativity, craftsmanship and savoir-faire with a distinctly Australian touch will inspire our clients to discover the Cartier universe."
Founded in 1847 in Paris, France, Cartier stands as one of the world's most esteemed and respected Maisons in the luxury goods industry.
Today, the House is renowned worldwide for its high jewellery creations, watches, fragrances and prestige accessories – symbols of craftsmanship, elegance, quality and excellence being the reference for its design, and has been recognised as an invaluable pioneer for its creations, icons of rarity, style and craftsmanship.
Cartier makes an art form of pushing the boundaries, constantly creating unlikely matches, fresh perspectives and new horizons.
The boutique is opened in partnership with Valiram.
Established in 1935, Valiram is South-East Asia and Oceania's leading luxury and lifestyle retail specialist with presence in Australia, Hong Kong, Indonesia, Macau, Malaysia, New Zealand, the Philippines, Singapore and Thailand.
Operating about 400 stores, the group represents international brands across various categories, from fashion, timepieces, jewellery, perfume, cosmetics and sports to confectionery and F&B.
Since 2020, the group has rapidly expanded its digital retail footprint and today operates nine e-commerce sites within South-East Asia and Australia.
Subscribe now to our Premium Plan for an ad-free and unlimited reading experience!