Collaborations in fashion are really taking off. Almost every week we are treated to a new collection from fashion brands that are created in partnership with other entities. A lot of these no longer even result in things we can wear too.
For example, Dior came up with a series of luxe workout equipment last year.
In partnership with Technogym, the fashion house released three home fitness products: a wellness ball, treadmill and multi-function bench. While they function similar to your average workout gear, these are considered "special" because of the Dior logo emblazoned on them.
To be fair, Dior did however release a line of sportswear soon after – which is probably the reason for the rather odd collaboration.
Bella Hadid, who is one of the most recognisable faces in the fashion industry right now, released her own NFTs (non-fungible tokens) last month.
Named CY-B3LLA, the supermodel's NFTs comprise artworks of herself as an animated cyborg. They were created in collaboration with social metaverse site Rebase and derived from 3D scans of her own body.
The function of NFTs beyond being just art is still vague, but Hadid took it a step further and mystified her fans with trying to justify the reason for the collaboration and NFT release.
Hadid said that she is on a mission to create a "nation" that is more peaceful and compassionate than the world we live in.
Read more: Supermodel Bella Hadid turned herself into a fashion 'cyborg'... but, why?
"As we've been reminded too many times, the universe we live in is imperfect. But I believe this provides a true opportunity to build a meta community, sustained by peace, love, compassion and meaningful connections," Hadid explained on her Instagram page.
Her statement did not exactly clear up confusion about what the CY-B3LLA NFTs can actually achieve – or explain their function in the world, both physical and digital.
How about having a stylish workout on gym equipment bearing the logo of a fashion house? Photo: Technogym
At least other collaborative NFTs released by fashion brands have a more tangible use.
When Malaysian streetwear brand Pestle & Mortar Clothing worked with Tiger Beer to release NFTs in February, they were put to use as an invite or coupon. Owners could redeem free drinks or get entry to exclusive parties by flashing their digital art image.
Again, it is still a use that has nothing to do with fashion.
Global fashion houses like Louis Vuitton, Gucci, Dolce & Gabbana and Burberry have all released collectible NFT artworks of their own.
This could simply mean it is a more a trend to follow rather than to suit a practical need.
Putting the 'life' into lifestyle
Talking about collaborative fashion products that we can't wear, Off-White released the Markerad range of Ikea furniture and home accessories late last year.
The cult streetwear label used a sense of irony to inject humour into the home, blending contemporary art culture, street art culture and Ikea product design from basic furnishings like a table and chair, to beautiful decor pieces like a clock and backlit wall art.
Yes, the collaboration was more art than fashion.
"I'm really glad that Markerad is now ready to meet with people and I look forward to see how these everyday objects will enter people's homes and hopefully add an emotional value to them," said the late Virgil Abloh in a press statement.
"Because that has been the ethos of the whole collection. In the same way you might hang a piece of art work on your wall, art can bleed into objects like a chair, table or rug. That was my initial problem to solve when creating this collection together with Ikea".
Abloh founded Off-White in 2013 before going on to become the artistic director of Louis Vuitton's menswear five years later. He passed away In November due to cancer.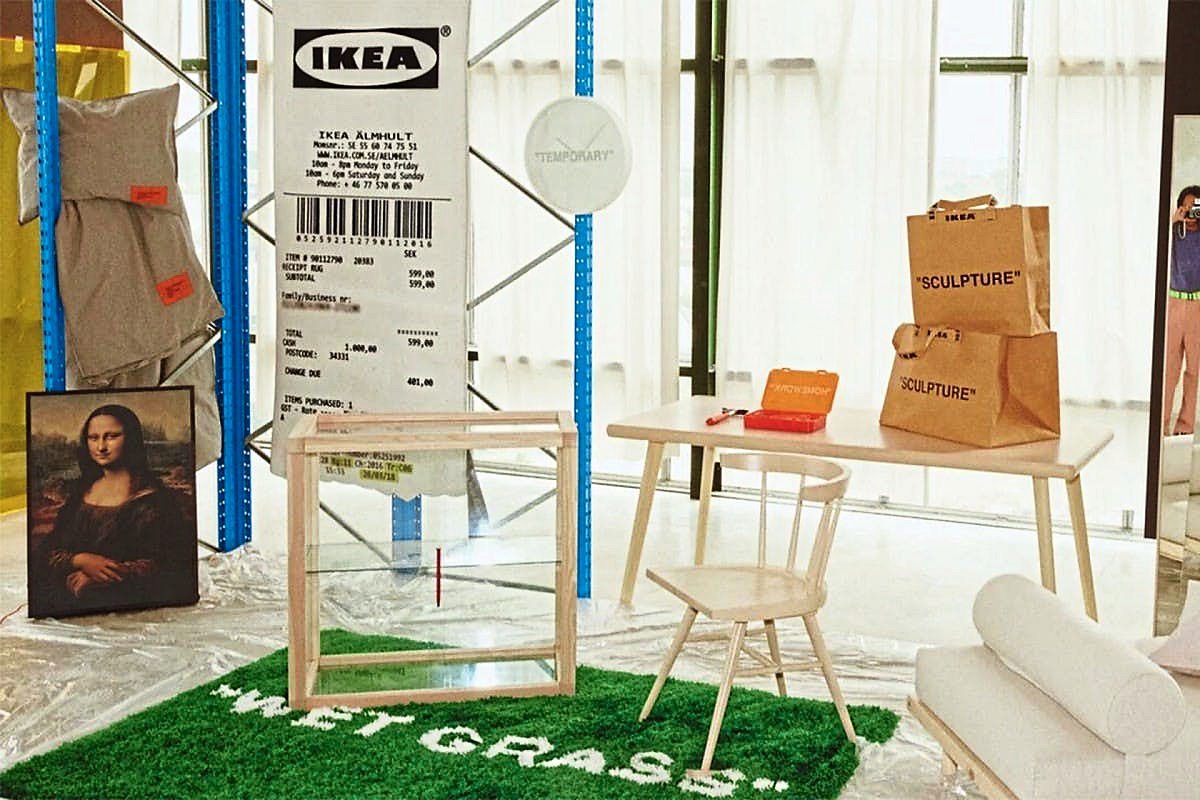 Fashion has also infiltrated the home decor scene. Photo: Ikea
A treat for your senses
Last month, Gucci made the leap into food and beverage consumer goods. The Italian luxury label launched Elisir D'Elicriso, a "collector's cocktail" co-created with Giorgio Bargiani, assistant director of mixology at London's award-winning Connaught Bar.
According to Gucci, the drink is meant to "evoke the lush gardens of Tuscany" and is "complex yet light and sweet on the palate".
Then there are fashion houses opening gastronomic havens bearing their logo.
While this is not exactly new, launches have intensified this year – especially after pandemic lockdowns eased and people began going out again.
Hugo Boss now has a restaurant bearing its logo in Rome. In partnership with the famous Vitti establishment located at Piazza San Lorenzo, the establishment is currently decked out in the fashion brand's colours of black, white and beige.
Up until November, it will serve up a unique Hugo Boss experience. Or as the description read: "Blending design and dining with Roman influences".
Jimmy Choo also recently opened a cafe. It was launched this month in London and will be running until Sept 30.
The menu is created by Harrods' award-winning chefs and pays tribute to British summer time through its use of seasonal ingredients including fresh strawberries and raspberries, paired with quintessentially English teas and elevated takes on classic picnic sandwiches.
Instead of a handbag, you can now carry a stylish speaker instead. Photo: BalenciagaBeyond the food, the experience will be embellished with branded crockery and cutlery in a vivid pink shade. See this as the kind of stylish setup that panders to social media users who get a kick out of chasing the perfect Instagram shot.
If not a gastronomic experience, fashion collaborations can feed our other sensory needs too.
Balenciaga unveiled a rather unusual couture bag at the Autumn/Winter 2022 Haute Couture Fashion Week in Paris. It is now being called the "It-bag" of the season.
The fashion house worked with audio brand Bang & Olufsen to create a portable speaker in the shape of a handbag.
Read more: ashion's latest must-have couture handbag is one that plays songs
While still something that can be carried and worn as a handbag, it is a speaker more than anything else. Made from aluminum, it looks like a speaker and sounds like speaker. So for all intents and purposes, let us call it as such: a speaker.
Balenciaga unveiled a range of other "couture objects" as well.
The speaker is one, but there is also an avant-garde face shield created in collaboration with Mercedes-AMG F1 Applied Science, the business division of the Mercedes-AMG PETRONAS F1 Team. Again, this is not technically a fashion accessory.
You can also get your hands on a refillable candle from Balenciaga, encased in a mirror-polished holder designed with Lausanne-based design studio Panter & Tourron.
These all signal that fashion has increasingly branched out and diversified beyond clothes and accessory.
Brands are seeing the potential in putting the "style" in lifestyle as far as collaborations go. So whether you like (or understand) fashion, you will sooner or later be a part of the industry's consumers.
Subscribe now to our Premium Plan for an ad-free and unlimited reading experience!