Dr Dennis Lim has been a cycling enthusiast for over 10 years. He's pedalled through countless cycling events, both at home and abroad, amassing thousands of kilometres on his trusty Roubaix endurance bicycle.
However, it was last month that the Kota Kinabalu, Sabah-based veterinarian achieved his most remarkable cycling feat to date: conquering a staggering 1,225km within the stringent 90-hour limit at the Paris-Brest-Paris (PBP) event in France.
His time was 88 hours, 31 minutes and nine seconds, which included the well-deserved breaks he took along the way.
'I was inspired to participate in the race as it's the oldest cycling event in the world,' says Dr Lim."I learned about the 27th Paris-Brest-Paris cycling race through online channels. I was inspired to participate in the race as it's the oldest cycling event in the world.
"Plus, I wanted to challenge myself to participate in a race spanning over 1,200km in a stipulated time," said Dr Lim, 42, in an email interview.
The Universiti Putra Malaysia alumnus shared about his love for cycling.
"I enjoy seeing the world at a slower pace. Driving a car or using public transport does not allow the liberty of seeing things along the journey," he said.
A gruelling feat
PBP is a long-distance cycling event dating back to 1891. It is an arduous 1,200km cycling race that stretches from Paris to Brest in Brittany on France's Atlantic coast before returning to the French capital.
This year's event saw 8,000 enthusiasts from 70 countries converging for the challenge.
The race is divided into two categories: brevet (also known as randonnee) is held every four years, where cyclists ride individually, while audax is a group ride held every five years.
To qualify for the race, participants must complete a series of brevets within the same calendar year as PBP, totalling 1,300km, including distances of 200km, 300km, 400km, and 600km completed between Nov 2021 and Oct 2022.
This year, 8,000 cyclists from 70 countries participated in the Paris-Brest-Paris event.
Dr Lim's determination led him to clock an impressive 1,300km by cycling through Sabah and Brunei.
His preparation was a blend of physical endurance and mental fortitude. His weekly routine involves cycling around Kota Kinabalu, covering approximately 200km.
"I believe my sheer determination and experience of being a cyclist for over 10 years helped me a lot to complete the arduous race.
"Several months before the race, I cycled longer distances on weekends to ensure my saddle time was sufficient for the competition," shared the father of two, who paid €30 (RM149) to register for the race.
Out of the 44 Malaysians who participated in the event, a commendable 30 riders managed to finish within the designated time limit. Dr Lim highlighted 62-year-old K.Y. Ling's accomplishment, who completed the race in under 75 hours.
"Ling was our oldest participant but he finished the race in excellent time. He was simply amazing. Many of us managed to complete the race because of our teamwork and camaraderie. We supported each other throughout the gruelling race, providing encouragement and assistance when needed."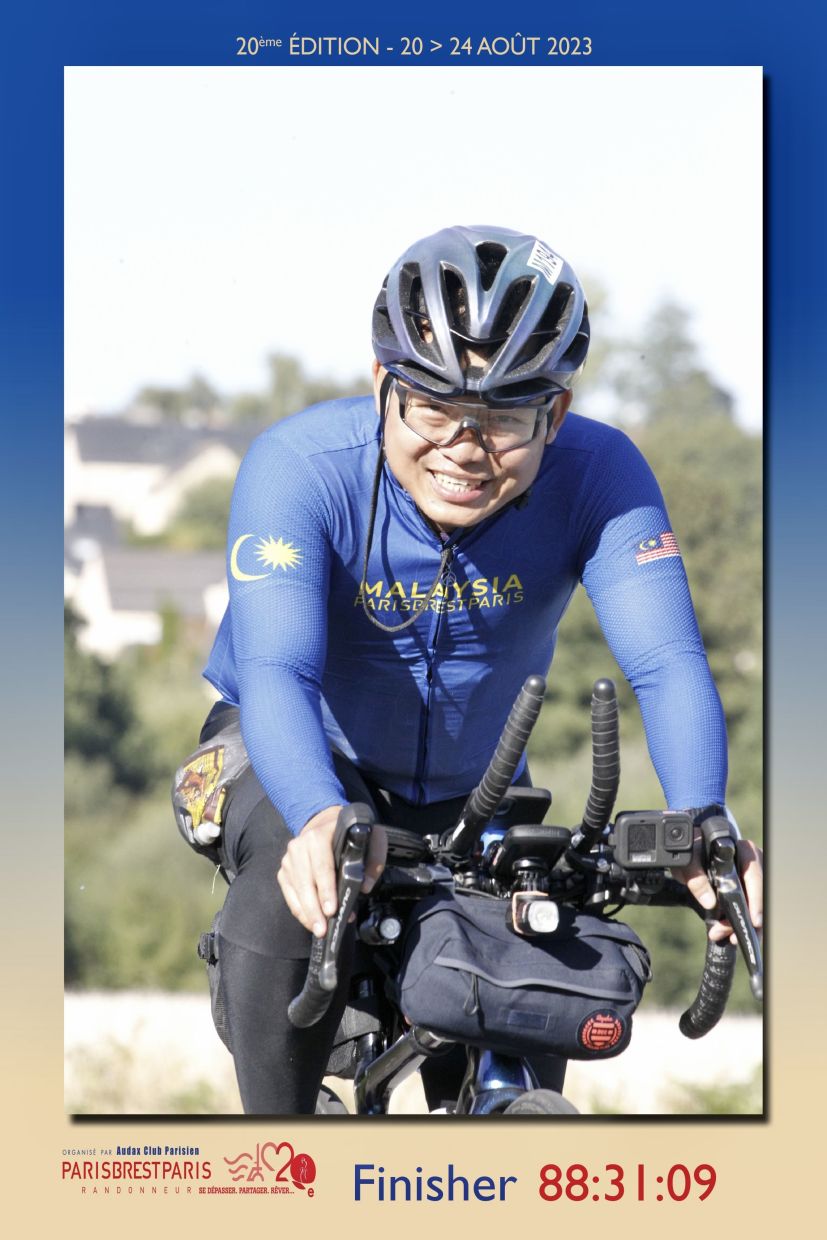 Cycling allows Dr Lim to enjoy seeing the world at a slower pace.The PBP route includes several control points in selected towns, ensuring cyclists follow the designated path.
"This year, organisers introduced a secret checkpoint to prevent shortcuts or cheating. Riders, including myself, took much-needed rest along the way, often sleeping at the roadside as we ventured through the dark hours of midnight and dawn."
His bicycle and gear weighed a substantial 18kg, including lightweight sleeping equipment, clothing, tools, and provisions.
He acknowledges that embarking on the long and demanding journey posed considerable difficulties.
"Coming from Malaysia, our climate differs significantly from Paris. We had to endure chilly temperatures during the night, and scorching heat during the day. Physically, it was exhausting too.
"But despite the challenges, I enjoyed the camaraderie and bond that was forged among cyclists throughout the race. And that's not all ... villagers across the towns decorated the streets. We had lots of food to eat along the way. It's an experience that money can't buy," said Dr Lim, who has participated in international cycling events in Italy, Japan, Australia, and the United States.
However, Dr Lim has no immediate plans to embark on another demanding race.
"No rides anytime soon as I'm not taking another battering ride!" he said.
The cycling vet
---
Subscribe now to our Premium Plan for an ad-free and unlimited reading experience!