Hindu religious festival Thaipusam is about a week away and technician Sathiya Moorthy Kandasamy, 50, has been working round the clock to repair 50 South Indian folk drums.
They include the urumi (hourglass-shaped drum), thavil (barrel-shaped drum) and pambai (cylindrical drum). These drums, together with the jalra (small hand cymbals), are part of the urumi melam, a set of traditional instruments played at religious occasions like Thaipusam and Chitra Pournami, a full moon festival.
Urumi melam performers accompany kavadi bearers as they fulfil their vows during Thaipusam.
From Banting, Selangor, the musician specialises in replacing drum heads with goat hide. The skin is purchased from the wet market and treated in his backyard at Taman Sri Telok Datok.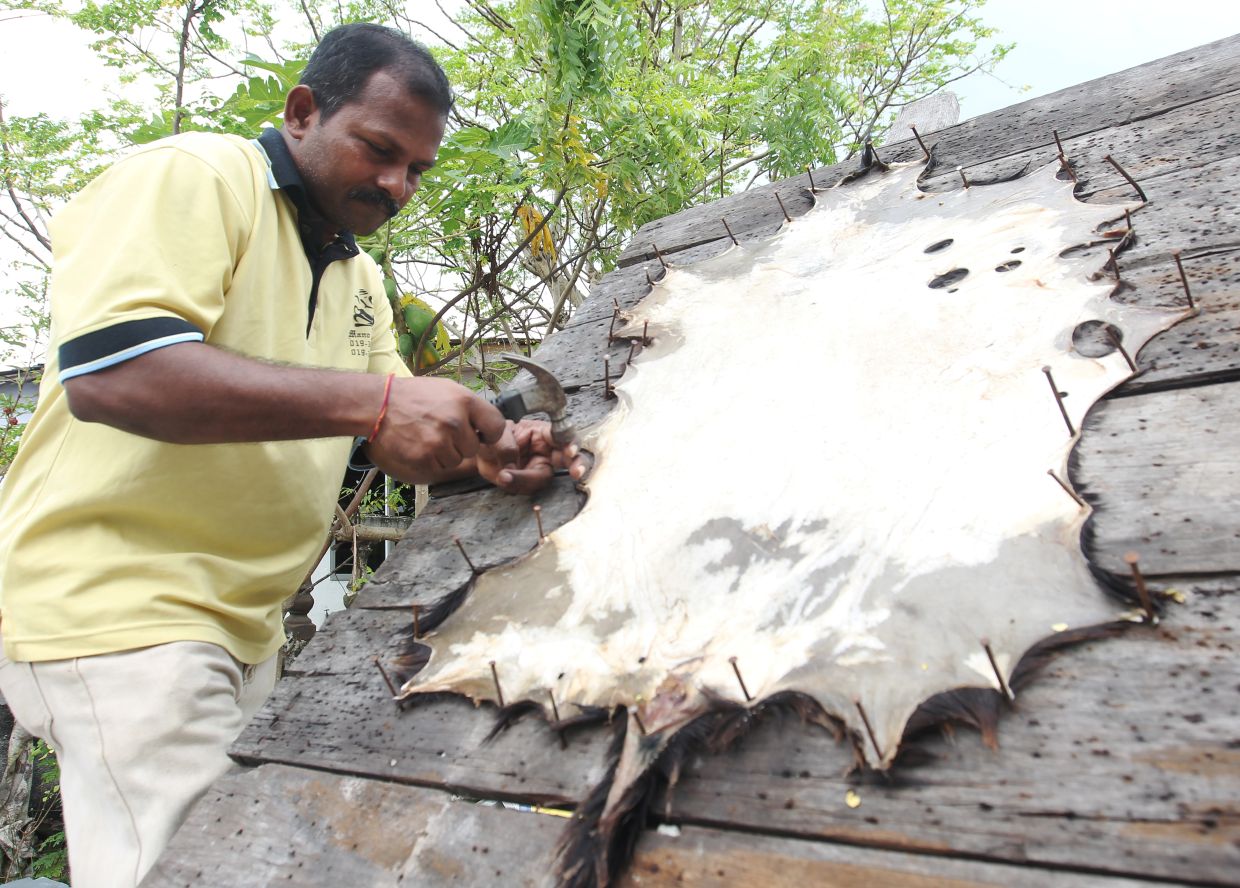 Goat skin is washed and sun dried before it is fitted onto the drum head.
Sathiya, who works at a tea plantation in Bukit Cheeding, Banting, runs his part-time business on weekends.
"Thaipusam was scaled down in the last two years due to the pandemic. But this year, the celebrations are back in full swing. I have received so many repair orders in the last few months, especially for urumi and thavil drums. I've been working non-stop to fulfil the orders since November," says Sathiya during an interview in Banting recently.
Sathiya is also the founder of the Banting-based Veera Suran urumi melam band which comprises 11 members, including his son, Havinash Moorthy, 14.
Sathiya has been an urumi melam performer for over 35 years and is adept at playing all urumi melam instruments.
He is among a few Indian musicians in Selangor who is well versed in repairing traditional Indian drum heads with goat skin.
Sathiya is happy his only son Havinash is interested in learning to play traditional Indian folk drums.
"It's hard to come across youths who are interested in learning this skill. It is a tedious and time-consuming task. Many people would rather buy a brand new drum than repair it with their bare hands," the father of four explains.
Curing the hide takes about seven days, and it's nothing short of laborious.
"Fresh goat hide is purchased for RM50 from meat suppliers in Banting's wet market. It is then washed several times to eliminate the gamey smell. Then, the hair is removed using a sharp bamboo stick and vibhuti (Hindu holy ash).
"The goat hide is left to air dry for a few days. It must be dried completely to ensure it fits perfectly onto the drum base. Metal rods and strings are used to tighten the skin to raise it to the right pitch," says Sathiya, who also orders goat hide from Chennai, India.
Metal rods and strings are used to tighten the skin on the drum to raise it to the right pitch.
His charges aren't much, only RM100 for all the effort.
"I do this as a hobby and I enjoy it. It's extra income which helps to pay my bills. The best part is I can breathe new life into old instruments," he says.
Female and male goat hides are the preferred choice for urumi and pambai drum heads respectively.
"Female goat hide is thinner and helps to bring out the high pitched sound of the urumi. Male goat hide is slightly thicker and rougher, which produces a deeper and lower sound in the pambai," adds Sathiya, who also repairs traditional instruments like kompang and rebana.
Sathiya learned the art of repairing drum heads in his late 20s.
Sathiya is one of the few urumi melam repairers in Selangor.
"Years ago, an elderly Indian musician in Banting used to repair my folk drums. He coaxed me into learning how to fix traditional drums, reminding me he would not live too long to continue this trade. He passed away many years ago, and I'm thankful I managed to pick up the skill," says Sathiya, who shares photos and videos of his troupe's performances on Facebook.
Sathiya and his band members will showcase their talents at Batu Caves from Thaipusam eve, which is on Feb 4, till Feb 6. They have five bookings where they will perform for kavadi bearers for three hours. Sathiya charges RM700 for each performance.
"We take these performances seriously and have been practising religiously for the past six months. I am happy my son is slowly learning to play these instruments. I aim to slowly teach him to repair traditional instruments when he's older.
"Learning to play traditional music and repair folk instruments is part of our heritage. And it is my wish to pass down this heritage to the next generation," Sathiya concludes.
Drumming to the beat
---
Subscribe now to our Premium Plan for an ad-free and unlimited reading experience!