It's the holy month of Ramadan, when Muslims across the country undergo a period of fasting and spiritual reflection.
One of the most exciting aspects of Ramadan is the evening bazaars, where vendors offer a wide variety of food, drinks and desserts. However, with so many tempting options, it is easy to overspend and blow your budget. How about checking out one of the many Rahmah Ramadan bazaars across the country?
This is an extension of the Menu Rahmah initiative, launched last month by the Domestic Trade and Cost of Living Ministry (KPDN) to tackle the rising cost of living in Malaysia.
At these bazaars, various food dishes, cakes and drinks are offered at less than RM5. Here are some additional tips to help you budget your spending at Ramadan bazaars. By following these tips, you can stay within your budget and keep your financial goals on track.
Make a list
Before heading to the bazaar, make a list of the items you want to purchase. This will help you stay focused and avoid getting distracted by the many other tempting food items on offer. You can also prioritise the items on your list based on how much you want or need them. This way, you can ensure you get the most essential things first before running out of money. Once you're done shopping, head home. Avoid going back to the bazaar to buy additional items.
Take your time and browse through the stalls before making any purchases. Photo: The Star/Shaari Che Mat
Bring minimal cash
The article "Bijak Berbelanja Menjelang Musim Perayaan" (Smart Spending During The Festive Season) on www.bnm.gov.my states that it is vital to allocate the same budget when buying food at Ramadan bazaars. For example, if you spend RM20 daily to purchase breakfast and lunch, allocate the same amount of cash or less when shopping at the bazaar.
It can be easy to overspend when you have extra cash in your purse. To avoid this, bring only the amount of money you plan to spend. This will help you stick to your budget. Also, consider using a mobile payment app or debit card instead of cash, which can help you track your expenses more easily.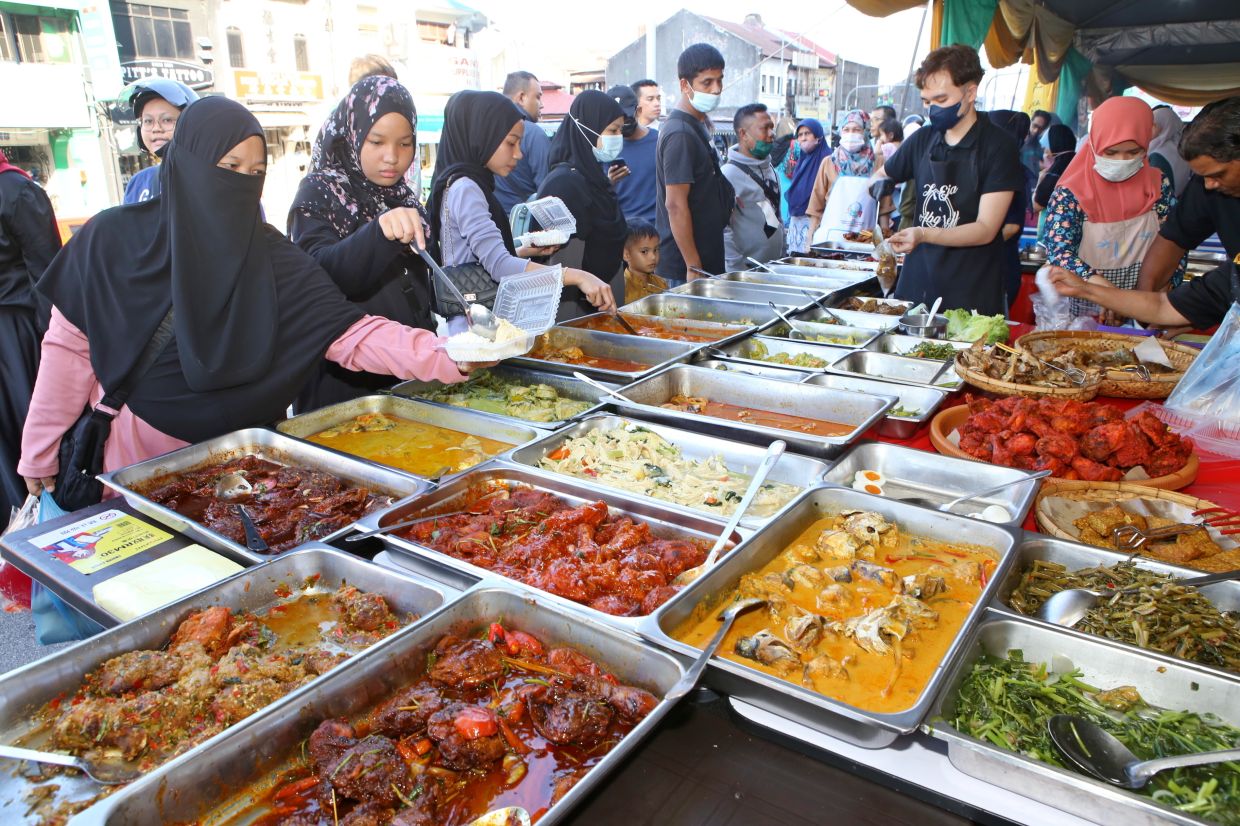 Keep track of your spending at food bazaars. Photo: The Star/Chan Boon Kai
Avoid shopping with spendthrifts
Going to a Ramadan bazaar with friends or family can be a fun social activity. However, if you go with people who tend to overspend or encourage you to do so, it can be challenging to stick to your budget. Consider going alone or with people committed to staying within their budgets.
Avoid impulsive buys
It's easy to get caught up in the excitement of the bazaar and make impulsive purchases. Instead, take your time and browse through the stalls before buying something. Consider the items on your list and check their prices before deciding what to buy. If you're unsure about an item, take a break, and think it over. You can also compare prices from different vendors to ensure you're getting the best deal.
Keep tabs on your spending
Finally, make sure to keep track of your purchases.
List the items you want to purchase before heading to the bazaar. Photo: Sheela Chandran
After each purchase, jot down the amount spent and the items you bought.
This will help you stay within your budget and avoid overspending. Review your list at the end of the night and compare it to your initial budget.
If you went over your budget, identify where you overspent and make adjustments for the next bazaar.
Subscribe now to our Premium Plan for an ad-free and unlimited reading experience!