It is not easy to make do with a limited amount of space. However, there is no denying that there has been a growing trend of people downsizing and opting for smaller living spaces, especially with a higher cost of living in urban areas.
Small apartments and houses may have certain disadvantages, but the cost savings and ease of maintenance often outweigh them for many homeowners.
Designing for a small area involves finding the right colours, fitting the right furniture and using every space possible. Many big spaces leave a gap in between them, causing a disparity between one section and another.
Taking advantage of every existing gap can make the area more practical instead of looking hollow and empty. Besides, a small room filled with your favourite things is a lot better than a big room of nothing.
Nurlailah Khadijah Awaluddin, creative director at Inspirasi Eladeko, says in order to make the best out of small spaces, it is really important to design, rearrange and consider the surroundings well.
"Getting used to the area first allows you to pinpoint which part to improve. Since we are dealing with small spaces, we have to be creative," she says.
Wan Nurain Wan Zamiruddin, interior designer at Legit Interior, says there are three important areas that need to be focused on.
"Floor, wall and ceiling. Optimising the floor gives you plenty of space, maximising the wall allows you to declutter the area, and applying creative ceiling design makes it attractive," she says.
Using vertical space, such as installing shelves on the walls or hanging plants from the ceiling, is one way of maximising small spaces. Photos: Unsplash
Power of colours
When choosing colours for a small space, it is important to consider the overall design and feel of the room.
One way to make a small space feel more open and spacious is to use bright colours for the walls and furniture. Bright colours reflect the light so the space feels bigger while dark colours absorb light.
Besides using light colours on walls and furniture, incorporating light-coloured accents and decorations can also help make the space feel larger. For example, using light-coloured pillows, rugs and curtains can add a pop of colour without making the space feel cluttered.
"Matching of interior colours for wall, floor, ceiling, window positioning to furniture selection are essential for achieving the outcome for each space," says Nurlailah.
But fusing bright colours with dark shades can also work wonders."To make the space more attractive, create a focal point. If the rest of the walls are painted a light colour, one wall should be dark so it can create a focal point where it pops up the space," she adds.
A living room with ambient lighting and full-length windows create a warm, inviting atmosphere while giving a mirage of more space.
Edric Choo, director and principal of O2 Design Atelier, also believes that different colours go well with different types of personality.
"A masculine person would opt for a slightly darker colour while a feminine person would choose a slightly brighter colour," he says.
Light pastels, such as soft pink or blue, can also create a warm and welcoming atmosphere.
"Colours can affect our mood and emotion. Blue can bring calmness. Orange and yellow can boost your appetite. Red and pink make you energetic. Purple makes you more productive," Wan Nurain adds.
Importance of lighting
Any small space can be amplified with clever use of proper lights. Ceiling lights and spotlights can be complemented by wall lights, table lamps and floor lamps to completely illuminate a space.
The visibility of a space can also be greatly improved by the use of transparent material, for instance, a window or a sliding door.
"Proper lighting is essential as it can greatly enhance the aesthetic and functionality of a space," Wan Nurain says. "Ambient light sets the mood and creates a cosy atmosphere."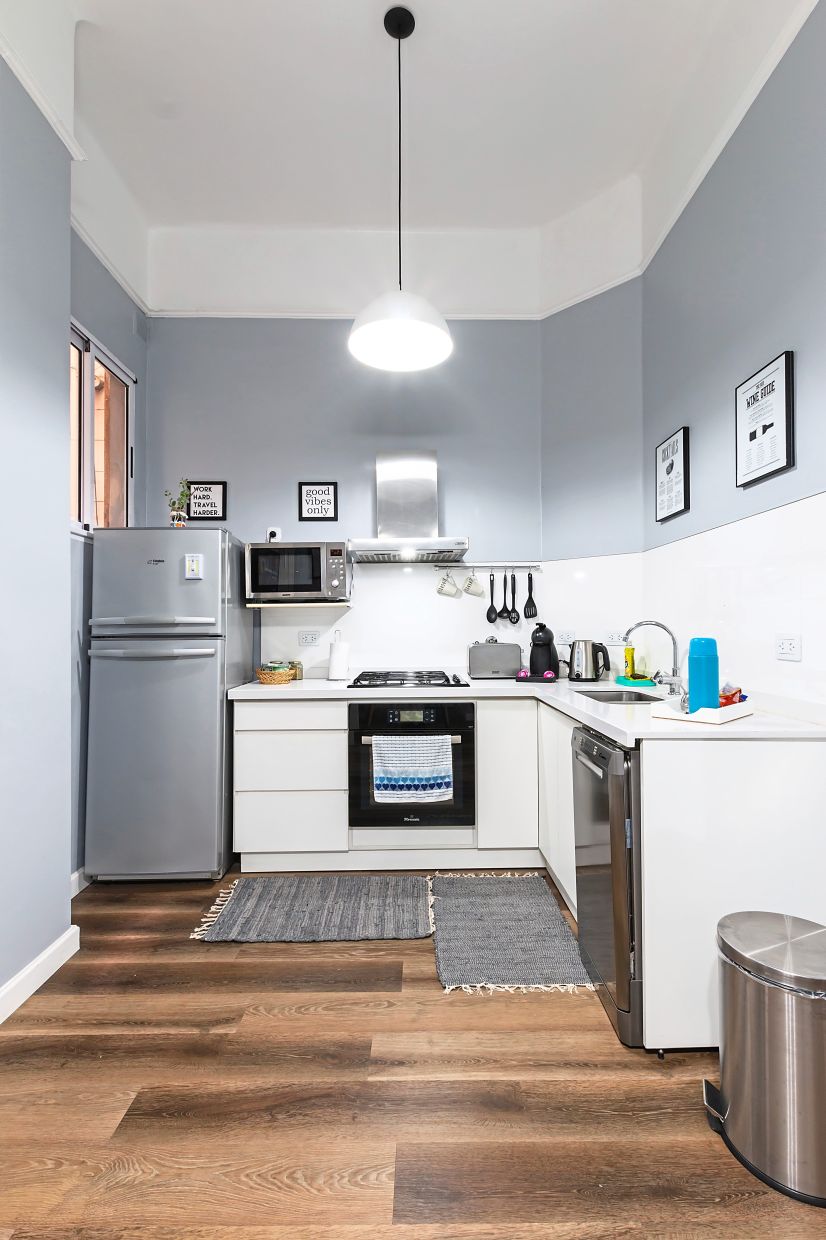 A down light produces a focal point while the tall ceiling creates an illusion of space in this narrow Scandinavian-style kitchen.
Besides that, ambient light can also provide enough brightness to see and move around comfortably and safely.
"Task lighting is often used to provide lighting for specific areas, such as a kitchen counter or a reading spot.
"It can be adjusted to focus the light on a particular area, making it an effective way to create a sense of direction and focus in a room.
"Adding vertical lines to a room can also fool the eye into believing that it is higher than it really is. Floor lamps are an excellent method to add vertical interest to a space," she adds.
Touch of creativity
Maximising small spaces also requires a willingness to be creative and think outside the box. This means using vertical space, such as installing shelves on the walls or hanging plants from the ceiling.
"Another creative way to make use of vertical space is by having cabinets or shelves that appear to be floating. The gap between the furniture and the floor makes the area look larger," shares Wan Nurain.
Make the most out of available storage space. This can be achieved by incorporating built-in storage solutions, such as shelves and cabinets, as well as using furniture with storage capabilities.
It is also important to be selective about the items that are stored in the space, keeping only those that are necessary and regularly used, and finding creative ways to store them, such as using shoe containers.
Another effective way to maximise small spaces and avoid clutter is to use multi-purpose furniture.
Drawers and shelves make the room less cluttered and more organised while making efficient use of its limited square footage.
"This can include items such as a Murphy bed that can be used as a wardrobe and bed, or a dining table that can be folded down or extended as needed. An L-shaped sofa that reclines is also a great addition to a small space," Wan Nurain explains.
In addition to storage and multi-purpose furniture, maximising small spaces also requires a thoughtful layout.
"It is important to arrange the furniture in a way that allows for easy movement and access to all areas of the space. This may mean placing furniture along the walls, rather than in the middle of the room, or using sliding doors instead of hinged doors to save space," Nurlailah adds.
Teh Wan Yan, creative director of WY Studio, says that knowing the natural flow of the space and the activities that will take place there is essential to creating a functional and comfortable layout.
"Always have future-proofing spaces in mind. Improve the neglected area by adding storage, cabinets, chairs or pockets of space while maintaining an open plan. These spaces have the potential to become multi-functional in the future," she shares. Sense of comfort
Small spaces might feel intimate and cosy to certain people because of the proximity to everything, while providing a sense of security and comfort.
However, on the contrary, living in a small space can create feelings of claustrophobia and confinement.
This can be especially true if the space is cluttered and not well organised, as that can make the space feel even smaller and narrower.
"Having natural light helps a ton. When sunlight penetrates the room, it makes you feel alive, especially since confined spaces can cause anxiety.
"Any reflective element, such as a mirrored wardrobe, can help people with claustrophobia," Wan Nurain says.
With less space to utilise and store things, it is easier to keep track of belongings and maintain a sense of organisation. This can be beneficial for people who struggle with clutter and disorganisation.
"Based on my experience, artists are more accepting of nature, and they are fine with their spaces being slightly messy. Office workers like accountants or medical practitioners like doctors prefer it to be tidy and neat," Choo says.
Teh adds: "Smaller spaces are generally easier to keep clean and maintain, which can save time and effort. Keeping it simple is the ultimate sophistication."
In a nutshell, maximising small spaces requires a combination of smart storage solutions, multi-purpose furniture, a thoughtful layout, the proper use of lights and colours, and a willingness to be creative.
By applying these principles, it is possible to turn even the smallest of spaces into functional and comfortable living areas.
Subscribe now to our Premium Plan for an ad-free and unlimited reading experience!