For many of us, working from home involves sitting at the dining table, because there is not enough space for a dedicated office.
Furniture manufacturers understand the predicament, and are supplying office chairs that look like they belong around a dining table, even after work.
One example is the Yonda chair programme by Neunzig°design, which is a further development of a historical model by the Wilkhahn furnishing company.
"When we were developing it, we asked ourselves what products do people who work from home need?" said Burkhard Remmers of Wilkhahn at the virtual presentation of the new chair.
"If you have your own work room, then you probably have space for a swivel chair," Remmers said. "But if you have to use your dining table as a temporary workplace, then our idea of a domestic, very cosy design comes into play."
The Yonda chairs by Neunzig°design for the Wilkhahn furnishing company are available with different legs. Photo: Wilkhahn/dpa
At first glance, the different types of chair look remarkably similar.
"One of the chairs at the dining table may have the rocking mechanism that allows you to move more," says Remmers. "And, although its height is adjustable, the shell is the same, so it fits in perfectly with the dining chairs."
This combination of different chair models with a close family resemblance has a unifying and stylish effect, making the room more homely.
Tilt, rock and roll
Team 7 also offers this design option with the Lui chair family, designed by Jacob Strobel. The chair models for everyday use have a fixed frame, but the office version has an aluminium one that can be rotated 360 degrees.
It also offers the sitter the ability to rock 12 degrees in all directions. The double castors glide silently on both hard and soft floors.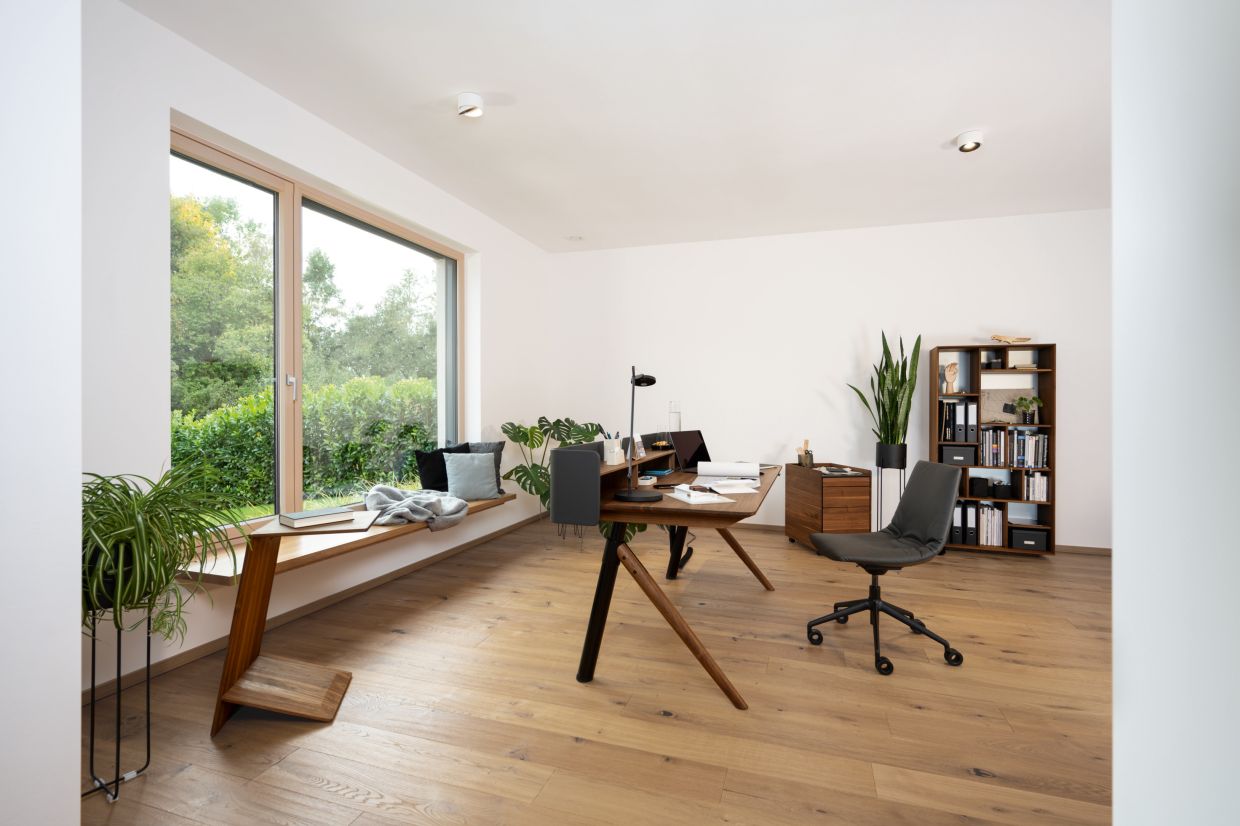 The office chair variant of the Lui chair family by Jacob Strobel for Team 7 has an aluminium frame that can be rotated 360 degrees. Photo: Team7/dpa
For many people, the emergency solution of working from home during the pandemic is increasingly becoming permanent. But the idea is not entirely new – even among design classics there are chairs that can stand on both the usual stable feet or on castors.
One example is the Little Giraffe, a development of the well-known Giraffe chair created by Arne Jacobsen in 1959 for the interior designer Fritz Hansen. The series 7, with shell chairs – also designed by Jacobsen in the 1950s – is another option.
"The same shell can be used for different purposes – as a desk chair, dining chair and bar stool. This makes it possible to create a coherent interior," says Marie-Louise Hostbo, head of the design department at Fritz Hansen.
Adapted designs
Many of the classic designs were only adapted to office use much later. For example the tubular steel S43 chair by Thonet – a 1931 design by Mart Stam – became a swivel chair in 2020.
The original cantilever chair was given a five-arm swivel on castors underneath, and Thonet's S64 cantilever chair by Marcel Breuer received a rotating central base with five rays on castors in 2019.
The S64 cantilever chair by Marcel Breuer for Thonet 2019 has a rotating central base on five wheels. Photo: Thonet/dpa
Also from 2019 is the idea for the N02 Recycle chair, available in dining table and office versions. Incidentally, it was a folded sheet of paper on his desk that inspired designer Oki Sato to create the fold in the backrest.
According to the Fritz Hansen company, this is supposed to provide additional support for the upper and lower back.
Details like this decide whether a chair is really suitable for sitting in for hours at a time. The designers of the Yonda chair series for Wilkhahn have considered many, seemingly small details that make a big difference to the ergonomics of the chair and the comfort it offers.
"We created several models and we had them tested by almost everyone from the Wilkhahn team," said designer Rainer Weckenmann at the chair presentation, "men, women, short people, tall people – they all had a go."
Even the small castors on the chair leg make a difference. Many manufacturers offer these in two versions – a harder one for carpets, and a softer one for parquet. After all, no one wants scratches on their beloved wooden floor at home. – dpa
Subscribe now to our Premium Plan for an ad-free and unlimited reading experience!