For months, the rumour mill in the F&B industry has been abuzz with three keywords: the Michelin Guide.
"I've heard it's coming," whispered a celebrated local chef in confidence six months ago. Over a month ago, he followed this up in hushed tones with "Oh, it's definitely coming!"
So I waited with bated breath for confirmation of all these suppositions and a few weeks ago, all the bits of gossip and shreds of information came together when the Michelin Guide announced its debut in Malaysia, covering Kuala Lumpur and Penang. The full selection of Michelin-starred Malaysian restaurants will be unveiled on a soon-to-be-announced date in December 2022.
The guide's arrival has been a long time coming, especially since neighbouring countries Singapore and Thailand have had the Michelin Guide for a few years now. In fact, Malaysian chefs like Mano Thevar – who helms the eponymous eatery Thevar in Singapore – have already been awarded Michelin stars. But now, at long last, Malaysian chefs based in Malaysia will also be getting due recognition for the hard work that they do.
The Michelin Guide's debut in a country is often supported by local partners. Some of the Malaysian partners include Tan (fourth from right) and Faliq (second from right) as well as local tourism bodies. — AZMAN GHANI/The Star
But first, what is the Michelin Guide? For the uninitiated, the Michelin Guide dates back to 1900 when brothers Andre and Edouard Michelin (founders of the Michelin tyre company) produced a small guide for travellers filled with information about how to change tyres and where to stop for breaks.
By 1936, the Michelin Guide's popularity had surged off the back of its hotel and restaurant recommendations and to boost this, the Guide established a system of awarding stars to restaurants.
Today, the Michelin Guide awards one, two or three stars to restaurants (three being the highest, most elusive and therefore most revered) to restaurants deemed worthy. Over the years, the guide has grown to become one of the most prestigious food guides in existence – one that has also successfully boosted both tourism as well as the visibility and repute of chefs all over the world.
French chef Joel Robuchon (the most awarded Michelin starred chef in the world) for instance once told Food and Wine magazine that "With one Michelin star, you get about 20% more business. Two stars, you do about 40% more business and with three stars, you'll do about 100% more business."
Mano Thevar is a Malaysian whose restaurant in Singapore has been awarded two Michelin stars. Now finally, Malaysian chefs in Malaysia will have the same chance as Thevar to be awarded these stars. — THEVARWhen the Michelin Guide was released in Bangkok in 2017, the Tourism Authority of Thailand also calculated that it would increase overall spending per head of tourists in Thailand by at least 10%.
Realistically, the same logic can be ascribed to Kuala Lumpur and Penang restaurants, which likely means an increase in both local and international travellers flocking to restaurants that have been awarded stars.
The guide's arrival also coincides with a surge in talented chefs and restaurateurs that have been slowly but steadily developing the Malaysian restaurant ecosystem in the past few years. Of late, there has also been a burgeoning interest in local produce and consequently, a growing appreciation for modern Malaysian food. This continues to co-exist peacefully with what is already in place: heritage Malaysian food.
In short, the Michelin Guide's arrival couldn't have come at a better – or more exciting – time.
How the Michelin Guide came to Malaysia
According to Elisabeth Boucher-Anselin, the director of communications, brand and sustainable development of Michelin Experiences, anonymous Michelin inspectors (employees of Michelin) typically scout and research locations where the Michelin Guide does not have a presence before determining that the food scene is mature enough for the guide to debut there.
"First of all, the inspection teams are scouting and trying to be regularly in places where the Michelin Guide is not present to feel the pulse and energy of the different food scenes and understand when it can be a moment to envisage arriving.
"So it has been years that we have been doing that but those last few months before Covid-19, we intensified this evaluation here and there was a point when the inspection team and Gwendal Poullennec, the international director of the Michelin Guide said 'Okay, it is mature enough, we can see consistency and the level of the local food scene so it is time for us to arrive,'" says Boucher.
Boucher says that before the Michelin Guide comes to a country or region, Michelin inspectors often research and scout locations to determine if the food scene is mature enough for the guide to debut there. — AZMAN GHANI/The Star
Kuala Lumpur and Penang were selected as the first two cities for the guide's debut in Malaysia, largely because both were deemed to have mature food scenes. Also when the guide first arrives in a country, the intention is not to stay for a few years and leave. It is a long-term relationship which is why deciding on a city is important and one that is arrived at after much consideration.
"Kuala Lumpur and Penang have their own unique characteristics which benefit a variety of diners locally and abroad. Kuala Lumpur, the country's economic and business hub is a fast-moving city flocked with sizeable venues, independent restaurants and new inspirations for gastronomy."
"Penang, with its strong Peranakan influence, is a gastronomic hotbed of small-scale restaurants and street food that embodies Malaysia's distinctive streetside dining culture," says Poullennec.
Interestingly, Kuala Lumpur in this context refers purely to Kuala Lumpur and not the greater Klang Valley area. This means restaurants in Selangor will be excluded from Michelin Guide consideration, which is a bit of a shame, given that many top restaurants are just kilometres away from Kuala Lumpur postcodes.
While not common, the Michelin Guide has also awarded stars to street food operators so there is a chance that local mavens like Penang's Siam Road char koay teow master Tan Chooi Hong, 81, could get a star. — Filepic
To put together the Michelin Guide in a new country, local partners are also often part of the package. While Michelin pays for all the Michelin inspectors' salaries and funds all their meals and inspectors review the restaurants independently, local partners often market and highlight the work done by the Michelin Guide.
In Malaysia, the Michelin Guide has partnerships with private sponsors based in Malaysia to promote the guide and the Michelin Star revelation event. Some key local partners include CF Capital founders Chryseis Tan and her husband SM Faliq SM Nasimuddin.
Who are the Michelin inspectors?
The anonymous Michelin inspectors employed by Michelin have long been the subject of intense curiosity, purely because well, no one knows who they are. This aspect of the Michelin Guide has been protected for as long as inspectors have been in the picture.
Boucher for example, will not disclose if there are any Malaysian Michelin inspectors tasked with reviewing and rating restaurants in Kuala Lumpur and Malaysia. All she will say is that the team of inspectors is made up of "more than 15 nationalities".
All the Michelin Guide inspectors report to Poullennec who is particular that all the parametres of a particular city are covered. If any restaurant deemed suitable has not been inspected close to the selection date, he may instruct inspectors to go there. — MICHELIN GUIDEIn any case, to be a Michelin inspector, a person generally has to have some sort of food background, ideally with some kitchen experience. Most inspectors have at least five to seven years' experience in the F&B industry. According to Boucher, many Michelin inspectors are former sommeliers, pastry chefs or chefs.
There is also a rigorous selection process and according to an article in finedininglovers.com, part of the test is to go for a meal and write a detailed report about it.
Once a candidate nails the job interview, they will have to tail a senior inspector for at least two years to get a sense of what the job entails and to ensure a thorough understanding and experience of what constitutes a star-worthy restaurant. After eating through between 700 to 800 meals, an inspector is deemed ready to go out on his/her own and evaluate restaurants.
There are five criteria used to determine selections of awarded restaurants – the quality of the ingredients, the mastery of cooking, the harmony of flavours, the personality of the chef through the cuisine; and the consistency across the menu and over time.
Inspections are done anonymously often with reservations made under assumed names throughout the year (as one of the criteria is that there must be consistency over time) and decisions must be made collegially. This means the decision to award a star to a restaurant cannot be made by just one Michelin inspector; there needs to be a minimum of two inspectors in agreement but often a restaurant might have been reviewed by 10 or even 12 Michelin inspectors.
If the inspectors do not agree on the number of stars to award to a restaurant, they have to go back and eat at the restaurant again until they reach a consensus!
Although the Michelin selection for KL and Penang will be revealed in December (this is when chefs, restaurant owners and the public will simultaneously discover which restaurants have been awarded stars), cut-off dates for inspections are only a few days before the reveal.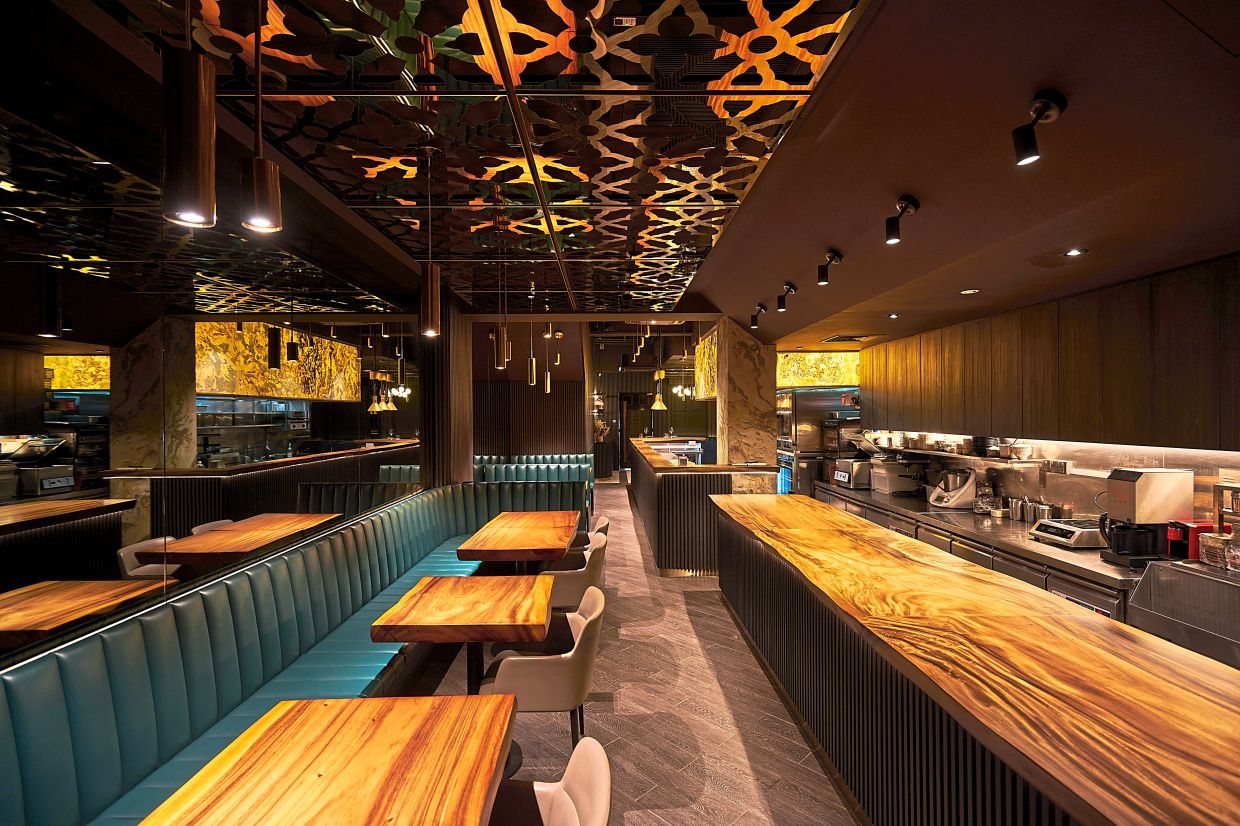 The Michelin Guide is one of the few food awards that only judges based on food; not ambience, service or aesthetic appeal. — THEVAR
This is because the selections are now unveiled online on the Michelin Guide website and app, which allows for more leeway and time for the inspectors to dine again and again at different restaurants right until just before for the selections.
"Inspections are still being done – even now several inspectors are at restaurants in Kuala Lumpur and Penang at this moment. We only finish definitely a few days before the December lunch for Malaysia. It is always a few days before, because with the digital format it is very easy to work until the end.
"And Gwendal is very careful to make sure that we cover the parameter thoroughly so until the end, if there are some restaurants that have not been seen, he wants the inspectors to go," says Boucher.
How are restaurants selected?
According to Boucher, there is no quota, shortlist or determining factors that Michelin inspectors use to decide where to eat or which restaurants to inspect. In fact, even street food can be reviewed and potentially awarded Michelin stars – as has happened before with Bangkok's famed street food icon Jay Fai!
Odette in Singapore is one of the few restaurants in the world to have three Michelin stars. A three-starred Michelin eatery often means reservations are hard to get. Pictured here is the eatery's Bafun uni. — ODETTE
This is largely because unlike many other food authorities, the Michelin Guide's criteria for selection focuses purely on the food; not the ambience, wine pairings, etc.
Michelin inspectors also gain a sense of what is trending, popular or good because they are on the ground a lot, speaking to customers and foodies and learning about food culture and food heritage, something they have actively been doing in Kuala Lumpur and Penang for months now.
"It's through a very wide range of research – it is obviously talking to customers and other people and finding out what are their habits – what do they like for lunch, what do they like for dinner, how many times do they have a meal in a day? This depends on the country too.
"Also they read a lot, and they have this historical background because of the scouting for many years of those places. They will know about a chef that is Malaysian but was working in New York before this. So it gives a wide range of impressions and it helps build up the restaurant evaluation programme.
Exciting new restaurants like Eat and Cook are leading the charge for modern Malaysian fare, so it will be interesting to see if eateries like these are awarded stars. — EAT AND COOK"But the inspectors are also free to go to places that we didn't think of before because they are on the ground. They might walk past a place and go in to try the food because they find it interesting. There is no settled plan, no quota of restaurants, no settled food type or cuisine types. They have the freedom to do whatever they want.
"What we are very careful about is settling a qualitative selection that reflects other qualitative selections that we have in other countries. It's not a local benchmark, it's an international benchmark so a star in Kuala Lumpur is worth a star in Paris or New York," says Boucher.
Given that the Michelin Guide also has a category called Bib Gourmand, which awards restaurants that are deemed value-for-money, the Michelin inspectors have their work cut out for them. After eating in hundreds of restaurants multiple times throughout the year, they then eliminate the ones that do not make the cut and then organise and rank the rest accordingly – whether as Michelin-starred eateries or in the Bib Gourmand.
"It's based on the food that they find and we will organise it. We don't want the food scene to adapt to us, we adapt to the food scene. We take it as a whole, we go and eat and then we find the best places, evaluate them, rank them and we highlight them," says Boucher.
Moving forward, the Michelin Guide has remained tight-lipped about whether other destinations in Malaysia will also have Michelin Guides (Ipoh or Melaka, perhaps?) but there are indications that the search for new locations is perennial, so who knows?
"The inspectors are always scouting, not only in Malaysia but in different countries and this year, we arrived in Dubai, Istanbul and Florida – these were places we have been eating regularly at until we thought 'Now, it is the right moment'. What I can tell you is that today is just the beginning in Malaysia with KL and Penang," says Boucher.
Subscribe now to our Premium Plan for an ad-free and unlimited reading experience!