This has been a triumphant year for fledgling eatery Eat and Cook. After only being in business since February 2021, the Bukit Jalil eatery scooped up the American Express One To Watch award at this year's Asia's 50 Best Restaurants 2022 awards. The award is typically doled out to a restaurant deemed Asia's hottest dining haunt.
For the young chefs that helm this groundbreaking eatery – 25-year-old young uns' Lee Zhe Xi and Soh Yong Zhi, this is the culmination of a tiny 10-seater eatery that started off at the start of the Covid-19 pandemic when both were out of jobs and decided to do something new.
From those unassuming beginnings, Lee and Soh have proven that despite their youth, they have the fortitude, foresight and culinary mettle to go the distance.
Soh (left) and Lee are the creative minds behind Eat and Cook's inspiring modern Malaysian fare. — Filepic
Eat & Cook's new-ish space in Bukit Jalil (the first iteration was in an abandoned shopping mall also in Bukit Jalil) features a purpose-built chef's table set around the kitchen so diners can see, feel and taste everything that is happening as it happens. In this kitchen, Lee and Soh reign supreme. Lee in particular is a fun, engaging storyteller whose passion for food is evident from the minute he starts talking (if you love food, you'll never want him to stop).
Since its inception, the chefs have divided their degustation dinners (which run for three months at a time) into chapters, with each chapter representing something – whether that's a tribute to particular regions of Malaysia or something that harks back to their own food memories.
Perhaps more impressively, Lee and Soh are really trying to break the mould by embracing local produce, culture and food heritage and reconstructing it in the guise of modern Malaysian fare.
Currently, Eat & Cook is running its Chapter 5 menu (priced at RM450++ per person) until Dec 11. This will be the eatery's final chapter installation as from next year onwards, the dynamic duo will be handing over at least part of the mantle to their team.
"We won't call it chapters anymore – we will call it seasons. Like in dramas, when season one comes up, there are a list of actors. So I want to grow my team by giving them starring roles – so whoever wants to be involved in the season has to come up with new dishes.
"That's how I respect my team – they are not robots only doing whatever I say. We wouldn't be where we are without them and I want the team to grow with us," says Lee.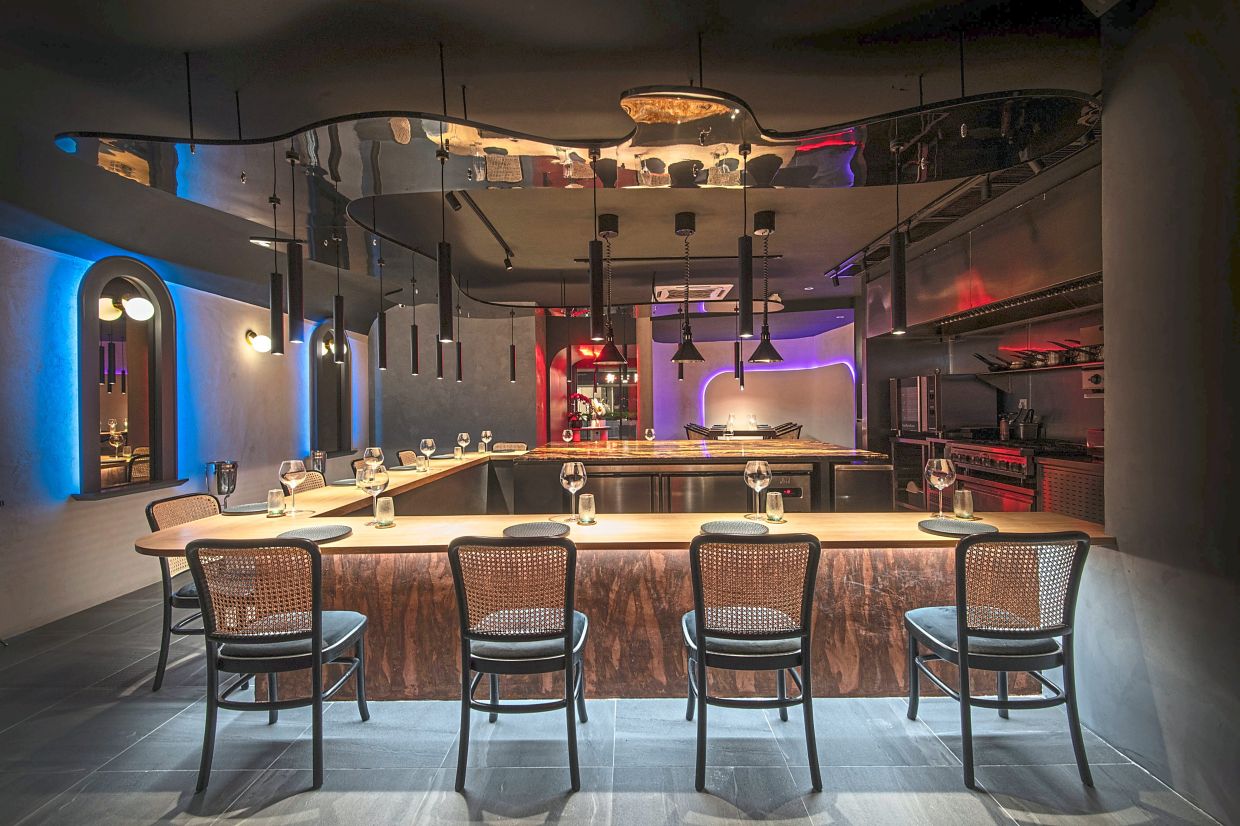 Diners will sit around the open kitchen and get a bird's eye view of everything that is going on in Lee and Soh's culinary playground.
The current – and final chapter – is well worth investigating though if you have the means. The menu pays homage to Lee's Baba-Nyonya heritage and memories.
"I grew up with a Baba-Nyonya grandmother who is a very good cook. And my mum didn't cook very well, because she was super healthy, so everything had very little oil. So I hated my weekday meals and only loved my weekend meals that my grandmother made," chuckles Lee.
With this degustation menu, Lee's basic idea was to take simple Baba-Nyonya dishes and elevate them with French mother sauces like bechamel and velouté.
Like the Ngoh Hiang roll, which features aged fish, aged duck, jicama, aged fish butter and Lee's five spice (although he actually uses seven spices).
"The outer layer is 90-day dry-aged duck. It's a weird combination – duck and fish, and all the spices that we import from India. But I experimented and found that fish is the best to highlight the meatiness is from the duck," explains Lee.
The pie tee jatuh is as fun to eat as it looks.
The result is a dish where a crisp outer skin segues into jicama and where the fish butter adds a lovely richness to the meal. It's a small, compact delight for the senses.
The pie tee jatuh is an appetiser that Lee came up with as he felt that many diners would find a traditional pie tee difficult to eat in a fine-dining setting.
This deconstructed pie tee has got jicama, dried squid, dried scallop, dried shrimp and chilli and is a flavour-packed mouthful with rich umami flavours that is as fun to eat as it is to look at.
Another meal to remember is the wild caught local octopus with kicap cili and chayote leaf.
"What we have here is cili kicap, which is such a big part of our memories as Malaysians and a huge octopus from Semporna, Sabah.
Perfectly grilled wild caught octopus from Sabah is the highlight of this phenomenal dish.
"Basically we sous vide the octopus with buah kulim (a kind of wild garlic) for five hours and then grill it over local mangrove wood," says Lee.
The result is sensational – the octopus is perfectly cooked – charred lightly on the outside and spongy on the inside, with light kicap flavours adding a fiery underbelly to the dish.
Perhaps one of the most surprising – and successful elements in this chapter – is the grilled paku (fiddlehead fern) with sugar cane, budu ice cream, pickled chilli and coconut.
The paku has a light crunch and a lovely smoky quality to it and these charred notes are offset by the budu ice cream, which has all the qualities of the fermented anchovy sauce so famed in the east coast of Malaysia. It seems like a very strange combination and yet this is an example of a dish that works oh-so-well in reality.
The grilled paku with budu ice cream is a surprising dish that features strange ingredients coming together very, very successfully.
From the mains, you could opt to try the 19 aged Ipoh duck with buah keluak glaze, keluak duck bone sauce and confit spiced duck. The duck here is multi-textured – tenderness in the meat, crispiness in some parts and an overriding rich flavour profile that somehow doesn't veer into cloying territory. It's the sort of meal that captures your imagination and takes your palate on a wild ride, one from which euphoria reigns supreme.
If you have the cash to spare, definitely think about indulging in wine pairing (RM320++ for six courses) to go with your meal. The wine pairings have been put together by passionate head sommelier Dennis Chong, who was wooed into joining the restaurant after Lee made him a bowl of mee suah!
Chong has spent 15 years in the industry, but at Eat and Cook, he admits he has his work cut out for him as there is no blueprint for what to pair with modern Malaysian fare. After all, no one really thinks of sambal and wine – or do they? Chong has had to figure that out and has done a phenomenal job of it too.
Duck forms the beginning, middle and end of this delightful duck-venture.
"I have to think outside the box because there is no frame of reference. And every time there is a new degustation menu, I have to start from scratch all over again, so I am constantly getting information from wine suppliers and trying out new wines," says Chong.
The wines throughout the meal are a blend of old world and new world, from the sweet notes of the Hungarian Oremus Tokaji Aszu to the Domaine Begude Le Paradis, a delicious French white wine that sparkles and thrills. Chong's pairings are particularly successful, considering the rare and unusual flavours in place (in the world of wine pairing at least) like fermented budu, cili kicap and petai – to name a few.
Ultimately, what Eat and Cook has done and continues to do with aplomb is show diners that with a little bit of imagination and a whole lot of curiosity, Malaysian staples can be reimagined in ways you never thought possible. And what an adventure it can be!
Eat and Cook
H-6-1, Pusat Perdagangan Bandar
Persiaran Jalil 1
Bukit Jalil
57000 Kuala Lumpur
Reservations: eatandcook.asia
Open Tuesday to Sunday: 5.30pm to 11pm (two seatings daily)
Subscribe now to our Premium Plan for an ad-free and unlimited reading experience!