On a sunny Tuesday afternoon, speckles of sunlight butter the interior of Bocado, a sprawling Mediterranean eatery nestled in Damansara Heights.
The eatery's visual appeal is instant – from the white marble tables to the blue accents on the walls and tables and the foliage that dots the exterior. At the helm of the open kitchen is Ignasi Prats, the Spanish chef leading the kitchen at this eatery, which is one of F&B entity Cinnamon Group's latest outposts.
Prats is a seasoned chef who grew up in his third-generation family bakery in Spain (he literally lived in the same building as the bakery).
"I remember when I was a kid, I was running around the cooking area. And when I was four years old, I was already rolling croissants," he says, laughing at the recollection.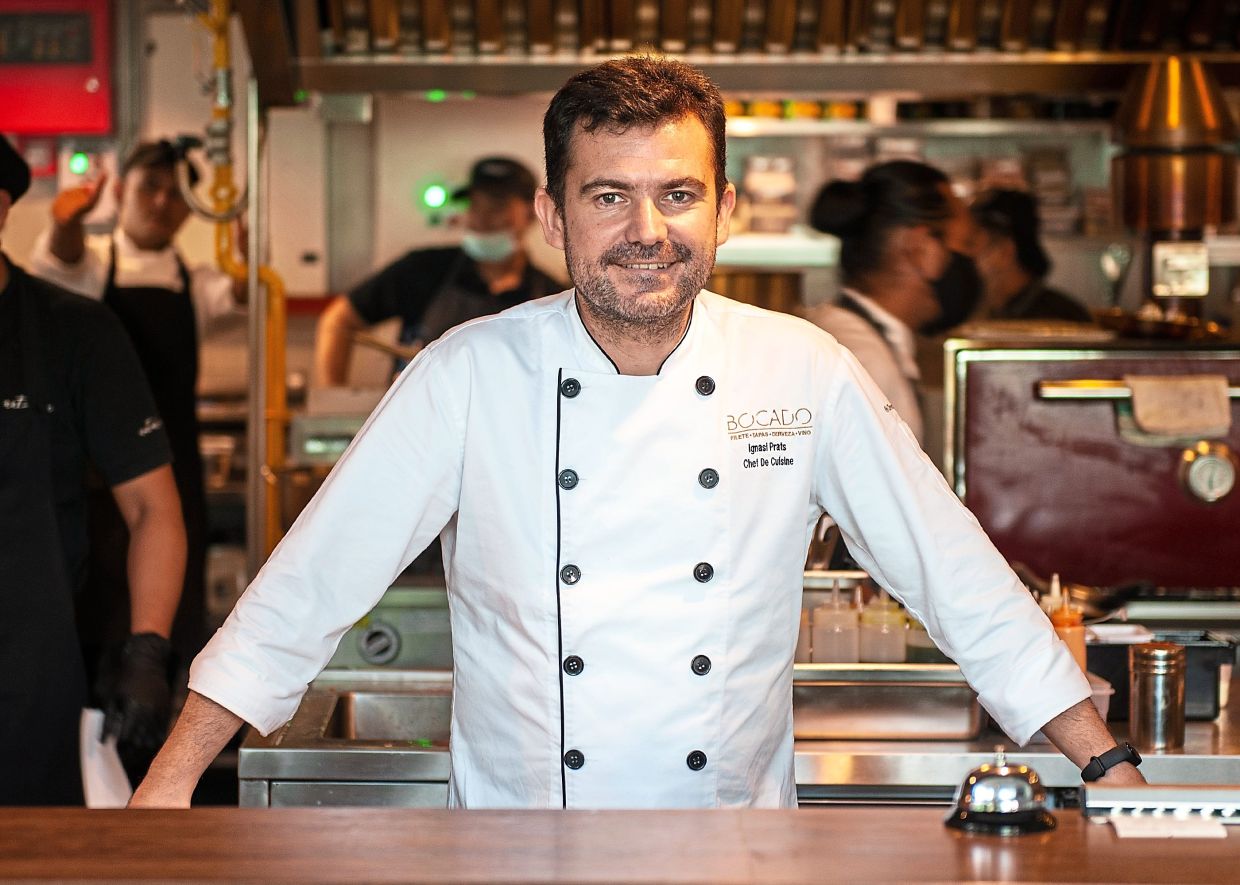 Prats is a seasoned chef who learnt to bake in his family bakery in Spain and then went on to spend years cooking in various fine-dining eateries around the world.
For the first 10 years of his career, he worked in the bakery until his parents decided to sell off the business. From there, Prats worked his way to five-star hotels in Barcelona and even had a stint at the venerated three-Michelin starred El Celler de can Roca, an experience which he says was instrumental in sharpening his culinary skills.
"I had probably one of the best experiences of my life and I learnt a lot. It was tough as well because I was working really hard, but I really improved as a chef – I think the environment really helped," recalls Prats.
Later, he moved to Asia, where he worked in Macau, Beijing and Bali before taking up the mantle at the newly minted Bocado in KL. Here, he has incorporated a mixture of traditional Spanish tapas and mains as well as more inventive fare that gives him the opportunity to flex some of the more specialised skills he has picked up at fine-dining eateries over the years.
The eatery is aesthetically pleasing to the eye and has distinct Mediterranean influences. — BOCADO
To preserve the authenticity of the experience at the eatery, a lot of the produce – from the olive oil to the lamb – is imported from Spain.
"We try to use as much as we can from Spain because this gives an experience that is closer to Spain. Because sometimes it's not just about how you cook, it's also about the ingredients that you use," he says.
Launch your Spanish discovery here with some tapas. Tapas are typically designed for sharing so opt for these small plates as a precursor to your main meal or if you want to – you could just have a selection of tapas to fill you up.
The Pulpo a la Gallega (RM82) is a delicious treat for the senses that features grilled Atlantic octopus on a bed of potato chiffon mousse, with Spanish paprika and aioli. In traditional iterations of this dish, Prats says confit potatoes are often used, but here he decided to exercise his creative muscles a little and do things differently.
The grilled Atlantic octopus with potato mousse is a treat for the senses from start to finish.
The octopus is clearly the star of this show – the cephalopod has a lovely char and crust on the outside which is also dusted with paprika. This gives it both a rustic edge as well as a slight heat and this is complemented perfectly by the flesh inside, which is tender but still retains some spring and bounce. The potato chiffon mousse offers a delicate softness which further accentuates the meal.
Up next, definitely, definitely try the Croquetas (RM34) which is made up of deep-fried mushroom bechamel served with black truffle mayonnaise. Each rotund ball is crispy to the touch and segues into an interior that has woody, creamy nuances that pair incredibly well with the opulence of the truffle mayonnaise.
If you're after something from the carnivorous faith, definitely opt for the Tartare de Wagyu MB9 (RM98). Here, you will discover chunks of wagyu ribeye, with gherkins, shallots, capers, Dijon mustard and a quail's egg rounding out this concoction. This is an elegant meal that showcases the natural beauty of the beef, which is velvety soft and tender to the touch.
Crisp on the outside with a rich mushroom bechamel adorning its insides, the vegetarian croquetas promise to entice. — BOCADO
This smoothness is boosted by the quail's egg, which adds albumen goodness and a satin-like allure to the meal. The gherkins, shallots and capers provide contrast in the form of crunch, acidity and umami notes while the Dijon mustard provides a sharp counterbalance to the whole meal. It's the sort of dish that is spectacularly good from start to finish.
From the mains, definitely opt for the Paella de Marisco (RM130 for 2 pax). This Spanish seafood bomba rice is made up of a concentrated seafood stock, with hotate scallops and king prawns adding to this underwater culinary adventure.
This is a fantastic rendition of paella – neither too dry nor too wet, and one where every kernel of rice has absorbed the seafood notes of the meal to fullest effect. The king prawns meanwhile are fat and fluffy while the scallops add a tender, buttery quality to the dish. It's a meal that spells instant addiction and one that will forestall any diet plans you might have.
The superlative attributes of the wagyu MB9 are on full display in the tartare. — BOCADO
For an option from the meat family, you could try the Palletila de Cabrito (RM220). Here, you will discover 16-hour slow cooked Spanish suckling lamb alongside grilled asparagus and mushrooms and an option of two sauces (we had chimichurri and bearnaise). The lamb is a Spanish wild mountain lamb, which is cooked sous-vide style before being grilled on the Josper oven (a premium grill and oven used by top restaurants) to attain a slight char and a crisp skin.
The result is lamb that has pull-apart flesh that is incredibly moist, juicy and tender and skin that has a light crispness but isn't overdone. The sea salt served on the side really does wonders to elevate the meat which is a little under-seasoned otherwise. The chimichurri and bearnaise sauce are both pleasant, and sluice through the richness of the meat. This is further buoyed by the asparagus, which adds a crunchy, vegetal quality to the meal.
For a grand finale, opt for the Tartaleta de Citricos (RM38) which is a citrus curd tartlet, with torched meringue served with a variety of fruits and mango sorbet. Ooh, what a treat this is! The tart base is neither too sturdy nor too soft and lends itself well to the citrus curd which has soft tangy notes. This is offset by the fresh fruits in the mixture and the mango sorbet, which is refreshing and balances out this dish perfectly. This is a dessert so good, it will be making frequent appearances in your dreams for a long, long time.
The citrus curd tartlet is a light, tangy sweet treat that is the perfect ending to a meal at Bocado.
Prats says he is still in the midst of learning and understanding Malaysian customers and will be updating the menu as and when he makes new discoveries.
"We have been in operation for six months and I have already done three updates to the menu. So we will keep rotating and adding new things, but I am new here in Malaysia so for me to truly understand the products and suppliers and know what Malaysians like and want – that will take time," he says, smiling.
Bocado KL
Ground Floor
Bangunan ECM Libra
8, Jalan Damansara Endah
Bukit Damansara
50490 Kuala Lumpur
Tel: 012 923 3206
Open daily: 12pm to 12am
Subscribe now to our Premium Plan for an ad-free and unlimited reading experience!