It wasn't too long, long ago that that galaxy far, far away felt like it was going, going down.
The Star Wars franchise, for too long so reliant on its mega movie trilogies, were beginning to feel tired and dated, even though the 'Sequel Trilogy' (The Force Awakens, The Last Jedi, and The Rise Of Skywalker) and Rogue One: A Star Wars Story did good box office numbers.
But after the failure of Solo: A Star Wars Story, Lucasfilm decided to go back to the drawing board, and start small once again. Or to be exact, start on the small SCREEN.
Since the release of The Mandalorian in 2019, Star Wars has found a new lease of life on Disney's streaming platform, Disney+.
It has not only continued to tell stories about the core Star Wars universe through the adventures of Din Djarin and Grogu, it has also given 'legacy' characters like Obi-Wan Kenobi, Boba Fett and Ahsoka Tano a chance to expand their backstories and perhaps, lead into a new age of Star Wars stories that stand apart from the Skywalker Saga, including the critically acclaimed Andor series.
'Sith, by El Guiri.
This new popularity has also given Lucasfilm firmer ground to stand on, and start experimenting with a more creative and original way of telling Star Wars stories.
One of the ways it is doing so is through the Star Wars Visions series, which is currently streaming its second season on Disney+ Hotstar.
The first season, released in 2021, gave the keys to the Star Wars kingdom to seven different Japanese animation studios, whose output then made up an anthology of nine anime episodes, each showcasing the studios' own unique storytelling and visual styles
For its second season, however, Lucasfilm went beyond the shores of Japan and cast its net far and wide across the globe, coming up with an eclectic mix of 15- to 18-minute shorts by studios from all over the world, some more famous than others, but each and every one lending a unique voice and, yes, vision to the Star Wars universe.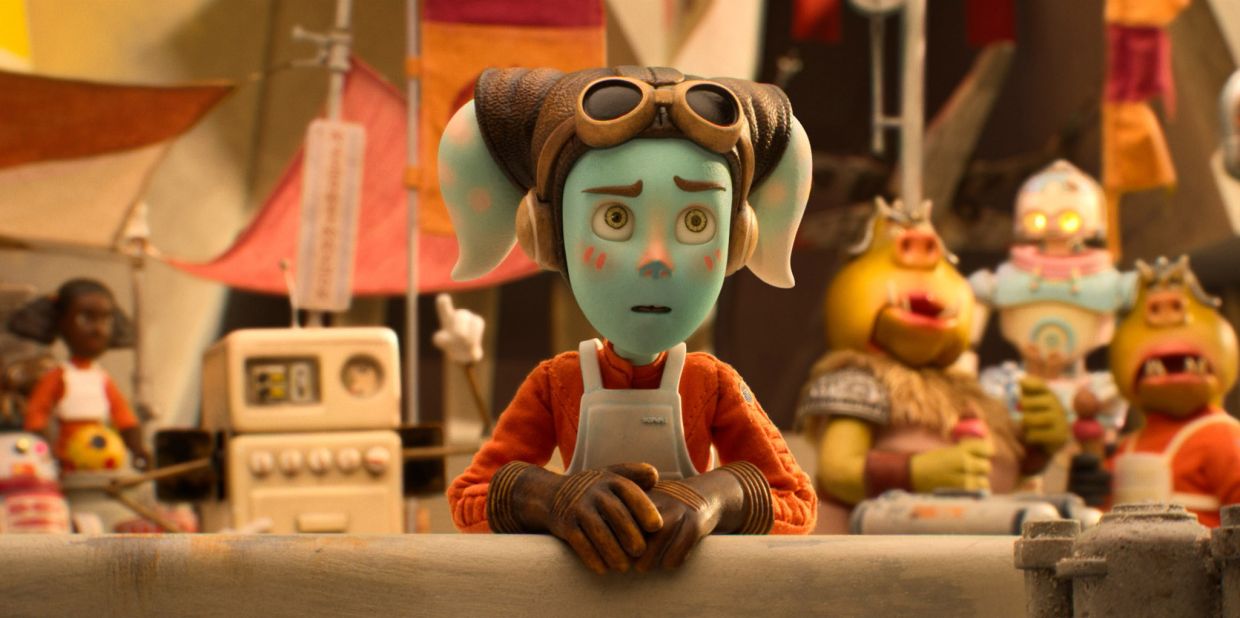 'I Am Your Mother', by Aardman.
There are Oscar-nominated studios like Britain's clay-motion specialists Aardman and Ireland's Cartoon Saloon; unique Asian voices from South Korea's Studio Mir, India's 88 Pictures, and Japan's D'art Shtajio; stylish expressions from Europe's El Guiri (Spain), Studio La Cachette (France); and some truly emgaging tales from studios in other parts of the world like Punkrobot (Chile), and Triggerfish (South Africa).
The sheer variety of styles and scope on display here is a testament to just how much potential the Star Wars universe has in terms of stories and characters outside the established ones in the Skywalker Saga, and how widely it can be interpreted by different cultures and artists.
'Aau's Song', by Triggerfish.
It mesmerises you from the get go with El Guiri Studios' Sith, a tale about a former Sith apprentice attempting to escape from her old master told in a vibrant explosion of colour and fluid brush and lightsaber strokes.
The wonder continues in a different vein with the horror-esque Screecher's Reach by Cartoon Saloon, the studio behind Oscar-nominated films like The Secret Of Kells and Wolfwalkers, and then Punkrobot's disarmingly charming tale of oppression by the Empire, In The Stars.
Speaking of oppression, The Pit is also a moving watch that sees Lucasfilm themselves get involve in a collaboration with D'ART Shtajio of Japan.
'In The Stars', by Punkrobot.
My personal highlight of the season, however, has to be Aardman's I Am Your Mother, a hilariously creative tale of a trainee pilot who has to participate in a student's race alongside her mother. It's a brilliantly realised comedic take on Star Wars that makes you wish Lucasfilm would let Aardman do an entire series or movie on their own.
Other highlights include the beautifully illustrated The Spy Dancer, by France's Studio La Cachette, which melds music, dance and Stormtroopers in a showdown between a Rebel cell leader and an Imperial officer; and Aau's Song, by South African studio Triggerfish, a tale of a child with a magical, musical gift.
The Bandits of Golak by India's 88 Pictures, on the other hand, gives Star Wars a healthy dose of Indian culture. It results in an entertaining, lush, and beautifully animated film about a brother who is trying to get her Force-sensitive younger sister to safety that nevertheless feels a little disjointed and forced (pun uninended) in certain moments.
'Journey To The Dark Head', by Studio Mir.
Another short I wasn't quite as enamoured with is Journey to the Dark Head by South Korea's Studio Mir. At 18 minutes, this is the longest film of the season, but its central tale of a revenge-seeking Jedi felt a little too by-the-numbers for me. It's still a pretty decent watch, but it doesn't resonate with you quite as much as the others will.
But don't let these minor gripes stop you from watching this. Star Wars Visions is a series for all the Star Wars fans out there who dared to dream about the endless possibilities of seeing stories about the people, countries, planets, and entire civilisations that may reside in that galaxy far, far away. Watch it, you must. There is no try.
Summary:
We have a good feeling about this.
Subscribe now to our Premium Plan for an ad-free and unlimited reading experience!