Malaysian actress Yeo Yann Yann (pic), who is promoting the comedy series American Born Chinese in the United States, is on cloud nine after visiting The White House in Washington, DC.
According to American media outlet The Hill, US President Joe Biden welcomed about 200 guests to his official residence and workplace on Monday in celebration of Asian American, Native Hawaiian and Pacific Islander Heritage Month.
The event included a special screening of American Born Chinese, which is based on the 2006 graphic novel of the same name by American cartoonist Gene Luen Yang. It revolves around an immigrant couple (played by Yeo and US-based Singapore actor Chin Han) whose young son (Ben Wang) becomes involved in a battle between Chinese gods.
Premiering on Disney+ Hotstar on May 24, it also stars Malaysian actress Michelle Yeoh as the goddess of mercy Guanyin, American-Chinese actor Daniel Wu as Sun Wukong the Monkey King, as well as American-Vietnamese actor Ke Huy Quan.
"Due to the show, I stepped into the White House on May 8, something which I have never experienced in my life," Yeo, 46, told Chinese-language evening daily Shin Min Daily News on Tuesday. "The whole thing is really incredible to me. It is really a very magical journey."
Yeo Yann Yann sharing a photo of herself with Chin Han in Washington. Photo: Yeo Yann Yann/Instagram
Yeo, who won Best Actress and Best Supporting Actress at Taiwan's Golden Horse Awards for Singaporean films Wet Season (2019) and Ilo Ilo (2013) respectively, added that the audience at the White House responded enthusiastically to American Born Chinese.
According to Shin Min, Yeo will travel to Los Angeles on Wednesday to continue the promotion of American Born Chinese, before heading to San Francisco and then New York. She will return to Singapore – where she is based – in June.
Quan, who won the Best Supporting Actor Oscar in March for his role in the film Everything Everywhere All At Once (2022), even got to deliver a speech on stage at the White House.
Reflecting on his life as a child refugee from Vietnam, the 51-year-old said: "I was what they called a boat person. And little did I know, just a few years later, I became an actor. And even more recently, and still unbelievable to me, I became an Academy Award-winning actor."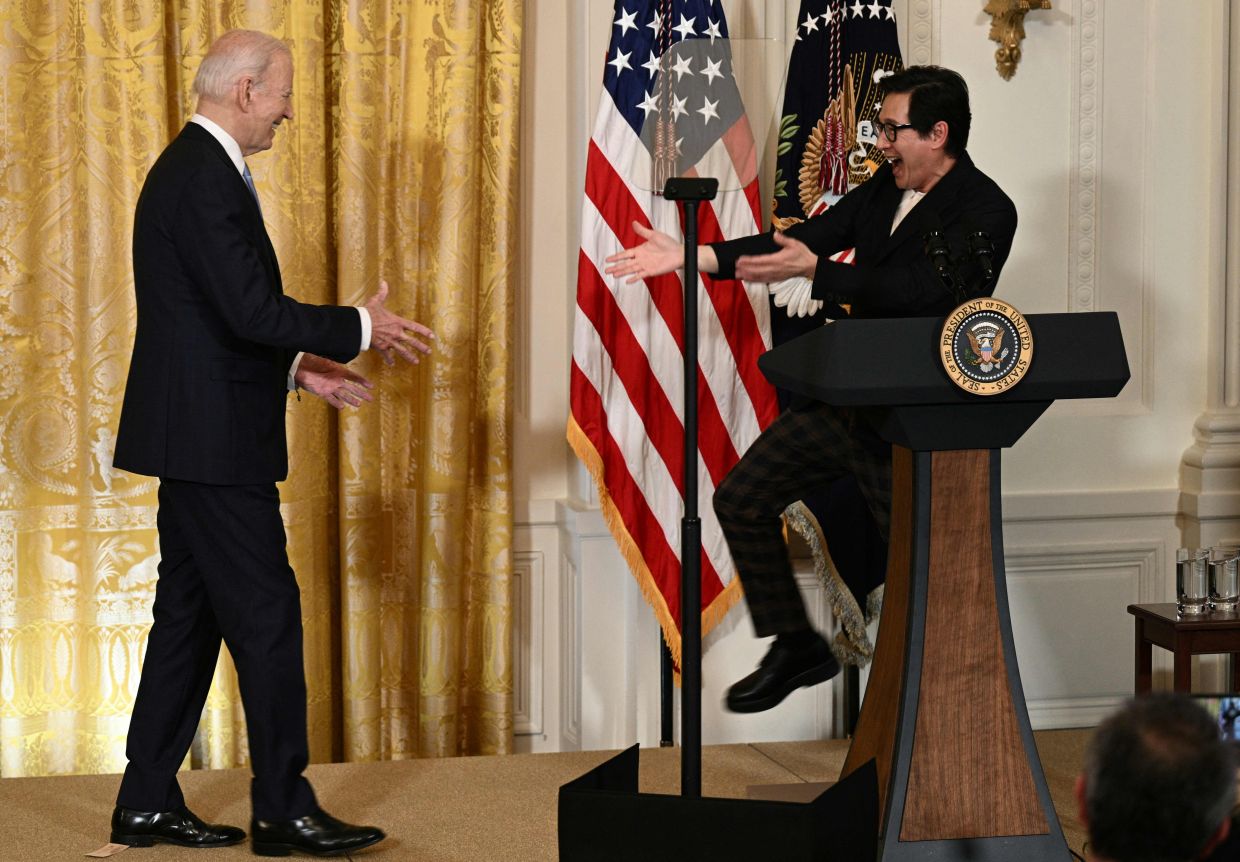 Ke Huy Quan reacts to US President Joe Biden before a screening of 'American Born Chinese' in celebration of Asian American, Native Hawaiian, and Pacific Islander Heritage Month, in the East Room of the White House in Washington, DC, on May 8, 2023. Photo: AFP
Before introducing Biden to those in attendance to kick off the screening, Quan added: "It is with profound humility and gratitude that I stand before you tonight. I do not take this moment lightly because I know this building is a monument to a country that opened its arms to me once upon a time."
Chin Han, 53, also shared photos of himself on Instagram with the cast, writing: "@ambornchinese in da house at The White House #unforgettable @whitehouse @potus". – The Straits Times/Asia News Network
Subscribe now to our Premium Plan for an ad-free and unlimited reading experience!