Jamie Lee Curtis, Brendan Fraser and other Oscar nominees walked a champagne-coloured carpet on Sunday as Everything Everywhere All at Once, Top Gun: Maverick and other blockbusters were competing for the coveted best picture prize.
In case of an unexpected twist, a crisis response team was on hand at the Dolby Theatre in Los Angeles. The group was formed after Will Smith smacked Chris Rock on stage last year, tarnishing the film industry's most prestigious ceremony.
In this, the 95th Oscars, the Academy of Motion Picture Arts & Sciences hoped to move past the slap and stage a glitzy show with new elements to attract younger viewers and boost sagging TV ratings.
Ahead of the ceremony, nominees dressed in designer gowns and tuxedos touted their movies on a champagne carpet in place of the traditional red.
Angela Bassett, considered the favourite for supporting actress for her role in Black Panther: Wakanda Forever, chose a mermaid-shaped gown in purple, the color of the herb that provides power to the title character in the superhero flick.
Another supporting actress nominee, Curtis, wore a sparkling gold dress. She said she was bewildered when she first read the script for Everything Everywhere, the unlikely best picture frontrunner about a dimension-hopping Chinese-American laundromat owner, her family and a tax auditor played by Curtis.
But when she saw the finished film, Curtis said she thought: "Oh they've made a masterpiece. This is a movie that's going to change cinema."
ALSO READ: Michelle Yeoh wins Best Actress at the Oscars: 'I'm bringing this home'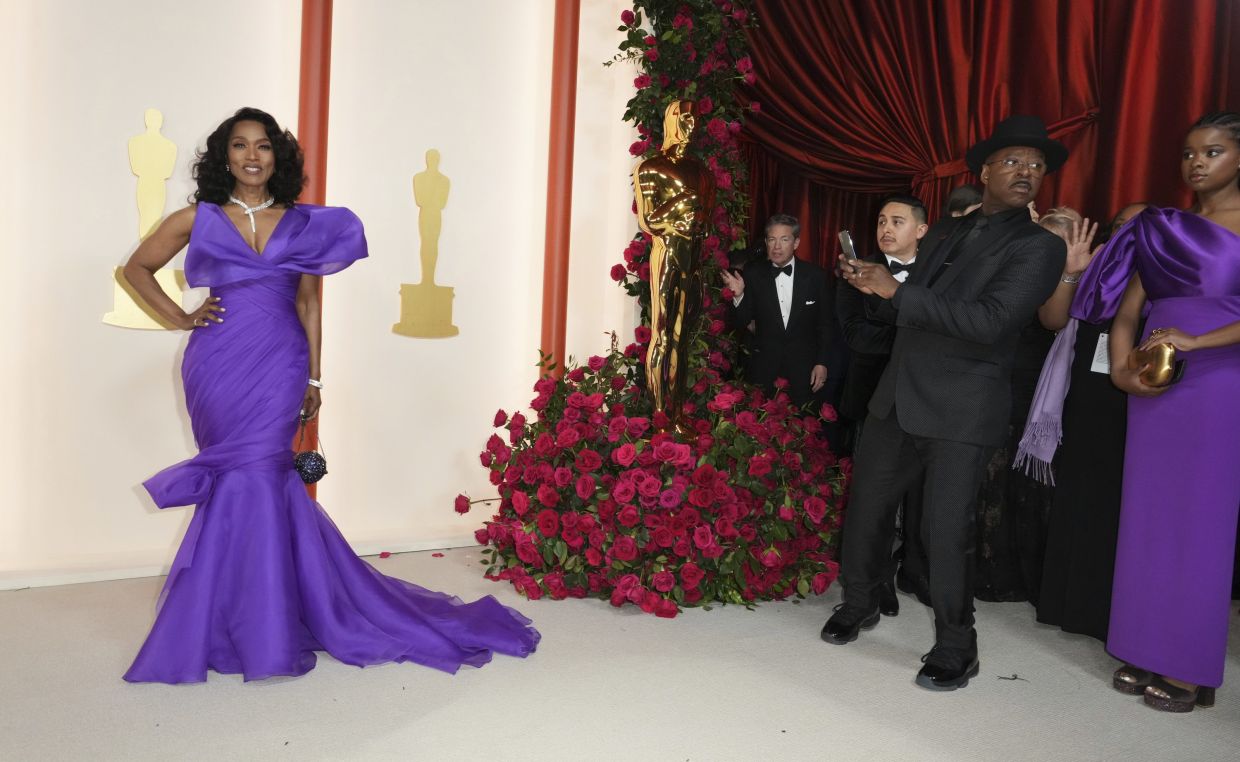 Angela Bassett. Photo: AP
"I'm just so happy to be here," said Banshees of Inisherin star Kerry Condon, also nominated for best supporting actress. "I really don't mind what happens."
Producers said they planned to celebrate the moviegoing rebound of the past year, one that some feared might never happen when streaming took hold during the Covid-19 pandemic.
Several of 2022's biggest hits at the multiplex landed in the best picture race, from Top Gun and Everything Everywhere to Elvis and Avatar: The Way of Water.
Last year, the television audience for the Academy Awards ranked as the second-lowest ever with 16.6 million viewers.
The big films on Sunday's ballot, rather than some of the little-seen movies nominated in recent years, could help draw more viewers. The musical performances also may boost viewership.
Lady Gaga emerged as a last-minute addition, according to Hollywood publication Variety, which said she will sing her nominated Top Gun song Hold My Hand. Oscars producers said last week that Gaga was unable to make it because she was in the middle of filming a sequel to the 2019 movie Joker.
Pop superstar Rihanna also will take the stage, performing Lift Me Up from Black Panther: Wakanda Forever.
James Hong (left) and Jamie Lee Curtis. Photo: AFP
One novelty in the broadcast: QR codes will flash on TV screens ahead of commercial breaks with links to two- to three-minute videos about nominees. Organisers hope that sharing information about the contenders will give viewers people to root for and keep them watching.
To change up the look, organisers swapped out the traditional red carpet for the first time since 1961, opting instead for the champagne colour. The stars' entrance was covered by a dark tent to give the appearance of nighttime glamour.
Michelle Yeoh faces off in the best actress category with Cate Blanchett, who played a devious orchestra conductor in Tar. Best actor may be a toss-up between "Elvis" star Austin Butler and Brendan Fraser, who played a severely obese man in "The Whale."
Ke Huy Quan leads the supporting actor race for his role as Yeoh's disgruntled husband in Everything Everywhere. A child star in a 1984 "Indiana Jones" movie, Quan quit acting for two decades because he saw little opportunity for Asian actors.
Winners are voted on by the roughly 10,000 actors, producers, directors and film craftspeople who make up the film academy. – Reuters
Subscribe now to our Premium Plan for an ad-free and unlimited reading experience!