Creed III
Director: Michael B. Jordan
Cast: Michael B. Jordan, Tessa Thompson, Jonathan Majors, Wood Harris, Florian Munteanu, and Phylicia Rashad.
For Creed star Michael B. Jordan, stepping behind the camera for his directorial debut in Creed III is following in the very famous footsteps of the original star of the franchise – Sylvester Stallone.
After the critical success of Rocky, for which he wrote the screenplay, Stallone took over directing duties from John G. Avildsen, directing Rocky II, which became a box office smash, cementing Stallone as an unlikely action star auteur. Hopefully Jordan manages a similar trajectory with Creed III, which is a solid directorial debut featuring a knockout performance from Jonathan Majors.
There's a meta element to Jordan's move behind the camera that's mimicked in Adonis Creed's journey in the screenplay by Keenan Coogler and Zach Baylin. Adonis aka Donnie (Jordan) has hung up the gloves and moved into a promoter role, supporting the championship aspirations of Felix Chavez (played by pro boxer Jose Benavidez), and spending time with his family, wife Bianca (Tessa Thompson) and daughter Amara (Mila Davis-Kent).
The domestic challenges – finding his purpose outside of the ring, reckoning with the history of his relationship with his adopted mother (Phylicia Rashad), and learning to express himself with his wife – are fairly standard issue and not all that compelling, beyond what the actors bring to the role.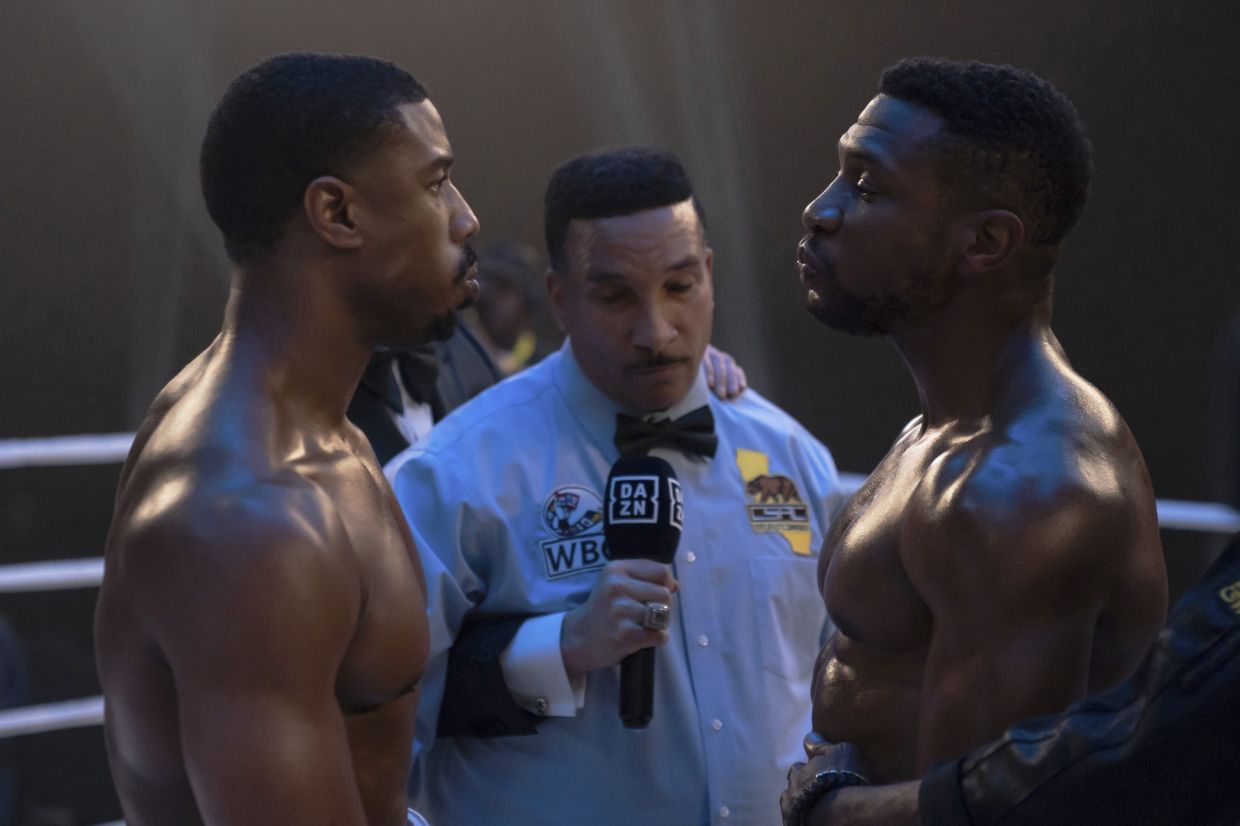 Michael B. Jordan as Adonis Creed (left), and Jonathan Majors as Damian Anderson.
Where Creed III really starts to stir to life is in the introduction of Jonathan Majors as a figure from Donnie's dark and violent childhood.
Damian, aka Dame (Majors) was a big brother type to Donnie, and a rising star in boxing, but when a fight at a convenience store got out of hand, Donnie ran and Dame went to prison.
He's turned up now, 18 years later, hooded and squirrelly after his years behind bars, but still chomping at the bit for his own chance at the belt. Donnie's reluctant to back him, but harbours guilt that his friend has his dream deferred, while his were fulfilled beyond his wildest dreams.
Creed III makes good use of the inherent qualities in each of its leading men: there's something rather sweet, innocent and noble in Jordan's persona, which is put to good use as Donnie struggles to do the right thing, while Majors always seems like he has the weight of the world on his shoulders.
Where Creed III really starts to stir to life is in the introduction of Jonathan Majors.
There is something intrinsically sorrowful in Majors' countenance, and as Dame, he emanates a kind of wounded anger that makes him want to hurt someone, not box with focus and control.
If Creed III tells us anything, is that Majors is the heir apparent to Marlon Brando, especially when you consider his angry, resentful Dame, a bruiser with a chip on his shoulder, in direct lineage from Brando's Terry Malloy in On the Waterfront.
Majors embodies Dame fully, from his South Central accent, his clipped cadence and hunched posture slowly unfurling as he becomes more confident and powerful, thanks to his own machinations and Donnie's guilt-ridden enabling.
But while Dame is the far more fascinating character, Donnie is our hero, and the film proceeds as such, with dueling training montages and snowy white boxing shorts taking the symbolic place of a hero's white cowboy hat.
Coogler and Baylin's screenplay isn't all that innovative with the sports movie formula, and it unfortunately tends to rely on characters plainly spelling out their inner monologues, rather than leaving it up to subtext.
(From left) Michael B. Jordan, Mila Kent and Tessa Thompson in a scene from 'Creed III'.
But Jordan's direction elevates the material, keeping a strong hand on the tone and emotional tenor. Cinematographer Kramer Morgenthau (who also shot Creed II, directed by Steven Caple Jr.) brings fluid camera movements, and an appealing use of practical lighting, imbuing the film with motion and texture.
Jordan's direction is steady, but he takes a big creative swing during a climactic title match, experimenting with a subjective fantasy sequence. It doesn't entirely pay off, but it's nice to see him colour outside of the lines with the risky maneuvere.
But what Jordan does best as star, director and producer is showcase Majors' heavyweight performance, cementing him as one of our brightest stars. Taking over a behind-the-scenes role is a part of the Rocky legacy, and Jordan takes the reins with ease, championing Majors and heralding an exciting new chapter of his career, beyond Creed. – Katie Walsh/Tribune News Service
Summary:
Punches well above its weight
Subscribe now to our Premium Plan for an ad-free and unlimited reading experience!