If there's something strange in your neighbourhood, you might want to think twice before calling Lockwood & Co.
Not that the new Netflix show is bad – it's darn good, actually – but the titular ghostbusting agency, as we learn soon enough, is fronted by a brash and overconfident sort and often finds itself outmatched in its spooky encounters.
But heck, watching these teen wannabe heroes bumble their way earnestly through a series of escalating terrors, growing and bonding as a surrogate family in the process, makes this a satisfying watch.
Lockwood & Co. is based on the first of five books in the tween-to-teen-targeted series by Jonathan Stroud, and adapted by Joe Cornish – who "discovered" John Boyega in Attack The Block, and co-wrote the Ant-Man screenplay.
First off, the world-building here is terrific.
One could always count on the agency's newest member to put the 'Lucy' in 'hallucination'.
Without enlisting that mood-spoiler Basil Exposition, Cornish drops us right into an alternate version of modern Britain where ghosts ("Visitors") have been plaguing society at large for several decades after a wave of mysterious deaths ("The Problem").
The Visitors' touch is lethal to humans and the entire land is under a strict dusk-to-dawn curfew.
All this background is craftily spun not in the stories themselves but in the opening title sequence, so do not hit "Skip Intro" (for the first couple of episodes at least).
For some reason, children to young adults are more tuned to "listening" to Visitors as well as seeing and fighting them, than older folk.
After a traumatic encounter, adept "listener" Lucy Carlyle (Ruby Stokes, Bridgerton) comes to London looking for work; but all her lack of qualifications can land her is a dubious "gig" at the fledgling, generally derided agency of the title.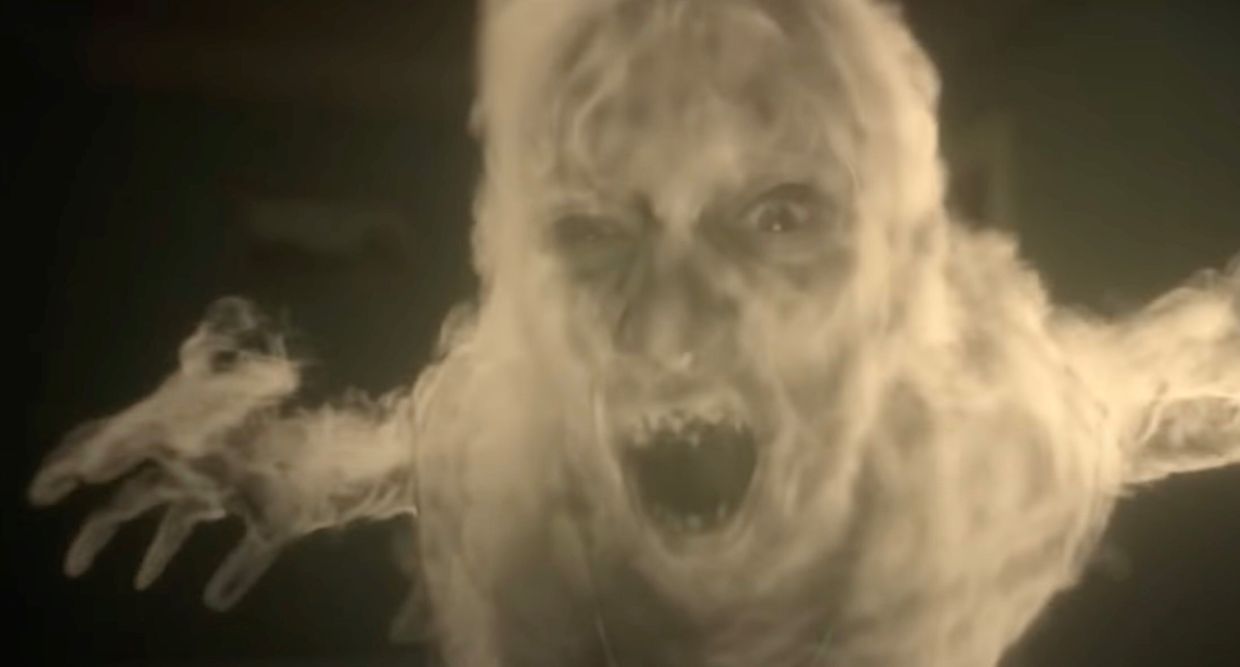 'Sorry, I'm a bit lost. Could you direct me to an ark, some Nazis and an intrepid archaeologist/adventurer?'
Its boss Anthony Lockwood (Cameron Chapman, so good you won't believe this is his acting debut) is brash, something of an outcast in ghost-hunting circles, and hugely overconfident – leading to some dire outcomes for the whole group.
Assisting him is the whip-smart but confidence-challenged George Karim (Ali Hadji-Heshmati), basically the group's "guy in the chair".
The remarkably slick performances of the three young leads, complemented by performers like Ivanno Jeremiah (Humans), singer-actor Luke Treadaway, Louise Brealey (Sherlock) and Ben Crompton (Game Of Thrones), is the ectoplasmic icing on the cake.
The first season covers the first two of the series' five books to date, dropping hints about deeper mysteries and greater terrors ahead.
While the show is generally aimed at a teens-to-YA audience, Cornish and his team are careful to avoid the genre's angsty and soapy tendencies that tend to turn off older viewers (like this curmudgeonly reviewer).
Nor do they hold back on gooseflesh-raising sights and frights, or utter peril for its central trio from both spooks and nasty living beings (it's a toss-up between which group is worse).
Its one glaring flaw to me was a somewhat languid pacing in the middle portion of the run, with way too much crammed into the final two episodes to the point that I wish they had stretched the finale out by half an hour.
Just a minor sticking point really, in a series that's polished on all other fronts.
While its setting may be cursed, here's hoping the show escapes the early doom that too many promising offerings have met on this streaming platform. We're ready to believe, Netflix.
---
All eight episodes of Lockwood & Co. Season One are available on Netflix.
Summary:
They're ready ... for you to believe in them.
Subscribe now to our Premium Plan for an ad-free and unlimited reading experience!