DC League Of Super-Pets
Director: Jared Stern
Cast: Dwayne Johnson, Kevin Hart, Kate McKinnon, John Krasinski, Vanessa Bayer, Natasha Lyonne, Diego Luna, Thomas Middleditch, Ben Schwartz, and Keanu Reeves
There are new superheroes in Metropolis City. Wait, did I say superheroes? Sorry, I meant super pets. This is not your typical DC movie featuring the classic superheroes, fighting crimes and saving the world. (Maybe just a bit) Rather, it is done by their Super-Pets instead.
Based on DC Comics' Legion of Super-Pets, DC League Of Super-Pets revolves around Krypto the Superdog (voiced by Dwayne Johnson) who is, as you already guessed, a canine with super powers who fights crimes together with his owner, the Man of Steel, Superman (voiced by John Krasinski).
A sudden turn of events leads Krypto to team up with an unlikely group of shelter pets with superpowers to help find his best friend, Superman and the rest of the Justice League who are captured by the villainous Lulu (Kate McKinnon) and Lex Luthor (Marc Maron).
Why'd they call us the Super-Pets anyway? Why not Awesome Animals, or Paw Patrol? Oh wait that last one's taken.
The movie features an ensemble star-studded voice cast, including Jumanji co-stars Johnson and Kevin Hart as Krypto and Ace respectively, as well as John Krasinski (Superman) and Keanu Reeves (Batman).
One of the voice actors that created a frenzy among the local media is Malaysian actor Sean Lee, who voices a character named Waffles. Although his adorable dog character only appears in the earlier bits of the movie, he leaves such an impact and impression that it's really hard to miss it. Lee did a marvellous job as Waffles and creating a unique identity for the character by using Malaysian slang to give it a local touch without going overboard.
You know, I'm the only Malaysian in this whole show.
Jared Stern makes his directorial debut here and also co-writes the film. He does a decent job in delivering a 100-minute-long, fun-filled movie with hardly a dull moment. His previous works as a writer for several well-known animated movies such as The Lego Batman Movie and The Lego Ninjago Movie should have helped him develop a deeper understanding of the genre. As such, his skills as a writer equipped with suitable filming techniques capture the essence of a well-directed movie, especially targeted toward younger viewers.
The movie does take an abrupt turn when both Krypto and Ace have a heart-to-heart conversation on a rooftop. This particular scene addresses the problem that was gradually raised from the very beginning of the movie, regarding the fear of losing someone dear to the heart.
Though it's not as heart-wrenching as Big Hero 6 or other similar animated movies, it is worth noting that it does well in leaving an impact among the audience, and is sure to tug on heartstrings and move many to tears.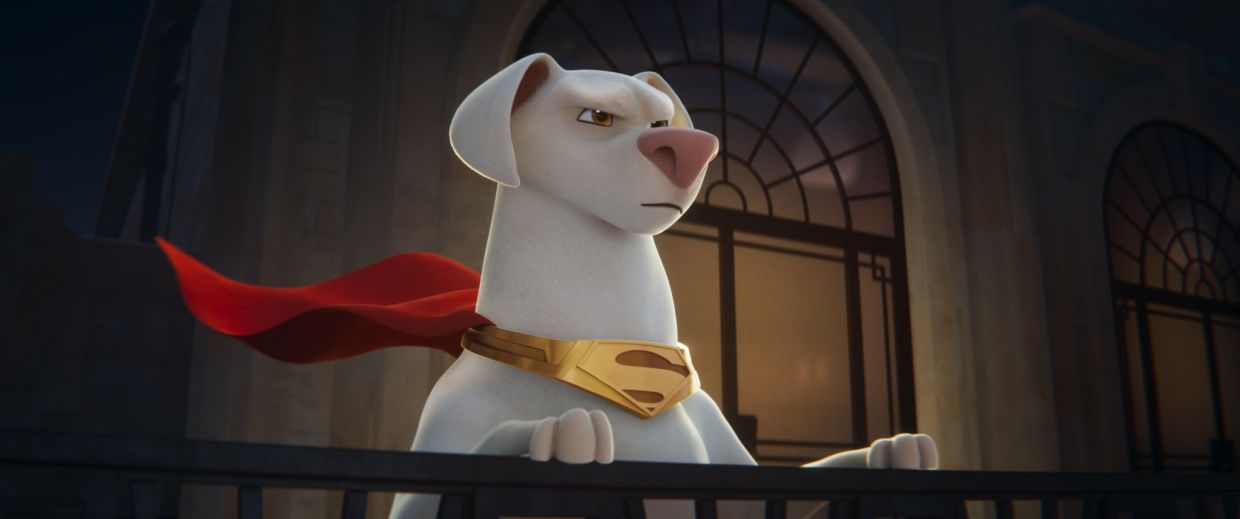 Krypto diligently surveys the skies for signs of any evil-doin.... SQUIRREL!
On the other hand, although DC League Of Super-Pets promises to be a comedy film, the jokes are not exactly laugh out loud-worthy and at most mediocre. However, some are genuinely funny, and besides, how can you resist smiling at all at those adorable pets?
Overall, the DC League Of Super-Pets is a good family-friendly movie that children will thoroughly enjoy. For adults, however, it may be a bit too predictable. Still, at least the movie knows how to play its cards right and it does it quite well.
Summary:
Good family-friendly movie that children will thoroughly enjoy.
Subscribe now to our Premium Plan for an ad-free and unlimited reading experience!