As far as iconic buildings in Chinatown, Kuala Lumpur go, the old Rex Cinema is definitely high up the list.
The cinema building, now known as REXKL, has been repurposed as a unique arts space.
It ceased operations as a cinema in 2002 before the building steadily faded into obscurity, even used as a karaoke den.
The REXKL project rolled in to rescue this cinema space – which could seat 1,300 viewers during its heyday.
After restoration works, REXKL opened early this year. Through the months, diverse activities such as pop-up arts markets, photography and art exhibitions, heritage talks, experimental music shows, film screenings and indie festival programmes have given the old cinema a new life.
The One Academy's BIMDs' Swing Beyond (LED strips, wood structure, 2019). Photo: Helios LooThis month, REXKL is hosting an art exhibition, which is giving the venue a festive afterglow.
Called iNyala, the exhibition, organised by Helios Media (a creative agency) is touted to be the first of its kind in Malaysia as far as light art exhibitions are concerned. The nearly 279sq m cavernous cinema hall has been transformed into a digital park, inspired by nature in urban living.
In this Insta-worthy setting, visitors can check out installation highlights such as a swing, cocoon, butterfly, water, forest and rain.
"We want people to treat this like a park in the city. Enjoy the lights and interact with the installations, " says Helios Loo, Helios Media founder and project head.
The One Academy's BIMDs' Icosahedron (LED strips, acrylic, mixed sensor, 2019). Photo: Helios Loo

The free admission event is themed Imagine The Impossible.
iNyala features nine new works by college and university students and three works by industry professionals.
The participating students, selected from a competition, come from Dasein Academy Of Art, The One Academy, Raffles College Of Higher Education, UCSI University and Multimedia University (MMU).
Industry professionals in this exhibit are Jun Ong, FNL PRJCT and the Helios Media team.
UCSI University's Odranoel's Noel (acrylic, projector, 2019). Photo: Helios Loo

Remember the Snake game we used to play in our old Nokia phones? Well, one participant has transformed it into a larger than life game.
If you're the interactive sort, you can also "create creatures" through your mobile phone and watch them come to life in the exhibit called Uniarea. Or you watch an LED cloud powering up with your happiness level when you sit on a swing.
Loo, 35, a multimedia designer, says the aim of this project is to give new media artists a platform to exhibit and experiment.
He reveals that light was chosen as an installation medium after studying the lifestyle of city dwellers in the region.
"It gets very hot in the day. So people tend to enjoy themselves in the night and that's the only time you can appreciate light, " he says.
Jun Ong's Quantum (laser light, mirrors, 2019). Photo: Helios Loo

Keeping in line with the spirit of iNyala (giving students exposure), invitations were sent out to nearly 20 universities and colleges in the Klang Valley and one in Sabah for student submissions. Thirty submissions from eight institutions were received, out of which 16 were shortlisted for the final round.
After a pitching session by each group in front of a panel of eight industry professionals, nine were chosen.
They received seed money to realise their light installations.
At the end of the exhibition period, the judges will determine the winners for four different categories while a crowd favourite will be chosen through an audience measurement device (sensors are installed around each work to measure audience interaction).
Jun Ong (left) and Helios Loo believe iNyala is a great platform for students to push their limits and try out things they won't normally have a chance to. ART CHEN/The Star

While completing their installation works, the finalists also had the chance to attend a series of workshops by architect Shin Tseng, set designer Melisa Teoh and light artist/architect Jun Ong, to name a few.
"This is more of a (learning) programme than a competition, " says Ong, 31, who is known for his 12-sided star-shaped installation called Star, which spanned five storeys of an unfinished building in Penang in 2015.
He also contributes his installation called Quantum – a trippy tunnel of laser lights – to this show at REXKL. It was previously exhibited in Singapore.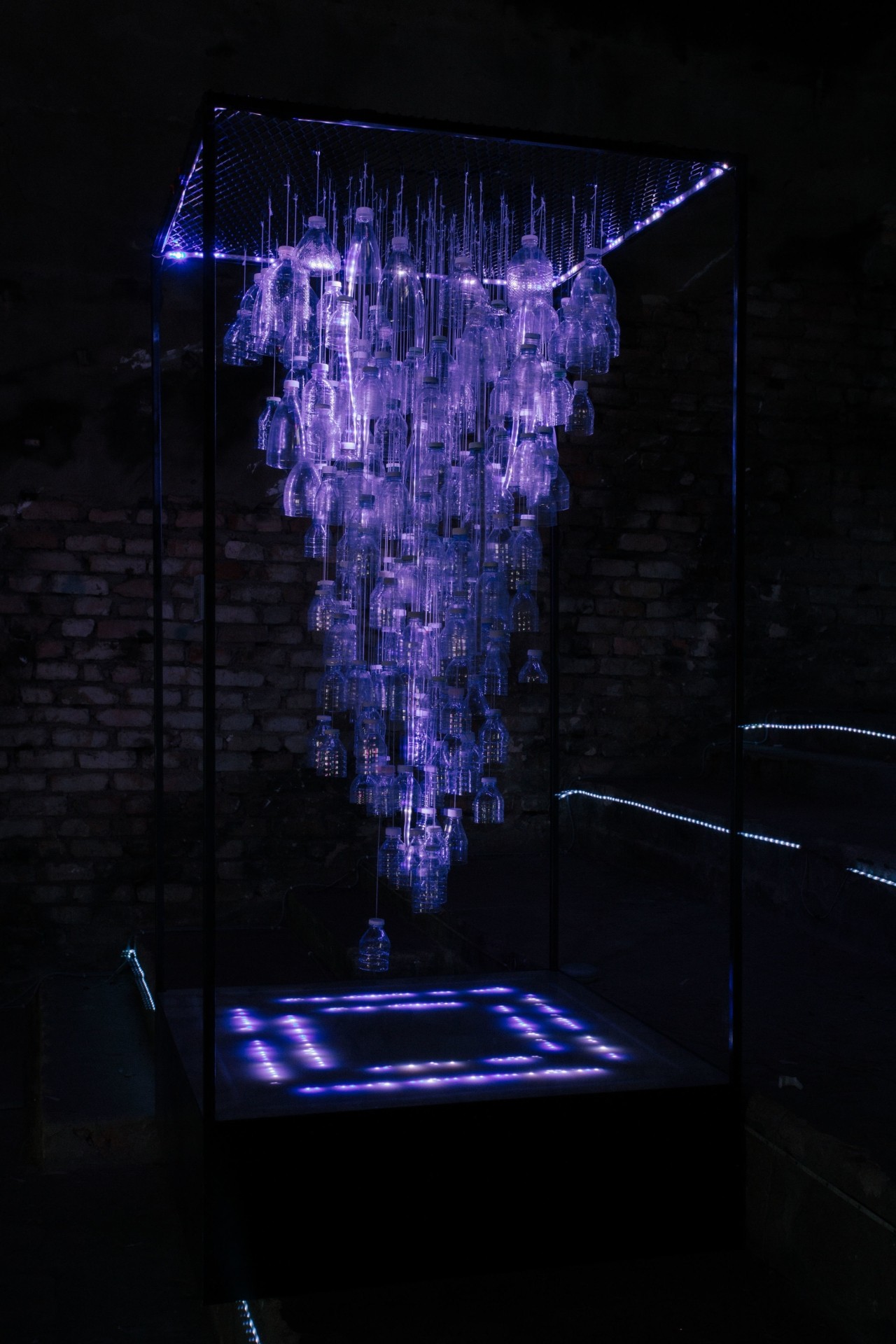 Multimedia University's H2O's Digital Shui (LED strips, water bottles, 2019). Photo: Helios Loo"A lot of the work that I have done are very geometrical in shape. When I first saw this colourful and geometric mural on the wall above the entrance of REXKL, I was very intrigued. So this laser work is in some ways the three dimensional version of those patterns, " explains Ong.
For Loo, one student work that stands out is Cocoon Made Me Do It by the Ramai-Ramai collective from MMU. This group, says Loo, really took the sustainability element to heart by deciding not to draw any energy from the venue to power up their installation.
"What happens in this installation is that a butterfly will break free from its cocoon and flap its wings when visitors contribute power to it by plugging in their smartphones. So, it is interactive as well as communal, " says Loo.
---
iNyala is on at REXKL, 80, Jalan Sultan in KL till Nov 30. Opening hours: 10am-10pm. Closed on Mondays. Free admission. More details: inyala.my.
Did you find this article insightful?
100% readers found this article insightful