In protecting watersheds, Heineken Malaysia helps safeguard the source of all life for future generations
PEOPLE all over the world tend to take water for granted because of how readily available it seems to be – until our taps run dry, that is.
For Malaysians, in particular, this usually occurs when water treatment plants close due to river pollution.
The immediate response to water cuts would be loud protestations and irate complaints across various social media and messaging platforms, where we point the finger of blame at the authorities or irresponsible factories and companies.
The root issue, however, is never addressed, as we rarely realise that all of us have to play our part in protecting our water supply.
Dire state of affairs
According to the Water Resilience Coalition, the world will face a 40% shortfall in freshwater supply within 10 years based on projected demand.
Closer to home, the Water Resources Study for 2015 to 2050 predicts that states in the north and south of the Peninsula – including Selangor, Penang and Melaka – may face water shortages in the near future, with experts attributing this to irresponsible human activities.
As the source of all life, water is a crucial, but finite, shared resource that must be protected.
Left unmanaged, the unsustainable use of water will leave permanent and irreversible damage to both human health and the environment.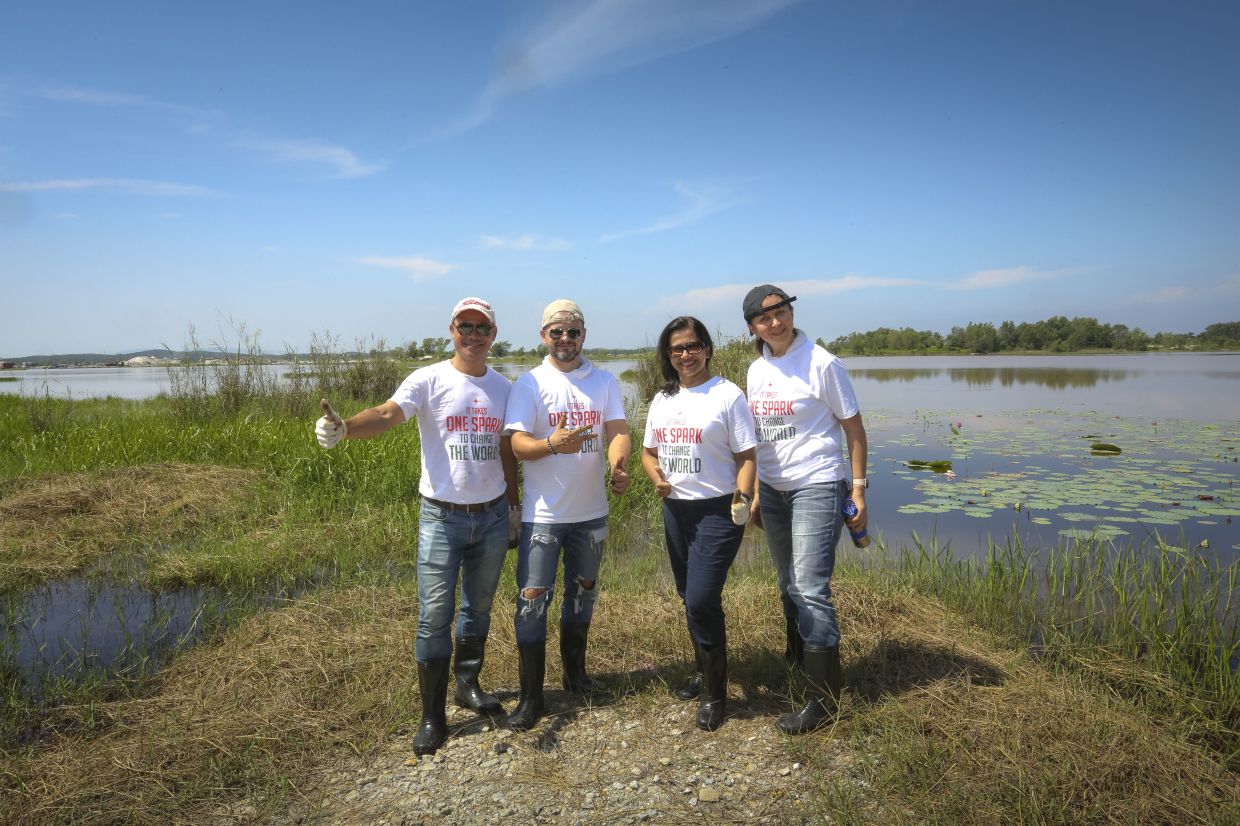 Heineken Malaysia's management team, including (from left) managing director Roland Bala, sales director Vasily Baranov, Renuka and supply chain director Salima Bekoeva at the Raja Musa Forest Reserve.
Hence the need to work towards maintaining healthy watersheds.
Also known as a catchment or river basin, a watershed is a geographical area from which water flows to a certain stream, river or body of water.
Clean water, soil and air are needed for a healthy watershed that will contribute to a well-balanced, thriving ecosystem that benefits both nature and human activity.
For local economies, protecting healthy watersheds helps lower flood-related damages and capital expenditures for water treatment facilities, saving money and lives in the long run.
Towards healthy watersheds
A responsible brewer with the understanding that water is an essential ingredient in brewing, Heineken Malaysia holds the firm belief that it is crucial to safeguard water sources, as environmental sustainability is a key pillar of its global sustainability strategy, "Brew a Better World".
This long-term commitment is reflected through its dedicated water initiatives to protect watersheds, which help contribute to the long-term sustainability of the water supply, in support of the United Nations Sustainable Development's Goal #6 for clean water and sanitation.
To date, the company has channelled close to RM14mil in science-based water stewardship initiatives.
Maximising water circularity is one of the three approaches for Heineken Malaysia as a leader in water stewardship, with the other two being increasing water efficiency and fully balancing water used in its products.
Heineken Malaysia corporate affairs and legal director Renuka Indrarajah said: "Our 2030 water strategy 'Towards Healthy Watersheds' looks beyond traditional water metrics and prioritises the health of local watersheds, especially in water-stressed areas.
"We recognise that all stakeholders need to work hand-in-hand to make our water stewardship goals a reality.
"Our water protection journey started in 2007, involving communities, government agencies and partners like Global Environment Centre (GEC), a leading environmental NGO, where we joined our efforts in accomplishing river rehabilitation, water conservation and alternative water systems projects.
"Holistic water management
As a leader in water stewardship, Heineken Malaysia has a three-pronged approach to increase water efficiency, maximise water circularity and fully balance water used in its products.
To reduce water consumption and optimise usage, the company implements the globally developed Utilities Benchmark Model (UBM) that showcases efforts and initiatives to manage water more efficiently.
The UBM benchmarks the brewer's performance with top-performing breweries in the business, ensuring targets with the best sustainable outcomes.
The UBM also factors in best practices, good housekeeping, maintenance and investments in technology.
Through these efforts, Heineken Malaysia has effectively improved its water efficiency by 15.
5% with an average water usage of 3.
65 hectolitres since 2014, whilst targeting to reduce water consumption by a further 29% to 2.
6 hectolitres per hectolitre of beer produced by 2030.
At the same time, it aims to treat, reuse and recycle all wastewater produced in the brewery.
Before discharging its wastewater, the company treats 100% of the used water above the standards outlined by the Department of Environment.
The brewer also takes it a step further by continuously exploring new partnerships and ways to reuse and recycle wastewater in water-stressed areas.
Striking a balance
For every litre of water used in its products, Heineken Malaysia targets to balance 1.5 litres.
What this means is that the company balances the volume of water utilised for production through ongoing conservation programmes in water catchments and communities beyond its walls.
These are undertaken through its corporate social responsibility (CSR) arm SPARK Foundation, which focuses on external approaches to ensure responsible water management and water security.
Among its water balancing projects include:
> Sungai Way's continued rehabilitation and conservation: Through the construction and enhancement of wetland islands, as well as initiatives to control pollution at source, the company aims to maintain river water quality for Sungai Way – a model urban river in an industrial zone, which acts as a best practice of industry-community partnership – at Class III or better.
Rubbish traps are also built and maintained through a smart partnership model, to trap solid waste flowing in the river.
> Construction of a 305m clay dyke in peat swamp forest: By doing so, water storage capacity will be increased, effectively raising the water table and contributing to the long-term sustainability of Sungai Selangor.
> Installation and maintenance of rainwater harvesting systems: These help mitigate water disruptions and help communities reduce the reliance on treated water for non-potable usage, as well as relieve pressure on water resources.
To date, there are 22 rainwater harvesting systems built for rural communities, which are linked to 10 community farming projects that supplement community income and food.
> Reforestation of degraded peatland in Raja Musa Forest Reserve: Reforestation helps reduce the risk of peat fires and increases the peatland's water table, contributing to the health of Sungai Air Hitam within the Sungai Selangor watershed.
Be part of the solution
These initiatives are made possible through the company's partnership with GEC, in order to ensure that Heineken Malaysia's use of water is environmentally sound and socially equitable.
The brewer's water stewardship initiatives are also quantified and verified independently by LimnoTech, a leading international environmental science and engineering firm.
"We are committed to ensuring all water used by Heineken Malaysia is balanced as we work towards healthier watersheds.
"We want to take this opportunity to call upon fellow Malaysian businesses to start looking into sustainable water management practices.
"With our collective action, we can be part of the solution that safeguards the sustainability of our water supply for all," Renuka concluded.
For its efforts in protecting water sources, Heineken Malaysia has been recognised by the Sustainability & CSR Malaysia Awards 2022 as Company of the Year for Environmental Sustainability and Social Initiatives, as well as the Long-Standing Excellence in Sustainability Award, for its continued sustainability commitment and consistent efforts in giving back to society.
This is in addition to clinching the Highly Commended Award for three consecutive years at the Sustainable Business Awards.
For more information, please visit Heineken Malaysia's website at www.heinekenmalaysia.com
Subscribe now to our Premium Plan for an ad-free and unlimited reading experience!