PETALING JAYA: Datuk Seri Anwar Ibrahim has named Datuk Seri Dr Ahmad Zahid Hamidi from Barisan Nasional and Datuk Seri Fadillah Yusof from Gabungan Parti Sarawak (GPS) as Deputy Prime Ministers in his Cabinet line-up.
Anwar will also be the Finance Minister, and Ahmad Zahid is also Rural and Regional Development while Fadillah will also be the Plantations and Commodities Minister.
The Pakatan-led unity government will see Datuk Seri Saifuddin Nasution Ismail helming the Home Ministry, while Anthony Loke will be the new Transport Minister.
Dr Zaliha Mustafa will be the new Health Minister.
The other names and positions in the newly-formed Cabinet line-up are:
Economy – Pandan MP Rafizi Ramli
Local Government – Teluk Intan MP Nga Kor Ming
Defence – Rembau MP Datuk Seri Mohamad Hasan
Works – Kapit MP Datuk Seri Alexander Nanta Linggi
Home – PKR secretary-general Datuk Seri Saifuddin Nasution Ismail
Digital Communications - Lembah Pantai MP Fahmi Fadzil
International Trade and Industry – Datuk Seri Tengku Zafrul Tengku Abdul Aziz
Higher Education – Kota Tinggi MP Datuk Seri Mohamed Khaled Nordin
Science and Technology – Tg Malim MP Chang Lih Kang
Women, Family, and Community Development – Batang Sadong MP Datuk Seri Nancy Shukri
Domestic Trade and Cost of Living – Pulai MP Datuk Seri Salahuddin Ayub
Law and Institutional Reforms (PM's Department) – Pengerang MP Datuk Seri Azalina Othman Said
Natural Resources, Environment, and Climate Change – Setiawangsa MP Nik Nazmi Nik Ahmad
Foreign Affairs – Barisan Nasional secretary-general Datuk Seri Zambry Abdul Kadir
Entrepreneur Development and Cooperatives - Datuk Ewon Benedick
Tourism - Datuk Seri Tiong King Sing
Education - Fadhlina Sidek
Unity - Datuk Aaron Ago Dagang
Religious Affairs - Datuk Seri Mohd Na'im Mokhtar
Youth and Sports - Hannah Yeoh
Health Minister - Dr Zaliha Mustafa
Sabah and Sarawak (PM's Department) - Datuk Armizan Mohd Ali
Human Resources - V. Sivakumar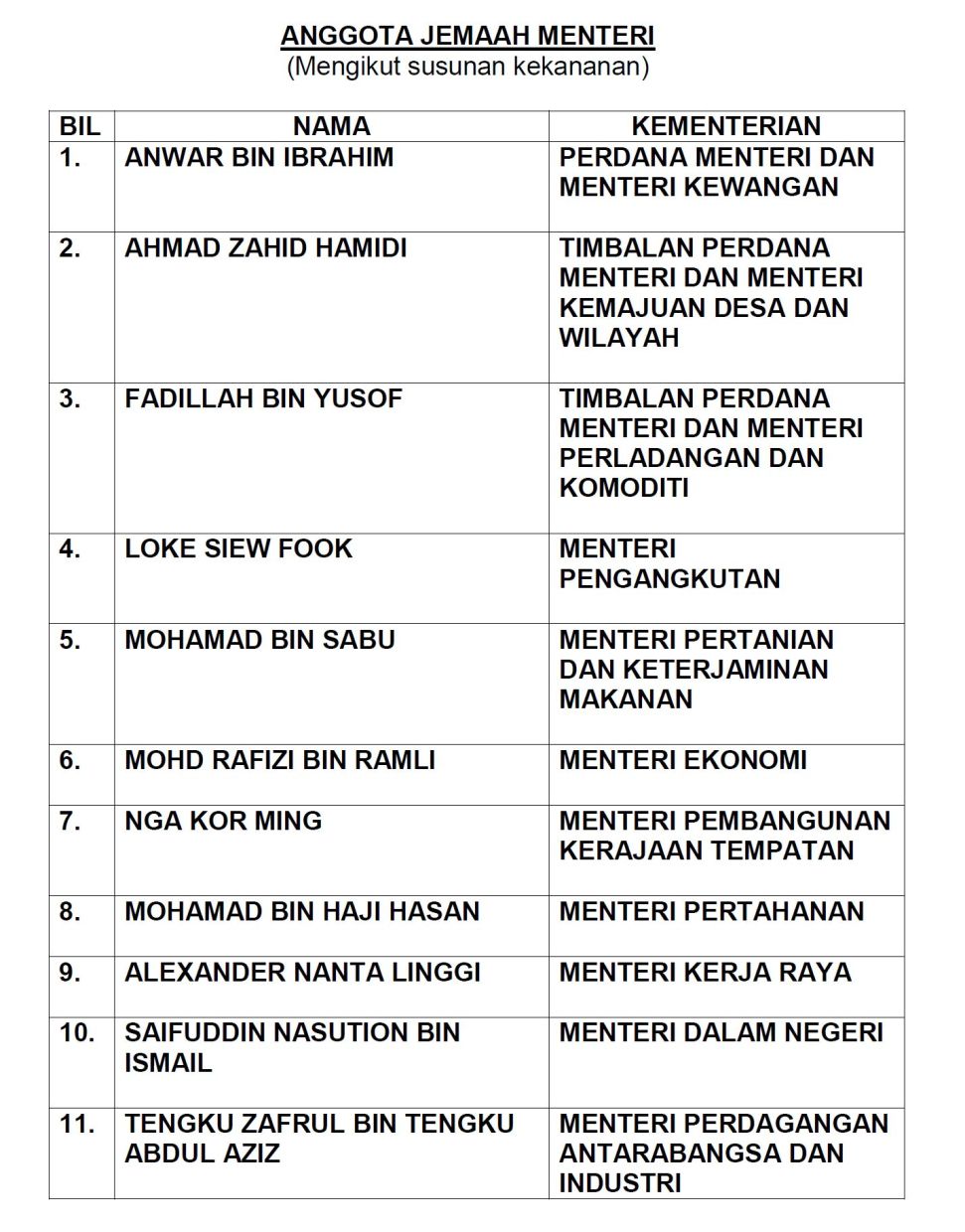 CLICK HERE TO VIEW THE LIST
Subscribe now to our Premium Plan for an ad-free and unlimited reading experience!