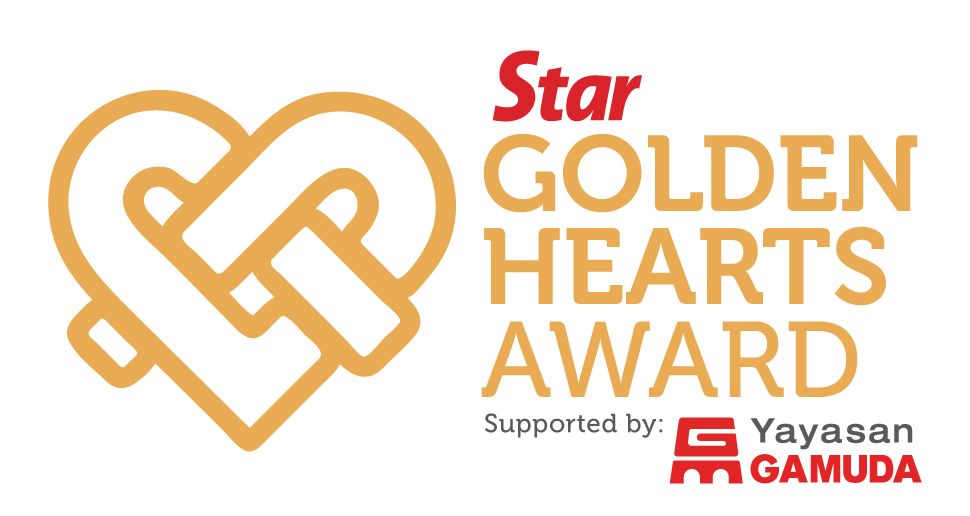 PETALING JAYA: In recognition of their social contribution in making Malaysia a better place for all, three individuals and seven organisations have been named the winners of this year's Star Golden Hearts Award (SGHA).
The annual award, which is in its eighth year, is a joint initiative by The Star and Yayasan Gamuda that celebrates everyday Malaysians who demonstrate extraordinary commitment to social work and promoting unity in the community.
Nominated by the general public, the winners were selected from a pool of 770 nominations, all of whom have made a positive difference to society and the environment in their own ways.
Three winners under the individual category each received a cash prize of RM8,000 while the other seven winners under the organisation category were awarded RM15,000 each, on top of publicity support to help further their causes.
C:LICK TO ENLARGEWhen this year's award campaign started, the prize money for the organisation category was RM10,000 per winner.
However, given the outstanding pool of nominations this year, Yayasan Gamuda increased the amount to boost the winners' financial capabilities in tackling pressing social issues.
Following the Covid-19 pandemic, the winner announcement was held virtually for the past two years.
With the country's transitioning to endemicity, this year's winners were honoured at a heart-warming ceremony held in Menara Star here, which also saw the attendance of current and past award recipients, together with those from the social good sector.
In his speech, Star Media Group (SMG) CEO Alex Yeow commended the winners for their spirit of altruism and innovative mindset in solving societal challenges.
"We live in a world where there is a lot to be grateful for, but there are still untold hardships and unsolved problems.
"The 10 winners and those nominated for the award are true embodiments of the saying, 'when the going gets tough, the tough get going'.
"You see the challenges, and you selflessly step up with innovative solutions to make lasting and positive change," he said.
Yeow also said that as a media organisation, The Star supports the cause by amplifying the do-good stories to garner greater support and impact.
"This is in line with our sustainability efforts to be an 'enabler' to help others achieve their goals for the common good.
"We believe this is an effective synergy between the private sector and civil society," he said.
The winners of SGHA 2022 represent a diverse range of age, background and social causes, including a teenager and senior citizen championing the autism cause, social organisations tackling rights issues through the provision of quality education, access to healthcare, basic infrastructure, and income-generation opportunities, as well as environmentalists dedicated to protecting wildlife and the environment.
Yeow expressed his appreciation to long-time partner Yayasan Gamuda for believing in the award as a tangible way to respond to the needs of society.
"The Star and Yayasan Gamuda share the same ideals and commitment to nation-building by empowering social change-makers who, in turn, make meaningful impacts on people and the planet.
"We look forward to making a greater difference together in the future," he added.
This year, the coveted Gamuda Inspiration Award (GIA) by Yayasan Gamuda was awarded to Iskul Sama diLaut Omadal, a community-run school on the coast of Omadal Island in Sabah.
It aims to change the lives of the undocumented, stateless children of the indigenous Bajau Laut community.
Established in 2015, Iskul provides educational opportunities to children and youth who have been denied access to public schools due to their stateless status.
Apart from basic literacy, Iskul's initiatives include life science and marine stewardship, mini farming, and the mini clinic to carry out first aid.
Yayasan Gamuda head Ts. Lim Hui Yan said this year's nominations have greatly improved in quality and are of a wider scope beyond the usual social concerns such as poverty, recycling and urban farming.
Hearts of gold: SGHA winners posing with (front row, from left) Ong, Lee, Lim, Yeow, Ng, Syed Azmi and Vijayakumari at Menara Star. — AZHAR MAHFOF/The Star
"Hence, Yayasan Gamuda saw the need to increase the prize money for SGHA from RM10,000 to RM15,000 (for the organisation category) and GIA from RM50,000 to RM120,000.
"The total sum awarded for this year is RM249,000, a 25% increase from last year. We hope that with this improvement, we will be able to shine a spotlight on the breadth and diversity of the social enterprise movement that delivers social impact," she said.
Lim said the GIA winner this year is deserving of recognition for upholding the right to education for invisible children.
"Their vision to build young leaders through holistic education by fostering inclusivity among the stateless communities and bringing out their voices is in line with what we believe at Gamuda – equal education opportunity for all," she said.
For the eighth consecutive year, social activist Tan Sri Lee Lam Thye led a judging panel comprising experts and advocates with vast knowledge in their respective areas of expertise.
"Every year, the nominations have grown stronger across a wide range of causes.
"Beyond the altruistic intentions of their work, we see more nominees paying considerable attention to the sustainability and scalability of their efforts.
"It is no longer just about giving out one-off or short-term assistance but devising long-standing relationships and impactful programmes," he said.
Lee described the winners as the "epitome of national unity" and a source of inspiration to other Malaysians to make a difference in their own ways.
He also commended The Star and Yayasan Gamuda for their long-term partnership and efforts in expanding the awards to provide the most impactful support for the winners.
"It is important for such initiatives to continue as a key contributor to the betterment of the country and the promotion of unity among Malaysians.
"I sincerely hope to see more unsung heroes get the recognition they deserve through the SGHA," he said.
Other judges this year include Lim, SMG chief content officer Esther Ng, Gamuda Bhd Group chief sustainability officer Ong Jee Lian, OrphanCare Foundation CEO and former Yayasan Kebajikan Negara CEO Datin Paduka Che Asmah Ibrahim, Professor of Medicine and Infectious Diseases at Universiti Malaya Prof Datuk Dr Adeeba Kamarulzaman, prominent social activist Syed Azmi Alhabshi, former Malaysian Research Accelerator for Technology and Innovation impact innovation assistant manager Noor Hanis Harun, as well as child protection consultant and former Social Welfare Department assistant director Vijayakumari Pillai.
During the award ceremony, the crowd was treated to an upbeat percussion performance by SGHA 2022 winner Edwin Nathaniel and his special needs youth students.
Helping Hands Penan (2021) and Suriana Welfare Society (2021), two previous winners, also shared their experiences championing their causes.
The event hosted social good booths by impact-driven enterprises, including SGHA present and past winners such as Seven Tea One, Fuze Ecoteer, Native Discovery, and Dignity for Children Foundation, among others.
To learn more about the award, please visit sgha.com.my.
A special pullout on the winners will be published later in December.
Subscribe now to our Premium Plan for an ad-free and unlimited reading experience!