THE Royal Malaysian Police Force (PDRM) will save RM400,000 in expenses incurred by delivering its examination papers via post.
PDRM management (training) deputy director Datuk Acryl Sani Abdullah Sani said previously the department had been delivering the documents via hand, which involved various claims made by relevant officers.
"By using the postal service, we only need to pay the postage and the documents would be delivered faster," he said.
He said previously it took days and even weeks for the documents from the examination centres to reach Bukit Aman.
He was speaking after the launching of the delivery of PDRM's examination papers via parcel service at Shah Alam post office on Thursday. Also present was Pos Malaysia Berhad (PMB) chief operating officer Mohamed Hazlan Mohamed Hussain.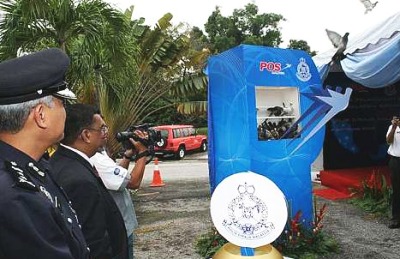 Acryl said about 100,000 of PDRM's officers of all levels take various examinations throughout the year.
There are 17 examination centres for senior officers and 56 for lower rank police officers located throughout the country.
"We do not worry about centres that are located in the city centre or the Klang Valley but what about those that are located in rural areas like in Sarawak.
"It may take the officer weeks to hand deliver the documents to Bukit Aman," he said, adding that such delay would result in a delay in producing the result of the examination.
Such practice would also open to a possibility of tampering with the classified documents.
Using the parcel service will only take between two and four days to be delivered in a secured manner.
Mohamed Hazlan said through the partnership, all PDRM needed to do was to just deliver the examination papers to any of the 687 post offices nationwide, which would then be delivered to Bukit Aman.
The processing will be handled at PMB's Parcel Centre and will use PMB's e-parcel system to record the progress of the delivery and ensure that it is handled in a safe manner.
He also said ample security was provided for parcel services with all documents kept in a locked room.
"This strategic partnership with PDRM reflects their trust and confidence on PMB's ability as well as reliability to deliver.
"We are committed to ensure a smooth and secure delivery of PDRM's examination papers," added Mohamed Hazlan.
The usage of parcel for the examination papers came to effect immediately upon the launching.