Hong Kong's foreign domestic helpers, dozens of whom were caught up in summer sting operations involving more than HK$39 million (US$5 million), are the focus of a new education campaign aimed at stemming the city's growing money-laundering trend.
Worries about the helper community's vulnerability to money-laundering syndicates came to the fore following the arrest of 34 domestic workers who allegedly took payments of HK$1,000 or more to open bank accounts on behalf of the criminal groups.
Chief Inspector Chan Chung-yan of the force's financial intelligence and investigation bureau on Monday said the helpers would then hand over their passwords or ATM cards.
Do you have questions about the biggest topics and trends from around the world? Get the answers with SCMP Knowledge, our new platform of curated content with explainers, FAQs, analyses and infographics brought to you by our award-winning team.
"Many received anonymous messages on social media or via phone calls asking if they were interested in earning extra income. The criminals would then persuade the workers to sell them their bank accounts," she said at a press conference unveiling the campaign.
"The sold accounts would then be fully controlled by the criminals, who would deposit a large amount of money, then withdraw it to clean the money for the syndicates."
Arrests connected to money laundering have surged, with 661 arrests made in the first nine months of 2021, nearly double last year's 364.
In June and July this year, the bureau launched a pair of operations aimed at two money-laundering syndicates that allegedly washed HK$23 million and HK$27 million via 21 and 35 bank accounts, respectively.
About HK$39 million of that amount was believed to have involved accounts belonging to domestic helpers, with one account alone accounting for HK$2.4 million.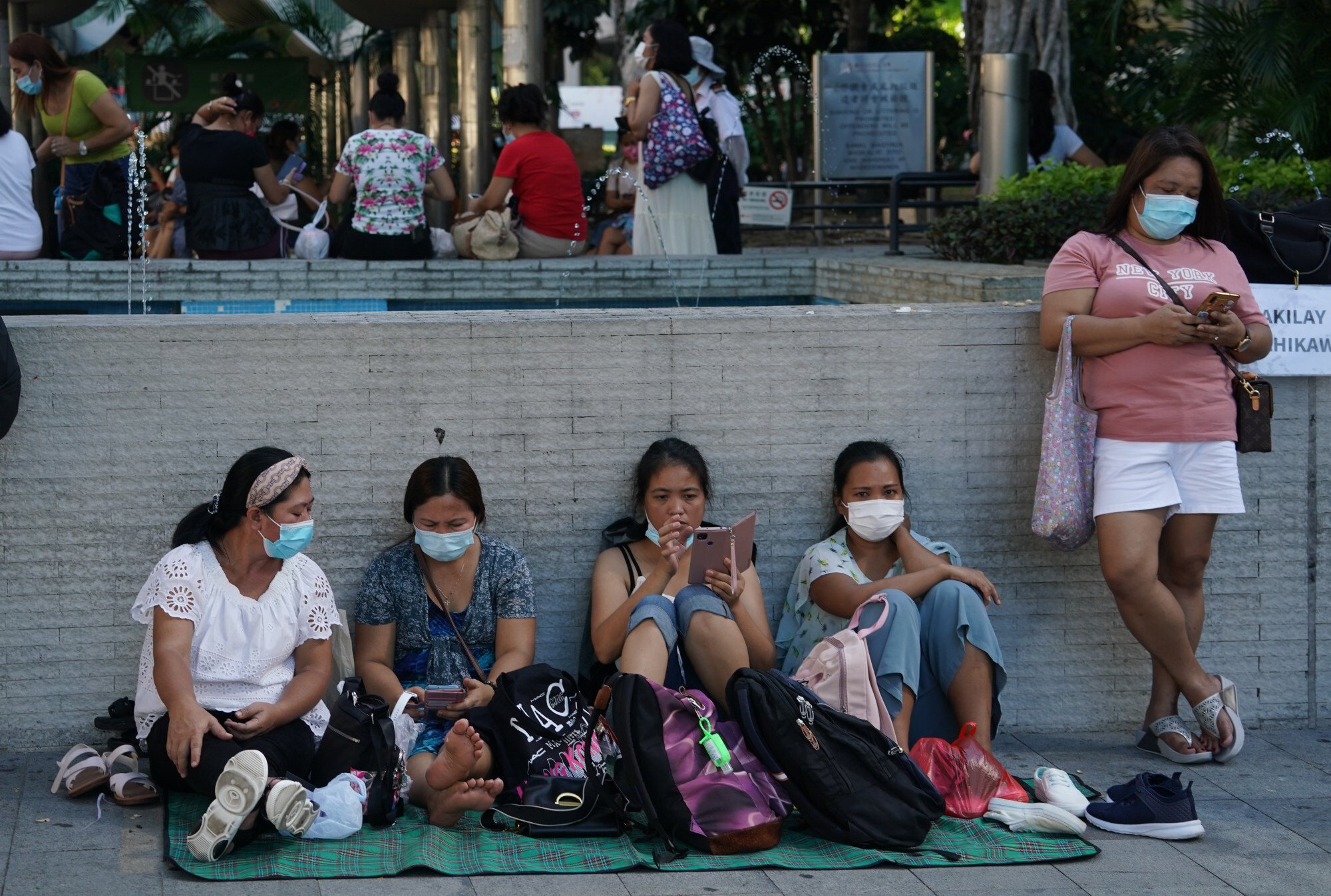 Chan explained that criminals typically recruited domestic helpers as they were more susceptible to monetary incentives.
"A few thousand dollars can be quite appealing to domestic helpers," she said.
Hong Kong's minimum wage for domestic helpers is currently HK$4,630 a month.
But unfamiliarity with local laws was also seen as a problem.
"Even our local citizens may not know a lot about laws related to money laundering. With the language barrier, it is even harder for domestic helpers to learn about the laws."
Towards that end, police are planning to begin educating the public at large about money laundering, including holding talks and distributing materials on the subject on city streets.
Promotional leaflets intended for domestic helpers, most of whom hail from the Philippines or Indonesia, meanwhile, are being written in their native languages.
But Chief Inspector Lai Wai-chun said the growth in money laundering showed that more syndicates than ever were involved and that helpers were far from their only recruiting targets.
"They are no longer targeting a specific age or income group but using social media platforms to lure people from every age and income groups," he said.
"With the economic downturn in recent years, criminals have also targeted the general public's desire to earn easy money ... so there are often a huge group of individuals arrested in a single case."
While most of the domestic workers arrested claimed to have no knowledge of the criminal activities that took place once they handed over their accounts, it was still possible they had broken the law, Senior Inspector Yeung Chin-wing said.
"If the individual did not have an appropriate reason to explain why they lent or sold their bank accounts, once the accounts were used to launder money, the person might have committed the offence of money laundering," he added.
The maximum penalty for money laundering is 14 years in jail and a HK$5 million fine, though none of the helpers arrested in June and July have yet been charged.
Yeung called on the employers of domestic workers to remind them they should never hand over the passwords of their bank accounts to others, and take note if they spent an excessive amount of money or received an unusual number of bank letters.
For the latest news from the South China Morning Post download our mobile app. Copyright 2021.
Join our Telegram channel to get our Evening Alerts and breaking news highlights