Now that the Putrajaya MRT line is running full service, commuters can easily explore more areas of the Klang Valley and enjoy getting to these areas in air-conditioned comfort without worrying about road congestion.
The MRT line, which stretches from Kwasa Damansara in Sungai Buloh to Putrajaya Sentral in the nation's administrative capital, comprises 36 stations with dedicated feeder buses.
StarMetro hopped on board to find places of interest to visit around some of these stations when free rides were offered until March 31 to encourage its use.
Kwasa Damansara
This station, the first of 10 interchange stations along the Putrajaya MRT line, began operating in June last year when the first phase was open to the public.
It was built to serve the future Kwasa Damansara township, which is currently being developed.
According to MRT Corporation, Kwasa Damansara is the first station on the Putrajaya line to include a park-and-ride facility, with 500 parking bays for cars and 100 for motorcycles.
Just a short six-minute walk from this station are Menara KWSP and a branch of the National Registration Department.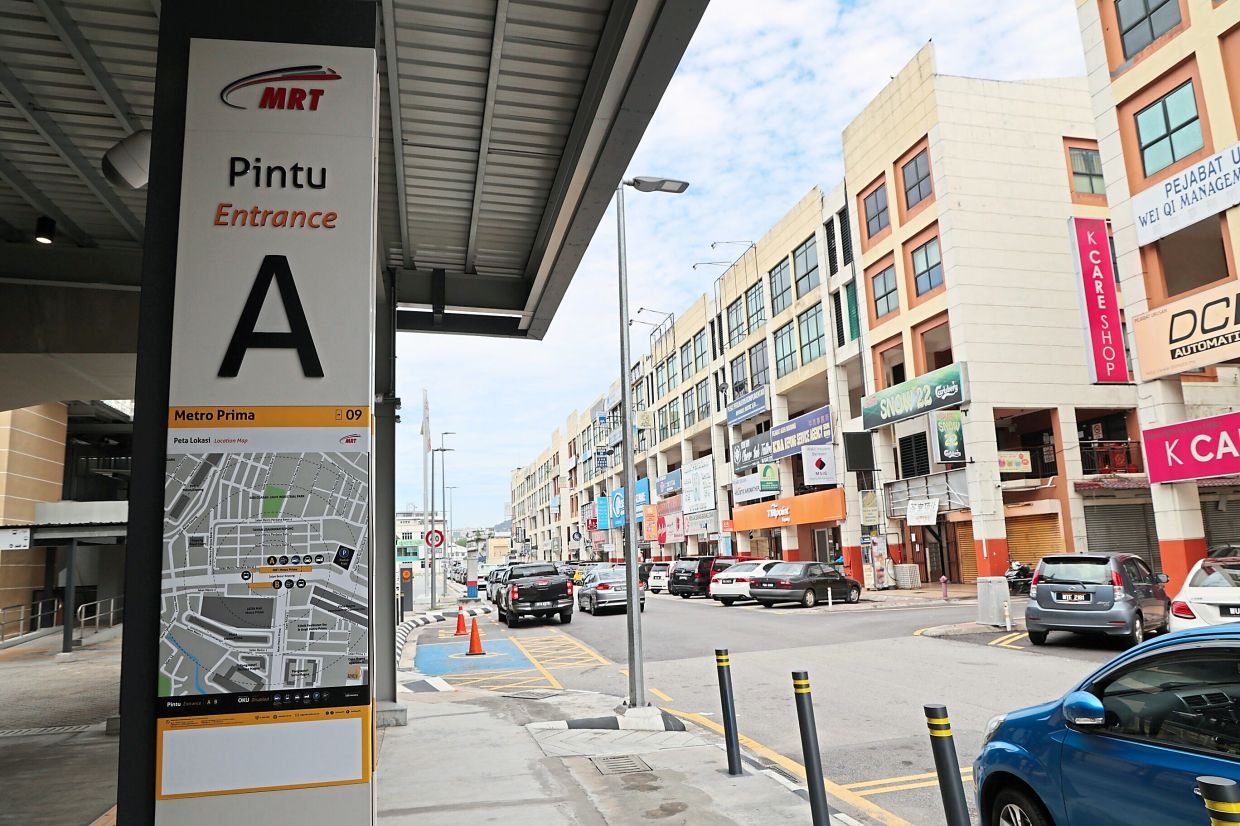 Metro Prima MRT station is close to a commercial area. - AZMAN GHANI/The Star
Metro Prima
Aeon Mall is a convenient place to get groceries and other essentials as it is connected to the MRT station by a bridge.
Siti Maizia Mahad, 42, who came here with her family from Putrajaya, said they were excited to explore interesting places and convenient services like this at each station.
"Not only are these places accessible now, but the ride is also smooth and it's clean," said the accountant.
There are many places to grab a bite in the area, including My 101 Coffee cafe, which serves western favourites, waffles and coffee, and Murni Discovery, which has local delights such as nasi lemak and roti canai.
The National Art Gallery is a short distance from Hospital Kuala Lumpur MRT station. — Photos: AZMAN GHANI and Low Boon Tat/The Star
Hospital Kuala Lumpur
Just 450m away from this station is the National Art Gallery, where art enthusiasts can feast their eyes on the selected pieces on display.
If you're keen on paying a visit, head towards Jalan Kuantan (entrance B) to get there.
It is only a six-minute walk to the gallery.
Along the way, visitors will also see Istana Budaya, a venue for theatre, classical concerts and opera performances.
As the name of the station suggests, Hospital Kuala Lumpur is in the vicinity, about 1.8km away or 23 minutes on foot.
Ampang Park
There are a number of places of interest to visit here as it is right in the heart of Kuala Lumpur.
Intermark Mall is the closest with the option for visitors to get there by feeder bus or on foot, as it is only 450m away.
It is also easy to get to the PETRONAS Twin Towers from here.
A taxi will take you there in about five minutes or you can walk, since the skyscrapers are clearly visible from the station.
However, it will take about 15 minutes to walk there.
Persiaran KLCC
Located on Jalan Binjai near Desa Kudalari Condominium is the Persiaran KLCC MRT station.
Among the popular attractions in the area are KLCC Park, Asy-Syakirin Mosque and Ilham Gallery, all of which are within 300m from the station.
Those disembarking for Lembaga Tabung Haji will have to walk a bit further as it is 650m away.
Visitors can also switch to the LRT Kelana Jaya line here as it is a short distance from the underground KLCC station (KJ10).
The PETRONAS Twin Towers can be seen from Persiaran KLCC MRT station.
Conlay
Opposite entrance B of the Conlay MRT station is the Craft Complex in Jalan Conlay, Kuala Lumpur, which is just a five-minute walk to the place.
The Craft Complex consists of the Craft Museum, Gift and Souvenir Shop, and Craft Village.
In the Gift and Souvenir Shop, visitors can browse through items made from rattan such as tudung saji, bakul kontena and anyaman ribu-ribu.
The museum is free and open to those keen on learning about the country's craft heritage.
Visitors can explore different sections, including its Batik Stamping, Shadow Play, Wood Carving and Rombong Weaving dioramas as well as its Master Craftsman Collections.
For those interested in hands-on learning, the museum also offers a free knowledge development programme on interactive crafts where visitors can create their own items.
Train coming in at Tun Razak Exchange (TRX) MRT station. - LOW LAY PHON/The Star
Tun Razak Exchange (TRX)
Connected to both the Kajang and Putrajaya MRT lines, the station is within a development comprising residential and retail spaces as well as office towers.
By car, the Royal Selangor Golf Club, which is 1.2km from here, is just a four-minute drive away but for those getting there on foot, it will take about 14 minutes.
It's worth the walk for those who appreciate architecture and those who want to learn about the club's history.
Alternatively, visitors can head to Bukit Bintang, which is slightly further, to shop and dine at the dizzying array of stores and eateries there.
UPM
Located close to Universiti Putra Malaysia's Faculty of Human Ecology and Biotech 3 building, this station, which has park-and-ride facilities, is also near the university's International Residence.
Student Nurhami Nabilah Muzaffar, 20, said the Putrajaya MRT line was convenient for students to get around the city.
"As UPM is one of the stops on the line, it's easy for me to take the MRT to and from campus," said the youth, adding that she and her friends were visiting a friend's aunt's house near Kwasa Damansara station for break of fast.
Fellow students Tan Chun Kiat, Chin Jun Xian and Tang Wuon Shian, all 21, said they enjoyed taking the MRT to malls on weekends.
Another student, Norfadilah Tikau, 26, also said she appreciated the convenience the new line provided.
"I work at a learning centre in Pandan Indah, so I take the MRT to Chan Sow Lin then switch to the LRT," she said.
Putra Permai
If you love animals, then head to Farm in The City, which is just a five-minute walk from entrance A of Putra Permai station.
Eng Lee See, who is Farm in The City special assistant to the chief executive officer, said the farm was set up for educational purposes.
Farm in the City is a five-minute walk from Putra Permai MRT station.
"We have some visitors coming here by MRT now.
"Finally, there's another transportation mode to reach our farm so it's easier for people," said Eng.
The farm has different sections for visitors to explore such as the Bird Aviary, Vege Farm and Mood's Lake.
There are more than 50 species of plants and over 100 species of animals like white peacock, Asian forest tortoise, alpaca and ostrich at the farm.
Office worker Joyce Chow, 37, who was at the farm with her family, said she was impressed with the farm and how it was being managed.
"We don't have time to keep a pet at home, so this is an excellent place for the children to see and learn about animals instead of just reading about them in books," she said.
Visitors can enjoy activities such as longkang fishing where a small fishing net and pail are used to catch fishes from "drains".
Pony rides, at RM7, are also available for children below 12.
Eng said the farm had just brought in a new animal, a pygmy cow.
Visitors can take the KLIA Transit ERL train from Putrajaya Sentral MRT station to the airport. - Low Boon Tat/The Star
Putrajaya Sentral
The Putrajaya Sentral station is a major station on the Putrajaya MRT line and serves as an interchange stop for the KLIA Transit.
Other than park-and-ride facilities, the station also has stalls on its lower level where commuters can purchase refreshments.
A food vending machine offering various snacks and drinks is also available.
However, only payments made via ewallets and credit or debit cards are accepted.
A convenient luggage storage facility here allows travellers to lighten their load and stow their belongings securely.
Subscribe now to our Premium Plan for an ad-free and unlimited reading experience!