DARKNESS enveloped several locations across Penang in an effort to spread the message of conservation.
Several shopping centres, hotels, factories, public buildings and private residences switched off or dimmed their lights for Earth Hour.
The event aims to make more people aware of the environmental issues affecting the planet and what role they can play in addressing it.
On March 25, many took a break from their daily routines to do something positive for the planet, knowing that their individual choices could lead to meaningful change.
This was evident at numerous events around Penang, such as Penang Green Council's (PGC) Earth Day Celebration 2023 at Straits Quay themed "Invest in Our Planet", which was organised together with Junior Chamber International United Penang,
Besides aligning with the global Earth Hour movement organised by the World Wildlife Fund (WWF) and observed on the last Saturday of March, the event also served as an advance celebration for Earth Day on April 22.
As the retail marina's lights went out at 8.30pm, the LEDs of a giant terrarium came on, illuminating its sealed and self-sustaining environment.
The alfresco area of Gurney Plaza in George Town before and after it was dimmed for Earth Hour. — Courtesy of Gurney Plaza
A group of yoga enthusiasts then enjoyed a revitalising workout in the dark.
Penang Chief Minister Chow Kon Yeow described the double celebration as a timely reminder that people must "invest" in the planet sooner rather than later.
"Just like monetary investments or savings to safeguard oneself in old age, the same should be done for Mother Earth to ensure future generations are not left with a depleted world.
"We have only one planet and cannot afford to lose it.
"There is no time more vital than now to take action.
"It is no longer a choice but our collective responsibility," said Chow during the event.
PGC general manager Josephine Tan said governments, businesses and individuals were increasingly recognising the need for sustainable practices, green technologies and concerted efforts.
"We are fortunate to live in a time of growing environmental awareness.
"Whether it is reducing carbon footprints, conserving energy and water or reducing wastes, we can all play a part.
"Small actions can have big impacts, but only if done together," she emphasised.
A 2014 study published in Energy Research and Social Science showed that Earth Hour events lowered usage by an average of 4%, based on 274 observations in 10 countries over a six-year period.
This year, those in Penang joined millions across 7,000 cities in 190 countries and territories in going without light for 60 minutes.
Ivan swapped his unwanted items for a dinosaur plush with the encouragement of his mother Lee.
Green mindset
Other highlights of PGC's Earth Day celebration were the zero waste barter trade market and clothes swap held earlier in the day.
These encouraged people to practise the 5Rs mindset – refuse, reduce, reuse, repurpose and recycle – in their daily lives, to reduce waste being sent to Penang's landfills and promote a zero-waste economy.
The barter trade market attracted the participation of some 20 schools.
Students and family members brought unwanted items ranging from old books to toys, clothes and small household appliances which anyone could take home in exchange for something else.
Plush toys proved popular among the youngsters.
Ivan Chin, 11, had his eye on a dinosaur plush and was happy to swap some old possessions for it.
Mother Jenney Lee, 50, hopes such events can gain wider traction as it gives people a platform to rehome preloved items.
"Children always ask for new things. It's important to teach them that there can be good finds from other sources other than buying them new," said Lee, a housewife.
Her sentiments were shared by couple Tan Hock Khing, 44, and Chloe Ngan, 38.
They swapped an old kettle and plastic containers to score their nine-year-old daughter Paris a pair of roller shoes.
"It's good to instil from young a mindset of reusing, and show them that it is not always necessary to spend money on the latest items," said Ngan, a businesswoman.
Self-employed Ng Seng Tee, 43, was pleased with a hat she found after trading some items that had outlived their purpose at home.
"If more people can find a second life for their unwanted items, it will help reduce consumption of materials and benefit the planet," she said.
Green Educators Workgroup (Grew) chairperson Khou Jerome highlighted that refusing, reducing, reusing and repurposing were much better than recycling because the latter involved complex processes that consumed resources such as energy and water.
"If something is still useful, why not give it to someone who really needs it rather than throw it away or let it gather dust?
"Barter trades are effective in reducing waste.
"It also helps people realise that there's a lot that they don't need.
"And this discourages them from wasteful buying," he added.
Penang environment committee chairman Phee Boon Poh said the state had a 51.18% recycling rate, 31.97% on the island and 56.77% on the mainland.
"This reduced the amount of waste generated per capita per day from 2.2kg three years ago to 1.04kg now," he said.
Some visitors also participated in a terrarium-making workshop.
Layering soil with pebbles, moss, ferns and air plants inside a glass dome, they created living and breathing souvenirs.
One of them, customer service executive HS Lee, 33, said her apartment only had a small balcony so there was not much room for gardening.
"At least now I can have a little touch of nature inside my home."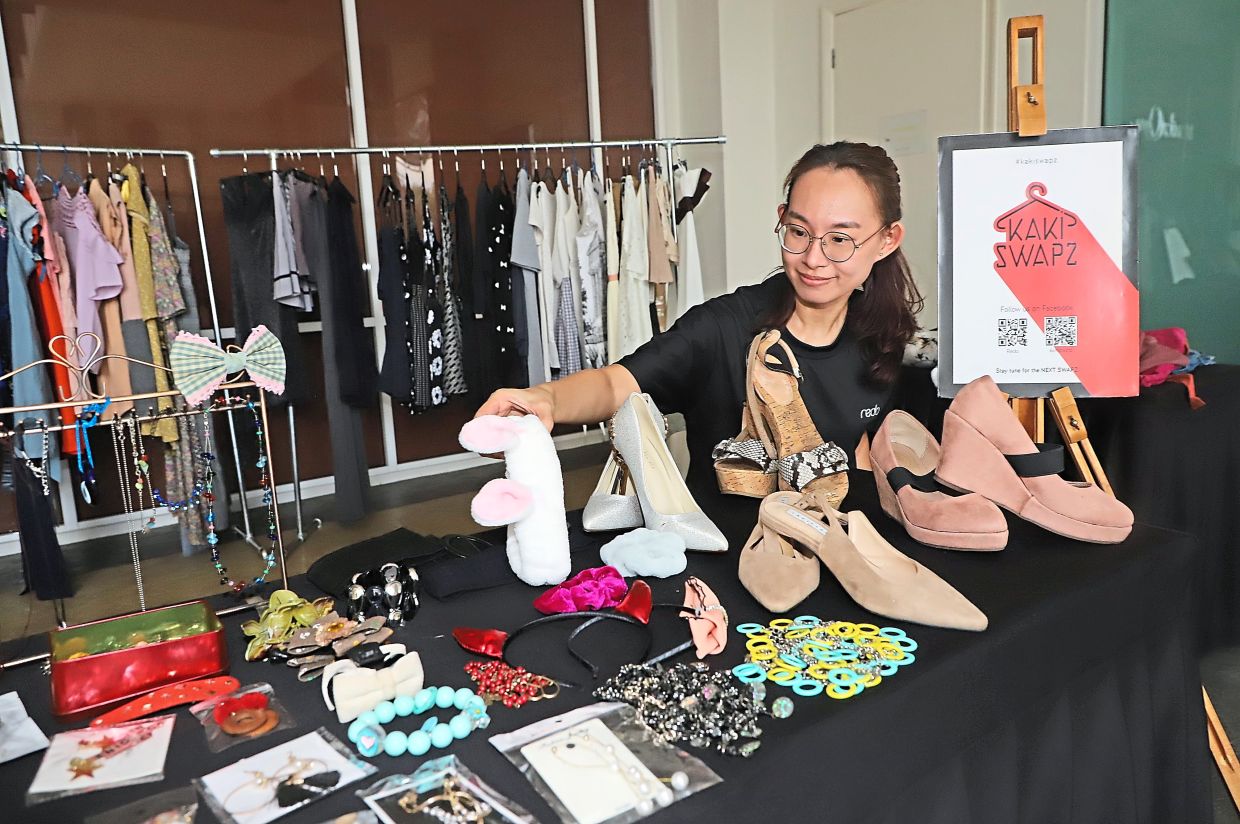 Goh showing shoes, accessories and clothing ready to be swapped at the Kaki Swapz corner.
Waste not, want not
Many were seen hunting for preloved garments and accessories at the clothes swapping corner run by Kaki Swapz – a collaboration between a group of sustainability advocates called Redo and a social enterprise, Aimpactz.
Redo founder Goh Shu Xian said the huge problem of textile waste was often overlooked.
"Many do not realise that fashion, particularly fast fashion, is one of the world's top polluting industries," said Goh.
A World Economic Forum report in 2020 attributed 10% of all carbon emissions to fashion, which was more than all international flights and maritime shipping combined.
It also found that clothing production had doubled since 2000, with people buying over 60% more garments now compared to then.
The 2015 documentary The True Cost said the world consumed a staggering 80 billion pieces of new clothing each year, up 400% from the turn of the millennium.
Worryingly, people today only keep clothes for half as long, possibly because social pressures force many to follow fashion trends.
The convenience and wide choices available from online shopping has exacerbated the problem.
The fashion industry is also the second largest consumer and polluter of water worldwide.
For advocates like Goh, the solution is to wear clothes for longer and buy fewer new ones.
If new looks are what one is after, then swapping makes a lot of sense.
"Next time you're at a boutique, ask yourself whether you truly need that garment when you can instead swap your old clothes to refresh your wardrobe," said Goh.
Allaying fears over hygiene or quality, she said all pieces were inspected for stains and defects before being added to the swap pool.
Interested parties only need to pay a small fee to participate in the swap.
For every five pieces brought, participants can swap a maximum of 25 pieces. Terms may differ for other vendors.
Aimpactz's founder, who only wanted to be known as Dr Ming, also sees waste as a resource.
They engage women in the B40 group to upcycle discarded materials such as aluminium foil packaging.
Commonly used as food wrappers, they are often torn open and discarded without a second thought.
In landfills, they can take up to 400 years to break down.
To mitigate that, Aimpactz collects foil and the women transform it into handbags, pouches and keychains – which they then sell to earn a living.
"This prevents waste from going into our landfills and it becomes a viable source of income," said Dr Ming.
Unified show of support
Over 70 premises across Penang went dark or ran activities for Earth Hour.
Malls like Gurney Plaza switched off all non-essential facade lighting, while tenants inside dimmed their lights.
CapitaLand general manager (mall management) Peter Chan said it was an annual practice as they wanted to bring attention to climate change.
"We take the issue of sustainability seriously and try to play our part.
"We encouraged tenants to run related activities to raise awareness among shoppers and give them avenues to participate or contribute," he added.
In Batu Ferringhi, Shangri-La Rasa Sayang and Angsana Teluk Bahang also went dark and encouraged guests to go out on the beach to arrange lamps in the form of a "60" to mark the occasion.
Shangri-La Rasa Sayang communications director Suleiman Tunku Abdul Rahman said, "We believe that we inherited a beautiful planet and have a moral responsibility to protect it."
Angsana's marketing and communications director Jeanize Low said, "Communities exposed to such a global movement can make a big difference."
Tan said PGC would continue grassroots efforts and outreach initiatives to engage more stakeholders.
"By bringing people together to appreciate and cherish the beauty of nature, we hope to inspire them to make positive changes.
"So spread the word and take action," she said.
Subscribe now to our Premium Plan for an ad-free and unlimited reading experience!