Evacuees in Segamat, Batu Pahat and Muar say set-ups have improved despite some horror stories
OVER the past few weeks, Johor has been in the media spotlight after experiencing one of the worst floods in 17 years.
Five lives were lost and more than 50,000 people had to be placed in temporary flood relief centres across all 10 districts in the state.
The figures, however, may not reflect the actual number of people affected as many opted to stay in the homes of families or friends instead of the temporary relief centres.
In some cases, the homes of victims were not submerged but their places of business were badly damaged by floodwaters.
When StarMetro spoke to some of the flood victims in three districts, they related their experiences including conditions at the relief centres.
Most of them have experienced floods more than once, some twice this year alone.
Tey pointing to the damaged items in his house in Segamat after floodwaters receded. ― Photos by THOMAS YONG/The Star.
In Segamat, one of the first districts hit by the floods, 60-year-old retiree Tey See Lea and his wife endured a 24-hour wait with no food and drinking water.
"Our place gets hit by floods regularly. In fact, this is the second time this year.
"We were quick to move out to a relative's house nearby, which was a double-storey house," he said.
The couple was trapped on the second floor of the relative's house when the entire area was flooded.
"We did not expect the water to rise so fast over a short period of time," said Tey.
"My relative had moved out of the house recently and told me to look after it for him. The house has been left empty for quite some time.
"We were stuck for about 24 hours in the house. We had no food and drinking water.
"As soon as the floodwaters receded, the first thing we looked for was food.
"Thankfully by then, volunteers and government agencies were in the area to distribute food and drinking water," Tey said when met at his house in Chaah.
CLICK TO ENLARGE
The town also experienced a water cut for three days after a main pipe at the Sungai Chaah bridge burst due to strong currents from the floodwaters.
Housewife M. Vasanthidevi, 58, said that after getting soaked in floodwater before reaching a temporary relief centre, she was unable to take a shower for two days as there was limited water supply at that time.
"While we received some clean water at the relief centre, it was not enough as there were just too many of us.
"We used water sparingly as we had no idea when supply would be back to normal.
"By March 3, the floodwaters at my house receded completely.
"Instead of waiting for water supply to resume, I decided to use rainwater to clean my house first.
"We only got water supply the next day and it was a huge relief," she said.
Wading through hardship: A resident checking the situation at Parit Sulong town in Batu Pahat, Johor where floodwaters have yet to recede completely. — Bernama
Vasanthidevi said her son had woken her up around 1.30am on March 1, alerting her of the floodwaters entering their home.
"I did not expect the water to rise so high. During the 2006 major floods, the water was only about knee level.
"This time, I tried to salvage most of the things kept at the cabinets and tables. But most of the items were destroyed," said the mother of three.
Meanwhile, trader Roslan Mohamad, 39 suffered major losses after his eatery in Kampung Tengah in Segamat was submerged for the second time.
"My house was not affected by the floods but my shop was.
"It was raining very heavily since morning on March 3 and by 1pm, floodwaters had covered most of the surrounding areas.
"I still had customers eating at the shop around 11am. By noon, they realised there was flooding and rushed to their homes to save their belongings.
"I managed to move my refrigerator to someplace higher. I also quickly tied up the chairs at the shop so that they would not be swept away," he recounted.
Roslan said that during the 2006 floods, he was unable to salvage any items at his shop as the incident happened at night, when most people were asleep.
Between March 1 and 4, Segamat had the most number of flood victims in temporary relief centres.
From March 5, however, the number of evacuees in Batu Pahat was higher than Segamat.
By March 8, Batu Pahat had 30,000 evacuees.
Housewife Noor Hidayah Md Aris, 36, said her house in Batu Pahat was flooded on March 2, after a couple of hours of heavy rain.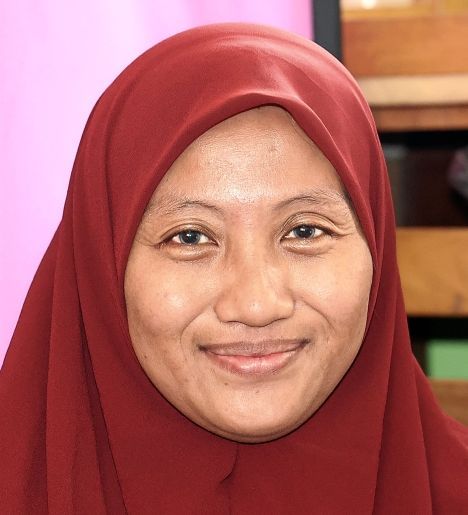 Mazlinda finds the flood relief centre where she is staying, isn't so bad as there are enough food and essentials for those seeking shelter.
"We have been hit by floods about four times so far, but there were usually some warning signs.
"The flood this time came very suddenly and it was said that the water overflowed from Segamat into our district.
"We were able to save some of our belongings, which we stored on the second floor of my neighbour's house, before rushing to the nearest flood relief centre," she said.
Noor Hidayah said some of the roads leading to the relief centre had already been cut off when they were making their way there.
"We went to the centre in the morning to get ourselves registered and book a spot before rushing home to take our things.
"By the time we returned, some of the roads were already inundated and we had to take another route to get to the centre," she said.
For housewife Mazlinda Tompang, 43, the experience of staying at a flood relief centre has not been too bad as there is enough food and essentials for evacuees.
"I had heard of stories about food arriving late and some said the packed food they received were stale.
"Thankfully that is not the case for us. The food is prepared on the spot at the canteen here.
Vasanthidevi was unable to take a shower at the flood relief centre for two days as there was limited supply of water.
"Instead of getting packed food, meals are served buffet style and I prefer it that way," said the mother of four.
Mazlinda has stayed at flood relief centres several times before, including the 2006 major floods.
"There is a lot of improvements, especially as each family is now given a tent for more privacy.
"In the past, we were all just placed in one room or hall with no partitions.
"You would see children and adults from different families sleeping on the floor together, with mattresses placed next to each other. That is no longer the case now," she said.
In Muar, Zainab Mohamed, 81, said she was relieved that her children were at home with her when the floods happened on March 2.
"Two of my children and two grandchildren were home with my husband and me as they were visiting us for the school holidays.
"If they were not there, it would have been more difficult for us as my husband is also 81 years old.
Zainab was relieved that her children and grandchildren were at home with her to assist when the floods happened on March 2.
"We were unable to salvage our belongings as everything happened so fast.
"Some of my furniture had survived two flood incidents previously but after being submerged for the third time, they fell to pieces," she said.
On her experience at a flood relief centre, Zainab said it was not pleasant and that she stayed for only one night before her daughter from Kuala Lumpur came to fetch her and her husband.
"I have stayed at relief centres before but this time the situation was not as conducive as in the past.
"There were six of us in the tent and we were only given one pillow, one blanket and a very thin mattress.
"However, I do not blame them as I know that there were just too many people arriving at the relief centres," she said.
Kampung Melayu Panchor chief Mohd Khalid Mohamad, 44, said he and several other villagers stayed behind to make sure everyone was safe.
"It is our duty to look out for each other. Instead of rushing to the flood relief centre, we decided to stay in the village and check if everyone had evacuated from their homes safely.
"We later set up a makeshift post at several entrances of the village to safeguard our properties and assist the villagers.
"We also cook there and send some of the food to the nearby flood relief centres," he said, adding that setting up such posts was a common practice in villages.
As of Tuesday (March 14) evening, there were still 37,233 people from 10,430 families in Batu Pahat alone seeking shelter in 107 temporary relief centres.
Three other affected districts that still have flood victims at relief centres are Muar with 224 people, Segamat (154) and Tangkak (24).
Subscribe now to our Premium Plan for an ad-free and unlimited reading experience!