When Rageswary Karuppiah was hired as a teacher with the National Autism Society of Malaysia (Nasom), her family members challenged her, saying she didn't have the skills to handle children on the spectrum.
That was 32 years ago, and today, she is still attached to Nasom as one of its pioneer teachers and serves as the coordinator for Nasom (Teluk Pulai) in Klang, Selangor.
"My first teaching posting was at Nasom (Titiwangsa branch in Kuala Lumpur). I had minimal knowledge of autistic children. I didn't know what to expect with their temperament. On my first day, I felt lost as I didn't know how to handle these students with special needs. Somehow, I persevered.
"After many months of dealing with kids with autism and having attended many courses organised by Nasom, I am better equipped to handle them," says Rageswary during Nasom's Appreciation Dinner 2023 in KL on Sept 3.
During the event, Rageswary and Nasom general manager Siti Mariyam Mohd Yasin were recognised as Nasom staff with over 30 years of service. They each walked away with an award.
Wong says Rageswary's dedication and commitment to providing her service for over 30 years is an incredible achievement."I am honoured to have received the award from Nasom. The organisation has given me the opportunity to serve children with special needs, and I'm very grateful to them. The recognition means a lot to me. We've achieved so much through hard work and dedication," Rageswary says.
Nasom chairman Julian Wong also presented over 30 awards to teachers during the dinner based on their years of service with the charitable organisation.
"Nasom's success today is due to its teachers and staff. Many of them work based on their passion and dedication to helping children with autism. To be honest, the salary scales of our teachers remain on the lower side, but because many of these teachers truly want to help these special children, they have put their passion above all that.
"We are impressed with Siti Mariyam's and Rageswary's dedication and commitment to providing their service for the past 30 years, which is an incredible achievement. In that time, they have touched the lives of countless students by helping them learn and grow. It takes passion and dedication to teach children with autism. Both of them deserve more than just recognition. No amount of appreciation is enough for what they have contributed to society," says Wong.
Dedicated educator
In the last three decades, Rageswary has taught close to 200 students on the spectrum. Many of her students have finished their secondary education, while others have completed their tertiary education. Three of her students are working as assistant teachers at her centre.
"When I first joined Nasom (Titiwangsa branch), I was teaching a low-functioning autistic child to communicate. One evening before leaving school, she waved at me and uttered the word 'bye'. I was overcome with joy. Her parents were thrilled. That made me realise that I could make a difference in the lives of children with autism," says Rageswary, in explaining her motivation to continue working in Nasom.
Muhammad Syahmi Saiful Anwar (left) and his brother Muhammad Hakimi Saiful Anwar were Rageswary's students. Now, they are assistant teachers at Nasom (Teluk Pulai). Photo: Rageswary Karuppiah
A wide range of behaviours and impairments are associated with people with autism spectrum disorder (ASD). It is not an illness that can be cured; it's a lifelong condition, and those with autism usually require lifelong care.
Rageswary, who hails from Teluk Intan, Perak, says that early intervention is crucial for children with autism because it provides them with the best chance for positive development.
"Starting intervention as early as possible helps in addressing challenges related to autism. It can improve social interactions and language development.
"Most importantly, parents must accept it if their child has been diagnosed with autism or other disabilities. I have come across many parents who are often in denial after diagnosis. This could lead to delayed intervention. Parents must work towards seeking a supportive community of caregivers and experts who can provide guidance and emotional support. Never neglect your kids with special needs," explains Rageswary.
She adds that signs of ASD in kids are often noticeable during the toddler years. Some children may exhibit early signs, such as delayed speech or social interaction challenges, between 18 and 24 months.
To foster a child's progress towards independence, it is equally crucial for parents of children with autism to work alongside teachers, Rageswary stresses.
"Collaboration between parents of children with autism and their teachers in special schools is essential. Parents must actively support and follow the guidance of educators to ensure a unified approach to their child's development.
"For example, if an autistic toddler is toilet-trained in school, parents must also promote consistency in their child's development and train them at home. No shortcuts like switching to diapers at home," says the mother of one.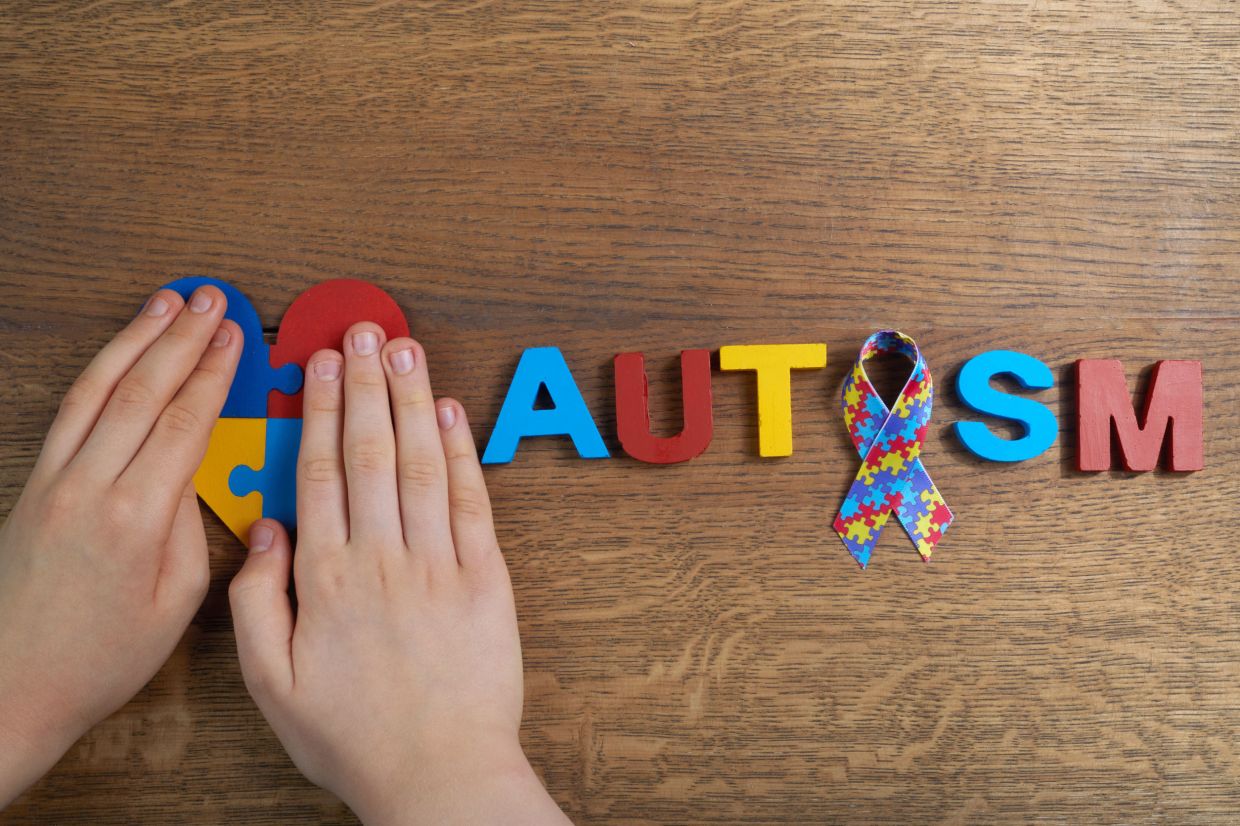 A wide range of behaviours and impairments are associated with people with autism spectrum disorder. Photo: 123rf.com
Reaching out to communities
During the dinner, teachers from the different Nasom centres entertained guests with traditional performances. Wong also presented paintings by youths with autism as a token of appreciation to its donors.
"Nasom is currently 36 years old, and it is still in operation today, thanks to our donors who have supported our objectives and projects. It is important for us to show our gratitude and appreciation, especially to our teachers, staff and donors."
Wong says it costs about RM4.5mil to operate Nasom each year, delivering programmes like early intervention, vocational training and therapies.
"Nasom's programme fees cost between RM350 and RM600 depending on the location of the centres and types of programmes delivered. We receive about RM2.1mil from programme fees, and any shortfall is covered by donations. Donations and contributions from corporations, individuals and government are required to turn the deficit to breakeven.
"Our fees have not increased because we want to help many children whose parents are on the B40 and M40 income levels. If Nasom were to increase its fees drastically, we would displace many students on the spectrum from the lower-income group. The bottom line is we want to ensure our ability to help as many children on the spectrum as possible," he adds.
Beacon of support
---
Subscribe now to our Premium Plan for an ad-free and unlimited reading experience!