Meier heads for a tree house, 10m above ground. It's bed time. The young man straps himself into his harness, then feels his way along a rope to his spot.
The tree house is a great place to sleep, says Meier, 20, as it has a good view across the whole of the activists' camp below.
A student living near Trier, he is one of a group of protesters that has been occupying part of the forest in south-western Germany for more than a year.
Meier is his "forest name", he says. He wears a mask to avoid being recognised.
The activist is one of a core team of 10 occupying the woodlands to try and prevent a four-lane motorway from being built right through the forest.
The project has divided locals in the area for decades, with the road listed as a "priority need" in Germany's 2030 Federal Transport Plan.
"We'll stay here until they say the road won't be built – or until the police come and clear the woods," says Meier, who spends three or four days a week at the camp. He and many of the others also have rooms in the neighbourhood nearby.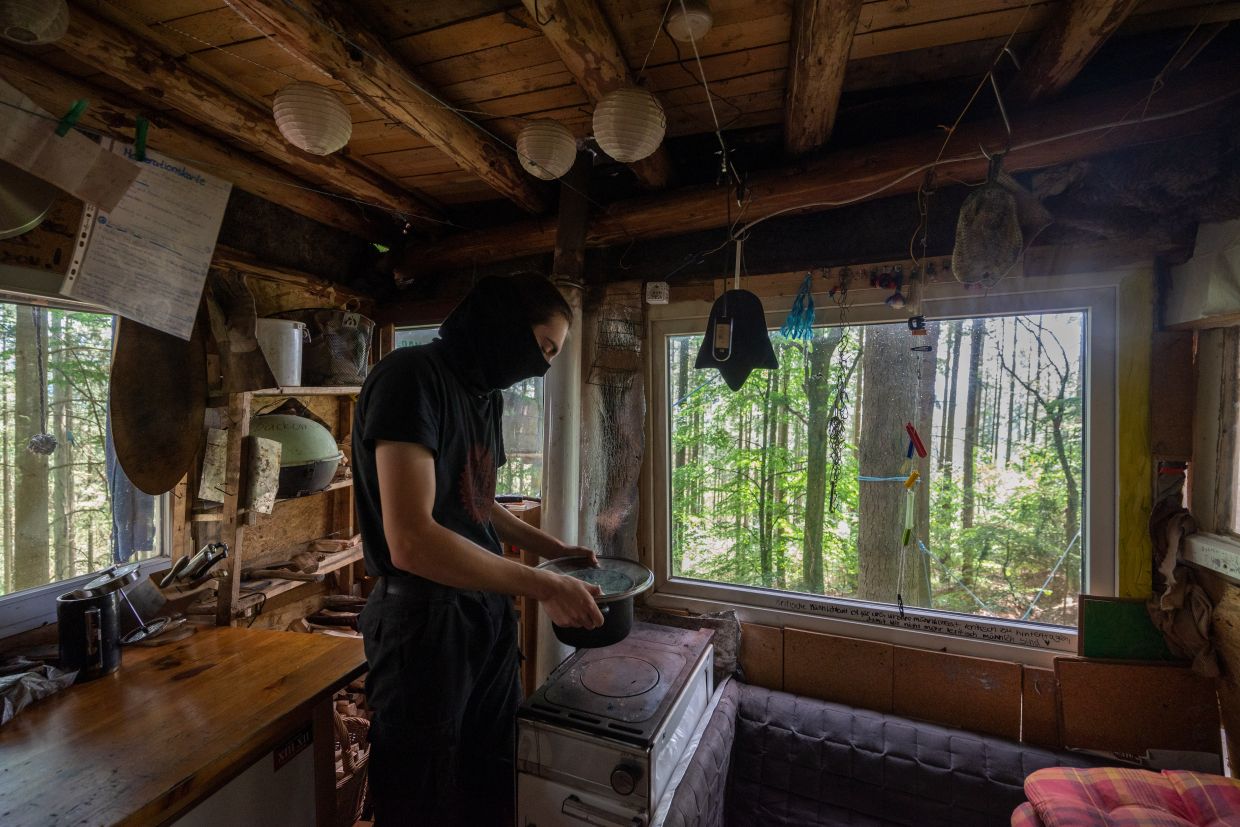 A protester at a forest near Trier, Germany, in the treehouse kitchen at their environmental camp.
Right now, he is building a new tree house out of old transport pallets. So far, he has fixed the platform in place.
"We have 10 to 15 beds here. But if people sleep outside, up to 25 or 30 can stay overnight," he says.
The camp is made up of some 10 cabins and shacks that are centred around a large three-story tree house mounted on stilts. It has different names, depending on who you ask, Meier says, either "Tower for Tower" or "Black Pearl".
It is well equipped, with a small kitchen including a counter top, a stove and hot plate, shelves of food, places to wash the dishes and several mattresses. The team has also set up solar panels to generate power.
The squatters' concerns go beyond the motorway. For them, the camp has become a place where they can take a stand for climate justice and better environmental protection, says Meier.
Although Germany is engaged in an energy transition, expanding renewable sources, the activists say they want to see a "real traffic and energy turnaround" and generally oppose the construction of new roads.
Nationwide there are around 10 similar camps of activists squatting in woodlands. Meier's group is in touch with some and they meet up to share ideas.
A team of activists that has been occupying an area of the forest in south-western Germany for more than a year wants to prevent a motorway from being built right through the area.
"People help each other," he says.Local people living near the forest camp also support the campaigners in a series of ways, allowing them to fill up canisters of water, disposing of their rubbish or letting them use their washing facilities and showers.
Some donate useful items such as wood, mattresses or jars of homemade jam.
"I think the project makes sense," says a local resident, as it raises awareness about "a big problem we have: climate change".
Fritz, 12, not his real name, lives near the camp and stops by every week.
"I help build tree houses or build some myself," he says.
He likes spending time at the camp.
"It's very important to support it, because it's absurd that they're still building new roads like this now."
The Trier activists squatting in the forest say every single part of Germany's woodlands needs to be protected, given the climate crisis.
Ultimately, they want to overturn Germany's 2030 Federal Transport Infrastructure Plan altogether, with its plans for another 850km of highway in a country where many say car is king.
Last year, Trier city officials voiced concerns the occupation could constitute a form of illegal camping in the forest and break state forest law which serves to protect the forest ecosystem.
However, a state forestry agency did not share these concerns, with the head of the Trier forestry office, Gundolf Bartmann, saying he doesn't believe that the activists are breaking the law.
They are pursuing their project in a manner compatible with nature, don't light fires or hurt plants or animals, he says.
"After all, their concern is not to hold a rock festival, but to protect the forest," Bartmann says. He and his team keep an eye on whether there is a danger of fire.
The city, meanwhile, has to consider the question of whether the site constitutes camping or is morphing into something more permanent, according to the forestry official, adding that he too underestimated how long the activists would stay.
The environmental protest movement is gaining power and reach and people are taking it noticeably more seriously, Meier says. He sees a major shift in the way people talk about the issue as the problem of climate change becomes noticeably more severe.
"People see the changes happening, with floods, heat and drought," the activist says, and that is forcing politicians to act.
The camp, a "place of resistance", is open to all who are interested, Meier says.
"Anyone can come by here, we're totally open. You don't have to be able to do anything either, and we have everything that you need for everyday life."
He and the others began occupying the Trier forest in May 2021, making their camp one of the longest in the country.
It could run on for several years, say Meier and another activist called Karla.
It is important to start protesting early, to be in a position to overturn possible construction plans or other, more concrete plans, both agree.
"Once the bulldozers and forest workers are involved, you can hinder and slow down the clearing of the forest at best but you can no longer prevent it," they say. – dpa
Subscribe now to our Premium Plan for an ad-free and unlimited reading experience!