If you're familiar with the Malaysian cocktail bar scene, you would have noticed that there has been quite a number of "guest shifts" happening in numerous bars lately. But what are these guest shifts and why has there been such an influx of them lately?
A guest shift essentially means that that particular bar is hosting a guest bartender who will be taking over the bar for the night, and serving his or her own drinks there. This can either be a bartender from a different bar (local or foreign), a brand ambassador of a particular brand, or even someone who isn't even a bartender in the first place.
Marini's On 57 welcomed back its former head bartender Junior Utto for a guest shift last week. – Photo: THE STAR/Michael CheangThere are many reasons why a bar would host a guest shift. One of the most common reasons is when an outlet is celebrating a certain occasion or anniversary
For instance, Kuala Lumpur nightspot Marini's On 57 is celebrating its 10th anniversary this year with a series of guest shifts this month, including its first ever head mixologist Junior Utto last week, Martell brand ambassador Bastien Michaud earlier this week, and one more by Campari brand ambassador Symphony Loo this Thursday (20/10).
ALSO READ: 6 new cocktail bars that are shaking up the scene in the Klang Valley
Customers first
Sometimes, a bar can also take their own initiative to engage an acclaimed bartender from abroad to hold a guest shift.
For instance, one of Bangsar bar Three X Co's most popular shifts was when they invited renowned bartender Hiroyasu Kayama of Tokyo's Bar Benfiddich for a guest shift.
One of Three X Co's most popular shifts was by renowned bartender Hiroyasu Kayama of Tokyo's Bar Benfiddich. — Photo: Facebook/Three X CoThree X Co, which itself was named in the Asia's Best 50 Bars list in 2021, is one of the most avid advocates for guest shifts in the Malaysian cocktail scene.
"When we started our bar in December 2017, we had always intended to have a regular guest shift program to promote the craft of cocktails and to bring excitement to the local bar scene," said its bar manager Angeline Tan, adding that the bar will always try to have at least one shift each month.
"Our bar has always been very inclusive. If any bartender or bar reaches out to us and we are available to host them, we will gladly do it."
According to her, the feedback from their customers is quite positive, and they get a lot of support from their regulars.
"The best shifts are those where we see new faces and our own customers filling up the seats and enjoying themselves," she said.
Kho Chee Keong, founder of Bangsar bar Coley and gin bar Pahit, also agrees that the customer should come first when it comes to organising a shift.
Jay Khan of COA was among Coley's recent guest bartenders. – Photo: THE STAR/Michael CheangHis philosophy on guest shifts is that the guest shift should offer something new that the host bar has never had before.
"We always try to find some kind of new element for our guest shifts to create new and different experiences for our customers, and so we can learn new things as well," Kho said, adding that Coley even works with chefs on guest shifts sometimes, in order to spice things up.
Coley has also played host to a number of acclaimed bartenders in the past, including recently, Jay Khan, owner of COA, the current No. 1 bar on the Asia's Best 50 Bars list.
These sort of shifts give Coley's regulars a chance to experience drinks and hospitality from other top bars around the world without having to leave the comfort of their neighbourhood bar.
"At the same time, by working with these top bartenders, our own bartenders can also learn from them, share knowledge and inspire each other," Kho said.
Brand support
Hendrick's Gin regional brand ambassador Charmaine Thio at a recent guest shift in Three X Co. – Photo: THE STAR/Michael CheangThen there are also guest shifts that are held by the brands themselves in order to promote products. These typically involve a brand ambassador or bartender that will use only products by a certain brand.
These sorts of shifts help not only the brand to promote their products, but also help the bars keep costs low during a shift.
According to Ho Boon Leong, Food & Beverage Manager of Four Points by Sheraton, which houses the cocktail bar Jann, they actively explore sponsorships with brands to ensure logistics and expenses are viable.
"We try to ensure our drinks are of the best quality while aiming to keep them under RM50 despite the increase in the cost of ingredients. The past two guest shifts at Jann offered cocktails priced at RM40 each," he said.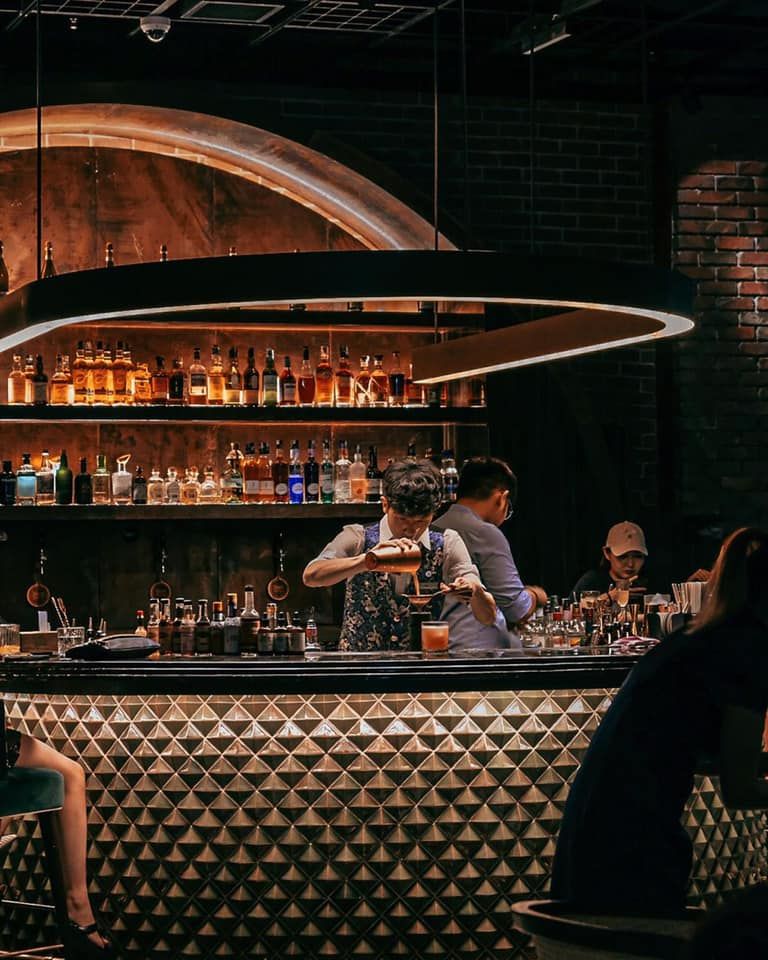 Some bars, like Jann, tend to still serve their regular menus to guests during guest shifts. – Photo: Facebook/Jann.klHe adds that the target audience of the guest bartender has to be somewhat similar to what Jann serves.
That said, Ho also adds that sometimes walk-in guests might be surprised that they are having a bar takeover, so to overcome this issue, the bar makes it a point to maintain its regular menu during guest shifts.
"Guest shift enthusiasts and our regular guests are extremely keen on guest shifts at Jann, whereas walk-in guests usually come to our outlet for the regular menu," he said.
"Overall, guests definitely do enjoy the opportunity to enjoy concoctions by renowned international bartenders in the comfort of their regular bar."
Behind the guest bar
Even bars outside of Klang Valley have got on the guest shift wave, with Backdoor Bodega in Penang, Atas Speakeasy in Ipoh, Perak and Johor Baru's Haiiro Usagi also holding regular shifts while sending their bartenders to KL for shifts as well.
Joe Naik of Haiiro Usagi says he tries to have at least two guest shifts a month at his bar, and says that as a bar owner, guest shifts mean better exposure for the bar.
Haiiro Usagi's Joe Naik at a recent guest shift at KL bar BAC. — Photo courtesy of Fireangel80From a bartender's point of view, however, Naik reckons that the opportunity to meet new people and learn new things from other bars is an invaluable one. Naik most recently did two guest shifts in KL, one at Moon Bar in Taman Tun Dr Ismail, and the other at highball-centric BAC in Damansara Heights.
According to him, being a guest bartender can be tiring as well, as there is a lot more preparation work to be done before he even steps foot behind someone else's bar.
"First, we set a date that both my bar and the guest bar are okay with, then discuss what the guest bar would like me to do. Should we work with a brand, or do more of a personal guest shift?," he explained.
"Then, we move on to creating a menu. I would usually create a menu with drinks that are only available during the shift, just to spice things up a little.
"I usually go to the host bar one day earlier to prep and make sure that all the ingredients that I need are sourced and prepared. When I get there, I'll chat with the bartenders, get a quick walkthrough and get myself familiar with the bar station. Of course we will also do a quick tasting with the host bartenders to see if they think the drinks suit their regular customers – if not, I would tweak the flavours to suit them more."
Out of their zone
Reka:Bar in Damansara Heights is another bar that has been holding some unique shifts of late, hosting acclaimed bartenders from Singapore, while also venturing outside of Malaysia for recent shifts in India and Thailand, among others. Its operations manager, Giovanni Andrea Magliaro, and Head Bartender Joel Poon are currently on a tour in Europe, doing guest shifts in several countries.
Most guest shifts, like this one at Reka:Bar, are designed to to give cocktail lovers something different at a particular outlet. – Photo: THE STAR/Michael CheangMagliaro says the bar's first consideration when hosting a shift is whether it will be something cool for the guests to experience. It's another matter when they venture out of their bar though.
"When we attend a bar takeover overseas, there's a lot of things to take into consideration like the availability of spirit, ingredients, and whether the bar that is hosting us has the equipment available for us to replicate our drinks in the same way that we do in Reka," he said.
"Consistency in the flavour of the drinks is of utmost importance but we do encounter certain difficulties in achieving this sometimes. So we find solutions and adapt to the situation.
Once they're behind the bar however, they do their utmost best to ensure that the guests receive the same experience as they would in Reka.
"At the same time, we try to have as much fun with the hosting team. These two elements are very important to me to have a successful bar takeover overseas which represents Reka bar and the Malaysian hospitality," Magliaro adds.
He also thinks that there can never be 'too many' guest shifts, because it helps create a better cocktail scene.
"As long as the guests deliver an interesting, high-quality experience, we don't see an issue with guest shifts," he said. "In fact, we believe it's one of the things that keeps the local community vibrant and the scene evolving."
Michael Cheang wonders if any bar would ever let him behind the bar for a guest shift. Follow him on Facebook (fb.com/mytipsyturvy) and Instagram (@mytipsyturvy).
Subscribe now to our Premium Plan for an ad-free and unlimited reading experience!