You've found the car of your dreams: The price is right and everything is perfect except for the colour. What to do – keep looking, live with a colour you don't want or repaint?
Actually, there is a fourth option: Wrapping the car in a vinyl or PVC sheet. This has decisive advantages, according to Marco Kimme from the industry association for car-wrapping in Germany.
"The customer then has the car in their desired colour standing in the yard, the original paint underneath is protected and it is cheaper than a complete repaint," he says.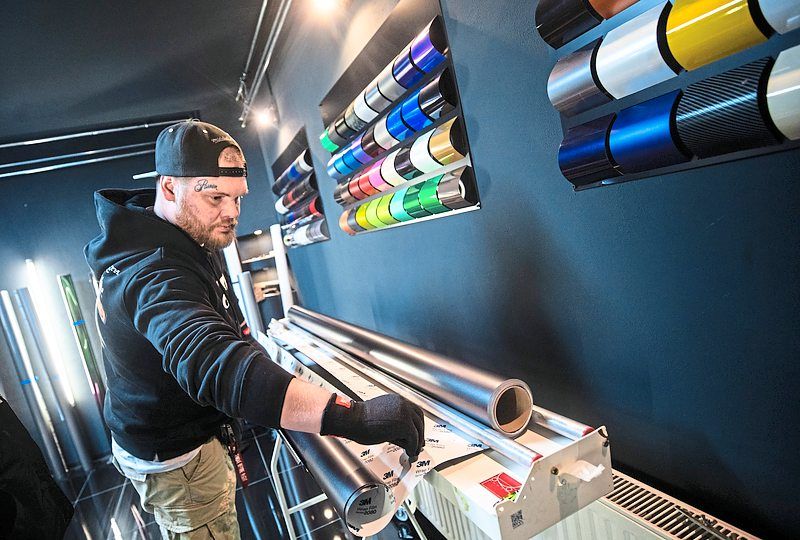 Michael Mulansky cutting off a piece of the desired car foil for processing.
Once the vinyl sheet or film is applied, all of the painted parts of the car are covered. The original vehicle colour is then only visible in places such as inside the doors or the trunk.
However, a car wrap always remains something of a temporary second paint job because the life of the films is limited.
"Good car wrapping films made of PVC last about four to five years. Then the colour is already much paler and the film can show the first signs of wear," says Corinna "Coco" Mulansky, who runs a car care business in Germany.
Environmental impacts such as UV radiation, tree resin or bird droppings affect a car wrap just as they do a paint job. After the film has been applied, a special ceramic sealant can be added that considerably extends the life of the film.
Coco Mulansky and her husband Michael are wrapping specialists in Germany.
Wrapping saves cash
In Mulansky's view, the big advantage of wrapping is the significantly lower cost compared to repainting: "A complete wrapping job costs between €1,800 (RM8,825) and €4,000 (RM19,615), depending on how large the vehicle is. A paint job starts at maybe €3,000 (RM14,710)."
Her clientele is primarily concerned with individualising their cars. For this, wraps offer an almost infinite number of possibilities.
"For example, if a customer wants a new car in a very specific colour that the manufacturer doesn't offer, car-wrapping is the ideal solution," Mulansky says.
In addition to coloured wraps for a different look, special paint protection films can also be applied, most of which are transparent.
"These so-called PPF films are made of PU and are significantly more stable than the coloured PVC films," says Kimme.
These protect the paint even better, for example against stone chips. Paintwork protected in this way helps to maintain the value of the car and consequently contributes to a better resale price.
According to Kimme, a wrap can also be worthwhile for leased vehicles as it can prevent minor scratches and scuffs that would otherwise be expensive to get rid of. If a wrapped car part is damaged in an accident, it can be repainted without any problems.
Depending on the size of the vehicle, the entire wrapping process can take several days.
It won't work everywhere
However, not every surface on a car can be wrapped. For example, a film's adhesive won't stick to unpainted plastic components such as trim panels.
Before a vehicle can be wrapped, extensive preparatory work is necessary. The surface to be covered must be absolutely clean before the film can be applied.
"The car is washed twice by hand, followed by peeling with mineral clay, which is used to remove the last remnants of flash rust or tar," Mulansky says.
Depending on the size of the vehicle, the entire wrapping process can take several days.
A wrapped car can be washed normally. Mulansky advises washing by hand, however. If you do go to the car wash, a basic wash is enough."Sealants or hot wax can attack the film.
Also, be careful with nylon brushes, because they can leave fine scratches," Mulansky says. If a spray lance is used, a distance of about 50cm should be maintained. – dpa/Claudius Luder
Subscribe now to our Premium Plan for an ad-free and unlimited reading experience!