Bored with the Chinese New Year decoration items in the supermarkets and stores? Want something that will get people talking when they show up for your CNY open house? Here are three alternative options to consider.
DIY your own decorations out of angpaus
Too many old angpows at home Turn them into CNY decorations!Everyone has a big stash of angpows at home, right? And it's not like you're going to be giving them ALL out in one CNY. So how about using some of them for CNY decorations around the house?
There are so many different ways of using angpows as deco. You could just staple them in a line and display them like streamers. You could make little lanterns out of them, or, if you have a little time, use them to make origami bunnies. You can even use them to spell out words on your wall or just string them up like buntings along the wall.
The Internet is full of tutorials on how to make use of angpows for CNY deco, plus you're making use and upcycling up some of those old angpows at the same time! Win win!
Build some of Lego's CNY sets
For the past few years, Lego has been putting out some pretty cool sets in conjunction with Chinese New Year, and this year has been no different. This year, however, the Danish toy company has come up with a set that is perfect as a home decoration item.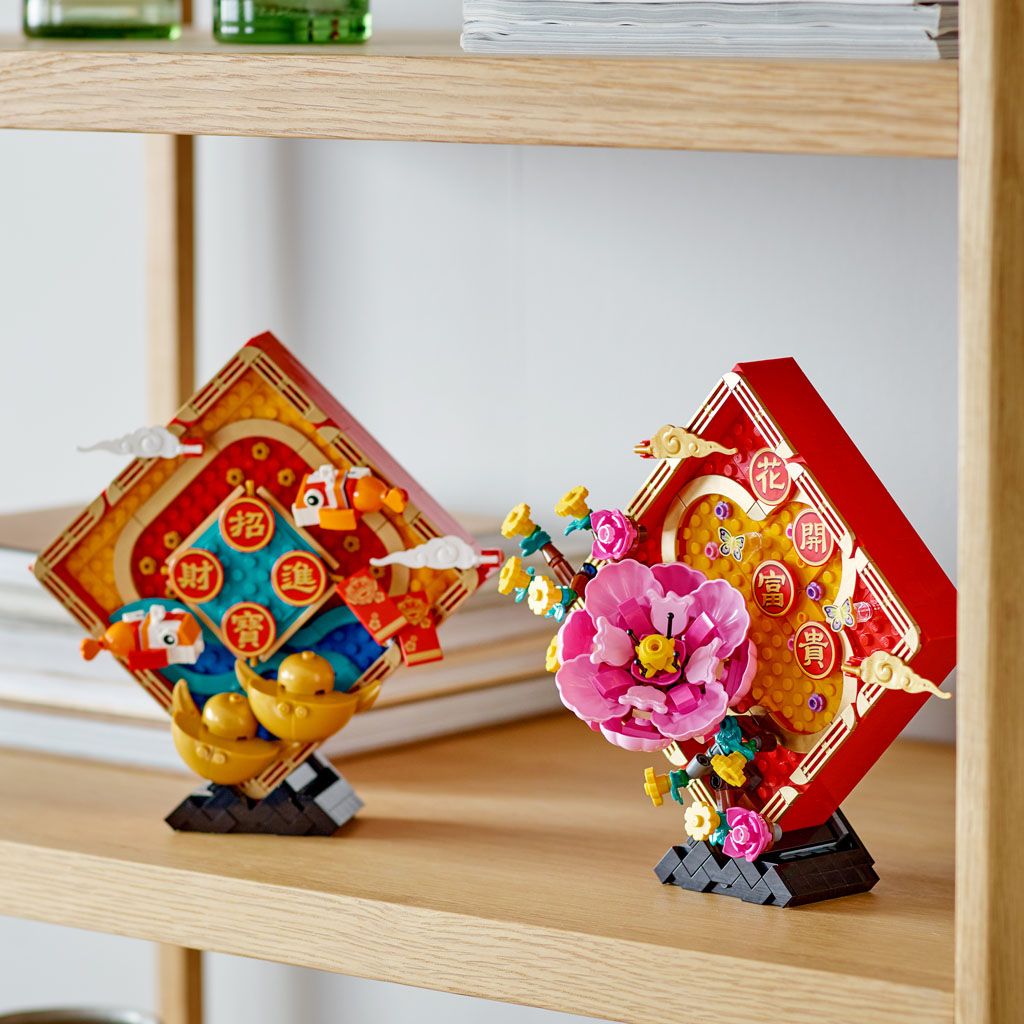 The Lego Lunar New Year Display is perfect as a tabletop or cupboard display.The Lego Lunar New Year Display set comprises two decorative plaques that can be displayed together or individually.
One has buildable golden ingots in the traditional Yuan Bao design, koi fish for good luck, red pockets symbolising good wishes and fortune and the "Zhao Cai Jin Bao" greeting that welcomes fortune and treasures into the home.
The second model has a large buildable moutan peony flower, small moutan peony flowers, plus the "Hua Kai Fu Gui" greeting, meaning blooming prosperity and happiness.
Another limited edition set that was released in conjunction with the Year of the Rabbit is the larger Lunar New Year Parade set, which features three connectible toy parade floats. Each of the floats feature centrepieces that will move as the floats are pushed along.
Though this is more of a build and play set rather than a display piece, it is still great fun to built as a family, and if you have the space, makes for a great conversation piece, and also something to keep the kids occupied while the adults have their get-together.
The parade set could be a great conversation starter, or distraction for kids during open houses.
Do it with plants instead
Plants as CNY decorations are nothing new, but what are the most popular plants and most lucky ones? In a recent StarLifestyle article, we spoke to several owners of plant nurseries to find out.
According to most of them, potted kumquat and lime trees are among the most popular plants during the CNY season, because they symbolise good luck.
Other types of popular plants, include chrysanthemum (representing longevity), bamboo plant (good luck) and pussy willow (wealth and prosperity).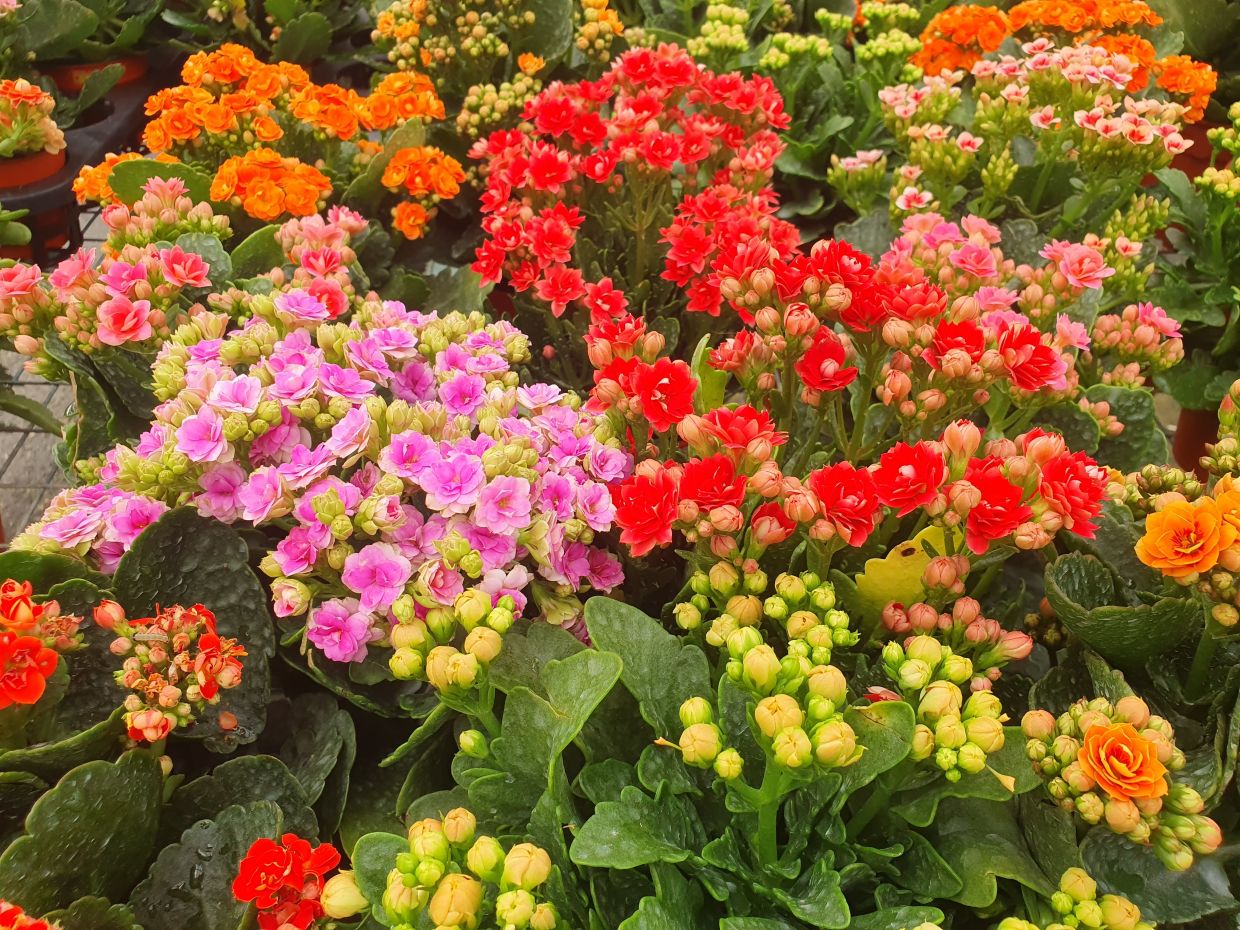 Colourful kalanchoes are among the must-haves during Chinese New Year. - SHEELA CHANDRAN
But there are also several lesser known plants that have become more and more popular as CNY plants. There's Kalanchoe, an indoor plant is also known as "wan zi qian hong" (meaning thousands of red and ten thousands of purple in Chinese), and representing longevity and happiness.
Sunrise succulents (Anacampseros rufescens) also symbolise good fortune and luck, while the unique-looking Solanum mammosum, or cow's udder, is an auspicious Chinese New Year plant that symbolises happiness and togetherness.
For the full list of top 5 CNY plants, go HERE.
Subscribe now to our Premium Plan for an ad-free and unlimited reading experience!