It is a comeback story so improbable, it could only happen in Hollywood.
At age 12, Ke Huy Quan went to a casting call with his brother, who was auditioning for the role of Short Round in Indiana Jones And The Temple Of Doom. Quan himself was chosen to star in the 1984 blockbuster sequel alongside Harrison Ford.
The following year, he again struck big screen gold in the action adventure classic The Goonies. And then the casting calls dried up and – unable to capitalise on his childhood fame – he built a career behind the cameras as a stunt coordinator.
Cut to Sunday, when the 51-year-old Quan came full circle, winning an Oscar for playing Waymond Wang, the downtrodden husband of a Chinese American laundromat owner swept into an infinity of multiverses in Everything Everywhere All At Once.
"Dreams are something you have to believe in. I almost gave up on mine," Quan told the audience through tears of joy.
"To all of you out there, please keep your dreams alive."
Ke Huy Quan, winner of Best Actor in a Supporting Roll award for 'Everything Everywhere All at Once' poses in the press room during the 95th Annual Academy Awards. – Photo: AFP
Quan was the odds-on favorite for best supporting actor over his fellow nominees – Brendan Gleeson and Barry Keoghan (The Banshees of Inisherin), Brian Tyree Henry (Causeway) and Judd Hirsch (The Fabelmans) – after an awards season sweep.
He won a Golden Globe, a BAFTA, a Critics Choice award and a Screen Actors Guild statuette, among other industry prizes.
His triumph is a watershed moment for Asian actors who feel they are finally seeing progress in on-screen representation.
"When I stepped away from acting, it was because there were so few opportunities," he said two weeks ago in an emotional acceptance speech at the SAG Awards.
"The landscape looks so different now than before."
Ke Huy Quan as the multiverse-jumping Waymond in 'Everything Everywhere All At Once;. – Photo: A24
Indeed, Everything Everywhere All At Once primarily features a cast of Asian descent – fellow Oscar winner Michelle Yeoh and Stephanie Hsu star in the film, alongside Harry Shum Jr. and veteran character actor James Hong. English, Cantonese and Mandarin are spoken.
The film tells the story of Evelyn (Yeoh) and Waymond (Quan), who are undergoing a tax audit and moving towards divorce when they are swept into an epic multiverse battle to save humanity from a powerful villain – who is also their daughter (Hsu).
The genre-defying film, which features Yeoh and Quan in fight scenes, allows the characters a way to reassess their lives – and decide what is important.
"I was so famished for a role like this," Quan told The New York Times late last year.
The cast of the film, which has grossed more than US$100mil worldwide, won the best ensemble award at the SAGs, the night's top honour.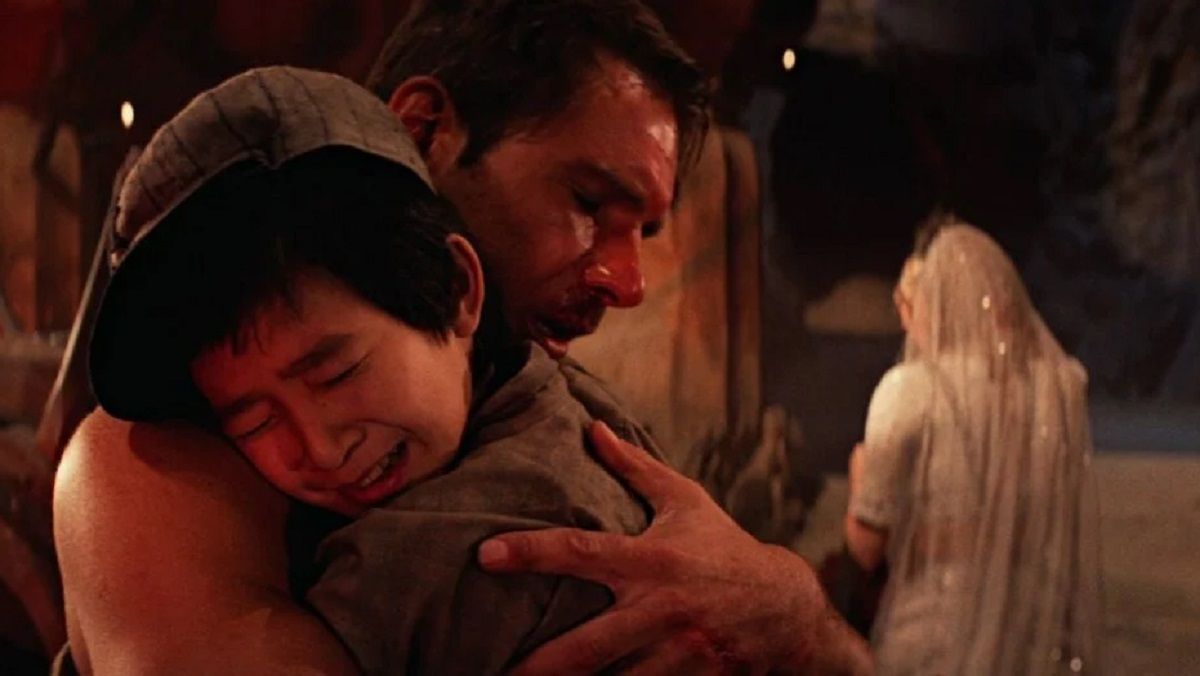 Ke as Short Round and Harison Ford as Indiana Jones in 1984's 'Indiana Jones And The Temple Of Doom'. – Photo: Filepic
Back in front of the camera
Born in Vietnam to parents of ethnic Chinese descent, Quan came to the United States in the late 1970s after they fled their home country.
Fame came quickly in those early films, which both allowed Quan to work with industry legend Steven Spielberg.
"He is the reason why I fell in love with acting," Quan wrote on Instagram after the pair reconnected at the Golden Globes.
But his acting career nevertheless stalled, with just a few television roles in his teenage years.
"Hollywood didn't write roles for Asian actors," he told the Times.
Ke Huy Quan (left) and Jeff Cohen in 'The Goonies' – Photo: Filepic
He graduated from the film school at the University of Southern California, and eventually worked as a stunt coordinator, notably choreographing fight scenes for the original X-Men film.
He also worked in Hong Kong for venerable director Wong Kar-Wai, including as assistant director of 2046, a loose sequel to In The Mood for Love.
"For many years, I lied to myself by saying that I didn't like acting anymore to make it feel less painful," Quan told GQ.
That love of acting was rekindled after seeing Crazy Rich Asians. He told CBS News that he cried watching it three separate times in a theater because he "wanted to be up there with them."
He auditioned for Everything Everywhere – and didn't hear he'd won the part for two months, as he tells the tale.
"That phone call was one of the happiest phone calls I have ever gotten," he told CBS.
The rest is Hollywood history.
And he has remained tight with friends from his childhood – Goonies co-star Jeff Cohen ("Chunk") is now an entertainment lawyer and negotiated Quan's contract for Everything Everywhere.
"Every rejection, every disappointment has led you here to this moment. Don't let anything distract you from it," Quan's character Waymond tells Evelyn in the film – a perfect example of art imitating life. – AFP
Subscribe now to our Premium Plan for an ad-free and unlimited reading experience!