"Every day I slept really well because I was so tired," recalls actor Joo Won about working on the action-packed Korean film Carter at a press conference held in Seoul.
Four months before shooting commenced, the South Korean star started his fitness regime to bulk up his physique as well to train for the oh-so-many action sequences in the Netflix movie.
"I had to memorise the choreography for all the action set pieces. Doing that a few times is already tiring, and we did it for hours... it was like training for professional athletes," mentions the 34-year-old.
He gained 7kg in muscle mass and his buff body is on display at the start of the movie set at a public bathhouse where he fights 100 opponents while being almost naked.
The South Korean actor gained 7kg in muscle mass to achieve the physical appearance needed for the film.
The punishing schedule continued during the film shoot; Joo described the feeling of going to the set as similar to going to war.
"I always thought about how many people I had to fight for that day, how many people I had to hurt.
"For that one scene, I fought like 100 people maximum. (For the entire movie), I think I fought in the hundreds," says the actor who did almost all the stunts in Carter, although he did have a stunt double on standby.
"There wasn't a single day that I didn't do a high-octane action scene. Every day was so intense, but I really loved it. I think I have waited to do a film like this."
Joo states: "I've done a few action sequences before but what differentiates those actions and what you see in Carter is that it is just absolutely raw here.
"Yes, it's all rehearsed and choreographed, but it's all so organic, very natural, almost to the point where I felt like I was actually fighting this person I was working with.
"The action team did an amazing job, prepping every scene and making sure that it was safe, that I felt safe about doing the action myself."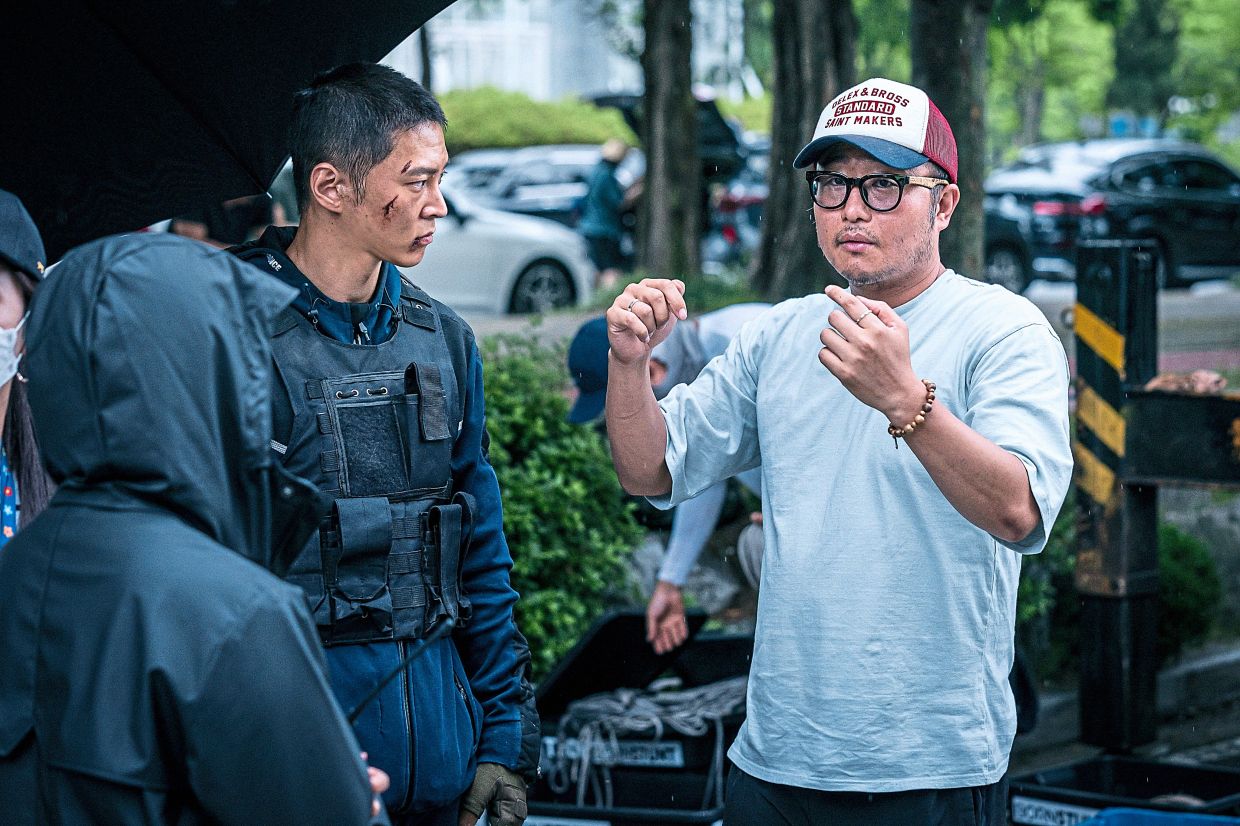 Director Jung Byung-gil (right) with Joo Won on the set of 'Carter'.
The actor is no stranger to executing action sequences as he did them in K-dramas like Bridal Mask, 7th Grade Civil Servant, Yong Pal and Alice.
But he admitted the action in Carter was "incomparable" to his previous work due to the level of difficulty posed in the film.
Joo shares: "When I read the script, the first thing that came to mind was, 'Is this even possible to shoot?'
"But I wanted to take on the challenge. I thought to myself, if we were to succeed, this was going to be an amazing addition to my filmography. That's why I really wanted to do it."
He further mentioned that he truly immersed himself as Carter throughout filming as he's in every single shot of the two-hour movie.
"I became Carter... that it took me a little while to get back to being Joo Won again after filming ended."
Carter is set in a world that's hit by a lethal virus that turns the infected immediately murderous and, um, bald at the final stage.
In the middle of it all is Carter, who wakes up with no memory of who he is but has the skill set needed to survive even in the most extreme of situations, which is convenient when he has a mission to complete.
Guided by a voice in his ear, he gets started on the task at hand – to rescue a little girl who is the "sole antidote to the virus" and deliver her to her scientist father.
Unfortunately, Carter faces a lot of hurdles as American agents and the North Korean army are after the girl as well, and they are willing to get her at all costs.
Subscribe now to our Premium Plan for an ad-free and unlimited reading experience!