Burung helang terbang layang,
Turun ke kota membuat sarang,
Takan hilang dondang sayang,
Kalau kita sama berjuang ...
At 78, great grandfather Datuk Mohd Baharim Mohd Sharip still excitedly goes to work every morning in Melaka.
"I have a day job. I go to work at the Institut Warisan Melaka (INSWA which used to be called Institut Seni Malaysia or ISMMA)," the affable septuagenarian said in a recent interview in Petaling Jaya.
"We take culture into classrooms, both in primary and secondary schools. I try to instil a love for dondang sayang so that the younger generation gets to learn and understand what it is all about because it is such an integral part of our DNA," added the lanky veteran of the traditional arts.
Dondang sayang is a traditional Malay art form that is still practised in Melaka by four groups of people: the Malay, Baba Nyonya, Chetti and Melaka Portuguese communities.
Recognised by Unesco in 2018 as an intangible cultural heritage, the art form dates back to the 15th century and combines music (by a small ensemble of violin, accordion, gendang and rebana) with the chanting of pantun (pantoums or oral poems).
Mohd Baharim is a passionate, active exponent of dondang sayang with almost 50 years of experience, and has been bequeathed numerous accolades and titles including Tokoh Warisan Kebangsaan Orang Hidup from the Tourism, Arts and Culture Ministry, Tokoh Dondang Sayang Negeri Melaka from the Melaka state government, and most recently, the Boh Cameronian Lifetime Achievement Award for his continued commitment towards performing and teaching dondang sayang to a wider audience.
Mohd Baharim received the "Cammie" award at PJPAC in Petaling Jaya last month, with the young crowd in the hall giving him a standing ovation. But the veteran performer takes everything in his stride.
"I also have a Bintang Khidmat Terbudi (BKT), Bintang Cemerlang Melaka (BCM), and Darjah Pangkuan Seri Melaka (DPSM). They are just titles. I don't really spend much time thinking about them but I suppose they do mean that I have attained some sort of success in this field and I am proud of that. My main aim has always been to create a love for this heritage," he said, feet firmly on the ground, with absolutely no airs about him.
Mohd Baharim (in blue) leading a dondang sayang performance in a traditional house in Taman Mini Malaysia in Melaka in 2011. Photo: Filepic/The Star
Today, many of Mohd Baharim's children and grandchildren are involved in performing dondang sayang, but the pundit says that it is still he who writes the script for all their performances.
"It has always been a joy for me after all. I loved making up pantun. I would sometimes take old pantun and tweak them to make them more relevant. I enjoy using elements of nature in the verses. Back in the day, I worked out in the fields so when I went out to chop wood or the like, I would come up with ideas for new pantun. Nature and the outdoors were very inspiring. The rhymes just seemed to come naturally to me, I didn't have to study for it."
In 2021, Mohd Baharim published a book, Buku Pantun Warisan: Koleksi Datuk Mohd Baharin Mohd Sharip containing 2000 verses and over 80 poems. It was published by INSWA in line with Melaka's mission and vision to uplift the Malay heritage and culture, as well as to encourage the public, especially those with a penchant for poetry, to continue to cultivate the art form.
In his blood
Born in Kampung Bertam Ulu, Melaka, the SK Bachang schoolboy inherited his artistic talents from his father, a policeman who played the violin, and his grandparents, who would both sing dondang sayang.
"I must have followed in the footsteps of my parents and their parents. There was always dondang sayang at home but it wasn't until I was about 12 when I attended a show that featured Baba Kim Teck and Puan Chik Mohd Amin in Batu Berendam that I truly caught the bug. I was so enthralled by the way they were able to respond to each other on stage in such a spontaneous manner (balas pantun)," said Mohd Baharim.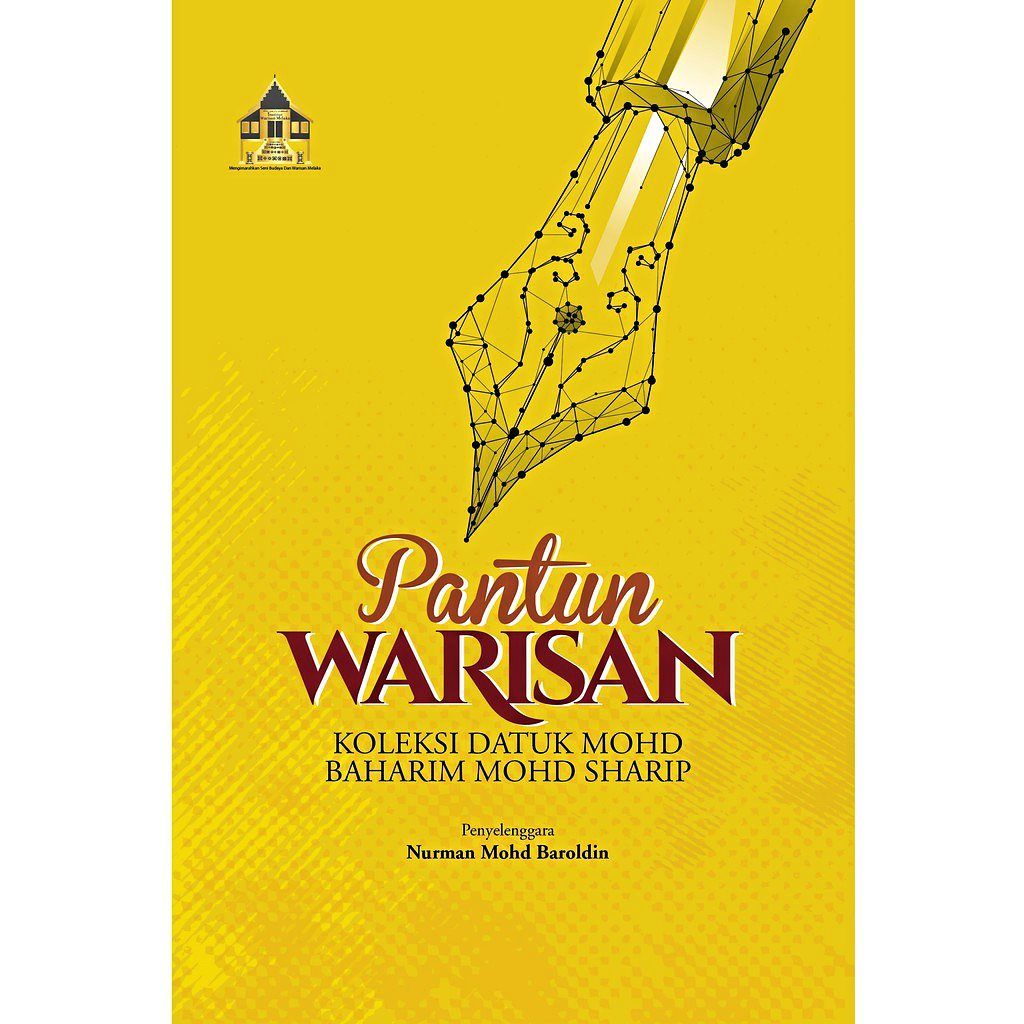 In 2021, Mohd Baharim published a book 'Buku Pantun Warisan: Koleksi Datuk Mohd Baharin Mohd Sharip' containing over 80 poems. Photo: Handout
"It was then that I knew that I seriously wanted dondang sayang to be a part of my life too."
By that time, Mohd Baharim had already begun playing violin and honing his vocal skills. But it wasn't until he was in his 20s, and well into the 1960s, that he began performing for live audiences, with bands like Kumpulan Dendang Perantau and Cak Kun Cak.
"When I was in the bands, I was able to play the violin, keyboards, drums, anything really. I enjoyed singing, and berbalas pantun. People of all races would come and watch us perform, and they would all dance to the music. If there were another dondang sayang singer in the audience, it would be quite natural for him or her to come onstage and we would all perform together, it didn't matter which community you were from ... those were good times," he reminisced fondly.
Mohd Baharim's prowess slowly began to spread, and in 1983, he got an offer from RTM – more precisely, Radio 3 Melaka – to come into their studios to record a show.
"I had never done anything like that before and I was a little nervous at first," he said, laughing. "But they assured me that it was going to be very easy and that we could keep re-recording until we got it right!"
Another memorable anecdote from his long and illustrious career was taking part in the "Pesta Dendang Rakyat dan Pertandingan" in 1988 when he was pitted against one of his own teachers and mentors, fellow dondang sayang champion Kamarudin Abu Hasan.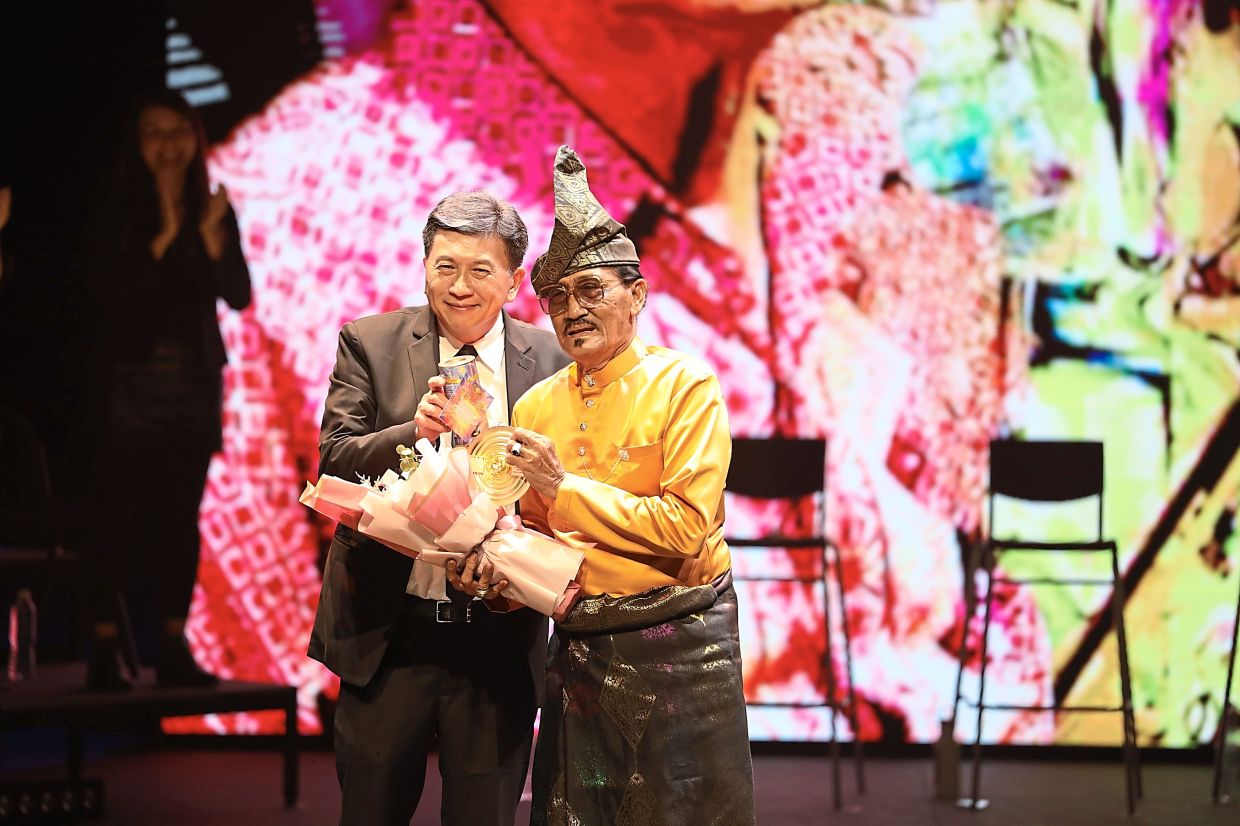 Mohd Baharim (right), a veteran dondang sayang champion from Melaka, receiving the the Lifetime Achievement Award from Boh Plantations CEO Jason Foo at PJPAC on May 14. Photo: Kakiseni
"The strangest thing happened," recalled Mohd Baharim. "I won! I felt bad at first because I had learnt so much from Pak Din. He was always giving me advice and helping me improve on my performances. When I won first place over him, even Pak Din was shocked! The student had become the master!"
Sometime later, when he was on his deathbed, Pak Din told Mohd Baharim that he would have to carry on the legacy of his dondang sayang ensemble, Mawar Biru.
"So after Pak Din died, I paid his widow a visit and told her that I wanted to take his musical instruments so I could continue his work. She gave me her blessing and I started a new band called 'Kenangan Mawar Biru', a nod to all Pak Din and all his efforts in the scene."
In the 1970s, Mohd Baharim caught the eye of Pusat Muzikal Mutiara (PMM) in Seremban.
"It was after one of the Pesta Dendang Rakyat, and they asked me if I would like to record an album with them. There was a very good female singer, Nyonya Tan (Abdullah), who was the 1976 champ. I remember she was working at the Pejabat Pos Seremban at the time. PMM wanted us to duet on an album together. And so we did, not just one album ... we came up with an album (it was in cassette form in those days, remember? he interjects himself) for three consecutives years!"
Mohd Baharim then recorded a fourth album with his own band Kenangan Mawar Biru, featuring artists Nona Othman and Aishah Khamis, while a fifth offering featured ghazal singer Zainab Mohamad and Idris Mohamad from Johor Baru.
"These were all the famous singers back then," he said. "But sadly, most of them have all passed on now."
Sadness and hope ahead
Before the pandemic, Mohd Baharim had been keeping the torch burning by starting a busking group called The Legend of Dondang Sayang Melaka, which featured his own grandchildren, one of which was Mohd Firdaus Amran, whom he had been mentoring to be his successor.
On stage, Mohd Baharim remains a star when he delights audiences with spontaneous dondang sayang verses and poems. Photo: JKKN
Firdaus was the frontman of the group while Mohd Baharim would mostly observe and give direction. They would do regular performances in Bandar Hilir, close to the red Stadthuys building, a popular destination for tourists.
According to Mohd Baharim, it was a great experience and honour to be able to share his beloved tradition, alongside his family, on the streets of Melaka, and offer foreigners a taste of dondang sayang.
Sadly, however, Firdaus passed away two years ago unexpectedly, and this has left Mohd Baharim heartbroken. He doesn't like to dwell too much on the subject and The Legend of Dondang Sayang Melaka has also been on an indefinite hiatus since then.
But you can't keep a good man down. And at the recent Boh Cameronian Arts Awards, Mohd Baharim was all smiles and brimming with hope as he accepted his award in person.
"Dondang sayang has been around for 800 years now," he said before bursting into rhyme (as he often does) in a recorded acceptance speech: "Dondang Sayang Tanjung Surat, Sampai ke Johor dia melarat, Bukan dikarang, bukan dibuat, Di Luh Mahfuz sudah tersurat."
"I believe it was predestined for me to be doing this. It is very important to me that this cultural heritage does not get lost in time. I pray that my descendants will continue to follow in my footsteps. After all, they say the apple doesn't fall far from the tree.
"Whatever skill or knowledge that I have today, I must cascade down to the younger generation, be they my children, grandchildren, great grandchildren, or students in schools. That is and will always be my legacy," he concluded.
Datuk Mohd Baharim Mohd Sharip
---
Subscribe now to our Premium Plan for an ad-free and unlimited reading experience!